Home of Saint Benedict, Umbrian meats, & truffles
Norcia, located very near the epicenter of the August 24, 2016 earthquake, was severely damaged by an aftershock on October 30, 2016. The main piazza, pictured below was one of the most beautiful piazzas in Umbria. Money to rebuild the basilica of San Benedetto has been pledged by Cucinelli Cashmere. Much more will be needed to return this beautiful city to its rightful place as a must see in Umbria. Stay tuned as work continues.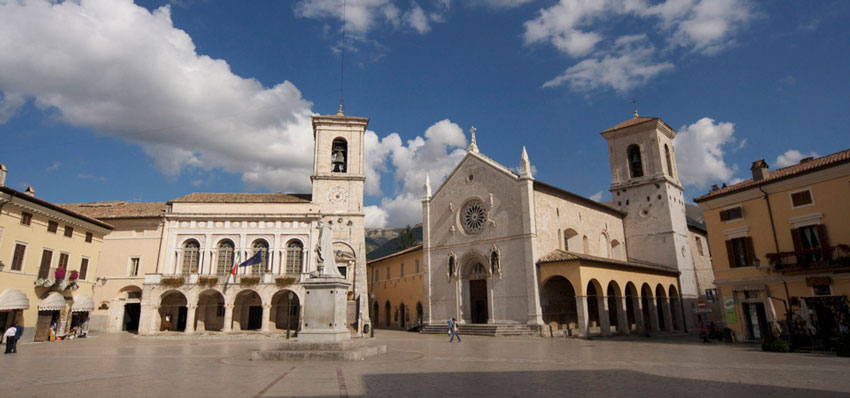 While there is evidence going back to the Neolithic period, Norcia's history begins with the settlement of the Sabines in the 5th century BC. In Roman times it was known as Nursia as the name above the main town gate attests. Norcia is located in the plain below the Sibillini mountains on the edge of the Apennines. It is a stunningly beautiful area and popular with hikers, mountain climbers, and hunters in search of the area's famous wild boar – cinghiale.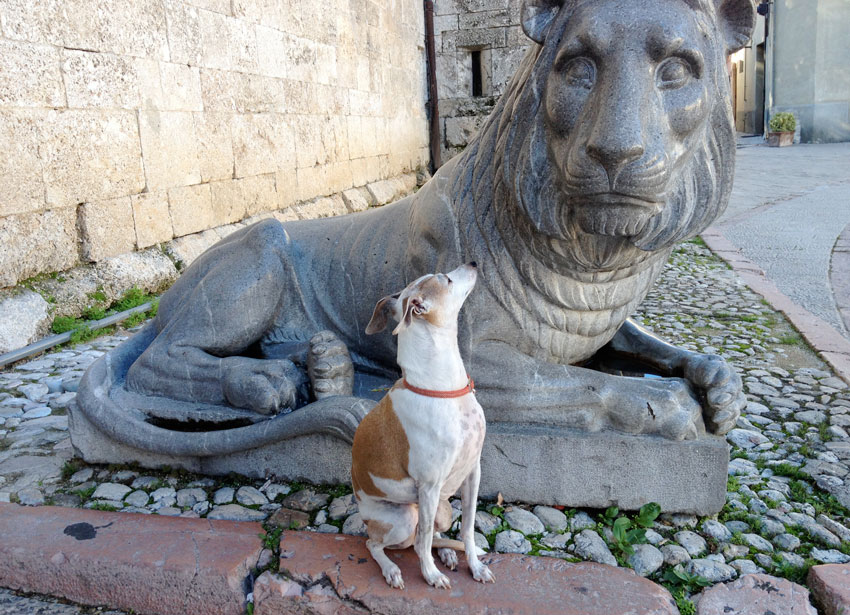 The area is so well known for its meats — ham, prosciutto, sausages — that the name "Norcina" has been given to these products throughout Italy. The town is also famous as the birthplace of Saints Benedict and his twin sister Scholastica in 480. In the 8th century an oratory was built so pilgrims could pray at the place of St. Benedict's birth. Monks came to Norcia in the 10th century, and still care for the Monastery of St. Benedict, which is built over Roman ruins believed to be of the house where the saints were born. To me, the main piazza is one of the most beautiful in Umbria. It is flanked by the town's most important buildings and in the center is a statue of Saint Benedict with his hand raised in blessing.

The main basilica (13th century), dedicated to St. Benedict, has a Gothic façade with a central rose window and reliefs portraying the four Evangelists. To the left of the basilica is the Renaissance church of Santa Maria Argentea, the town's Duomo, and opposite is a small  fortress, the Castellina, built in 1555-1563 as the residence of the Papal governors, which is now a museum.
I've already mentioned the meat products but I have to put a plug in for Norcia's wonderful pecorino cheeses, amazing truffles, and superb chocolate as well. (You must try their chocolate with truffles.) The area is also famous for lentils and many of the restaurants serve lentils with sausage. After lunch, a visit up to Castelluccio to see the wonderful Piano Grande is a must.  Though, for me though, the dish I will always think of Norica as the town where I discovered tagliettelle with a lemon sauce – absolutely delicious.
Discover some of the most beautiful places in Umbria
Special events and festivals
Join us for a special Group Tour