From the eastern windows of Palazzo Fiumi-LaPlaca one looks out over the Spoleto Valley. Straight ahead is Assisi and to the left, beyond the monastery of San Antonio and Bettona's cemetery, one can see Spello on its hill on the southern flank of Mount Subasio, just in front of the break in the Apennines. It is another perfect Umbrian hill town.
This popular town has a decidedly medieval aspect, and is enclosed in a circuit of medieval walls built over Roman foundations. There are three interesting Late Roman gates (Porta Consolare, Porta di Venere and the Arch of Augustus) and evidence of three more, an amphitheater, as well as medieval gates. There are two churches, both on the steep main street, that should be on everyone's list of must sees in Umbria. The first being Santa Maria Maggiore. It was probably built over a Roman temple and its façade has a Romanesque portal and carved pilasters around the entry. The highlight of the church is Pinturicchio's Baglioni Chapel with a fresco cycle including the Annunciation, the Nativity and the Dispute with the Doctors, plus four Sibyls in the vault. (Sorry, but one is not allowed to take pictures there. I know that usually doesn't stop me in my attempt to share the beauty of Umbria with you but, not that one has to pay to go behind the glass doors, there's always someone watching.) There are also two frescoes by Perugino on the pillars on either side of the altar but the Pinturicchio is what you came for. It's worth the fee to get to go in and get up close to them. And while we're talking Pinturicchio, there is another spectacular painting in the church of San Andrea, just a short distance up the hill.
The little old priest is quite happy to show you around – he'll also show you the beautiful displays he makes for each year's Infiorata — a spectacular flower festival that fills the streets of Spello with ephemeral flower petal paintings each year for the feast of Corpus Domini (this year June 7, 2015). Locals, organized in civic groups spend the entire night prior to the festival creating intricate "paintings" made of flower petals. It is an extraordinary sight. I recommend arriving between 7 and 8am, like I do, as the teams are unveiling their masterpieces. These works of ephemeral art do not survive long. After the noon mass, the priest and procession will walk down the hill destroying the art work. The symbolism of the fragility of earthly life is not lost on this feast of the Body of Christ.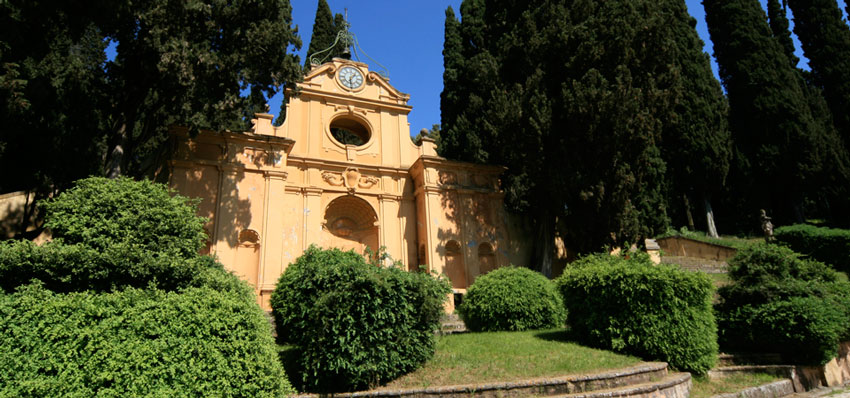 Outside of Spello, just a little farther north up the road that runs parallel to the highway is the wonderful Villa Fidelia. The gardens are open to the public and well worth the stop.