From the highway Trevi is the perfect Umbrian hill town. Surrounded by thousands of silver-green olive trees, it's buildings and campanile slope up to the top with the duomo's at its pinnacle.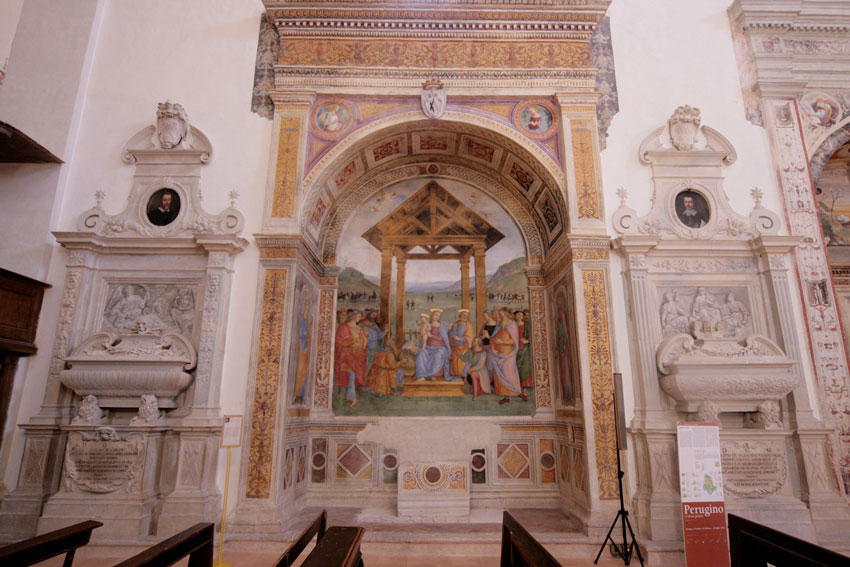 On your way up to Trevi you will come upon the church of Madonna delle Lacrime, a medieval convent church with large votive frescoes, including a nativity scene by Perugino, his last known signed and dated work, and a chapel to Saint Francis frescoed by Lo Spagna, one of Perugino's pupils. Large renaissance altars dominate the walls on either side of the stark interiors.
Drive up to the top (don't miss the left turn down toward the town) where there is ample parking. Exploring the historic center, despite the steepness of the hill, is easy because it is rather level. Try one of the restaurants on the newly restored main piazza (with Comune building) and then walk up the sloping stairs to the Romanesque duomo (13th-century). My favorite part of the exterior is the rounded chapel that protrudes from the right side with it's lovely details. The interior of which was updated in the 18th century but, still, it's quite beautiful. You can't possibly miss the beautiful 16th-century stone altar by Roco da Vicenza on the left.