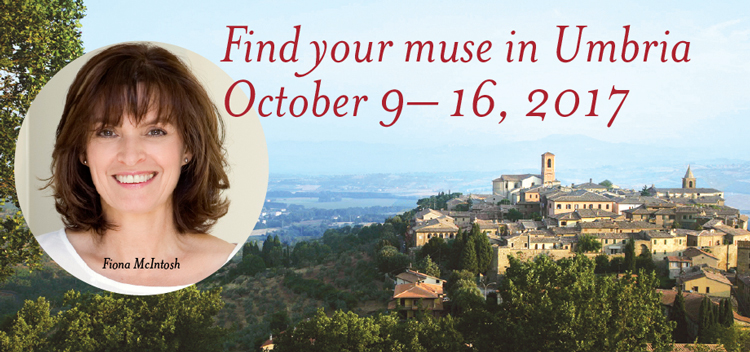 Italian adventure & workshop featuring
Fiona McIntosh

,
Australia's confirmed leader in writing masterclasses
Find inspiration as you immerse yourself in the culture, art, and cuisine of Italy; enjoy a one-on-one meeting with Fiona McIntosh to review  your work; tour the fabled hill towns of Assisi, Perugia, Orvieto; stay in an historic palazzo; and much more . . .
For more information in Australia, contact Jo-Anne Rowe at 61 401 174 015
Italy will inspire you as it has done for generations of artists and writers. Spend a glorious week surrounded in all things Italian. And you'll get to have a one-on-one meeting with Fiona McIntosh, one of Australia's favourite storytellers, to review your work. (Prior to trip, all participants are invited to submit 10 pages of a manuscript.)
Get That Book Written!  Workshop and writing feedback from Fiona McIntosh:
In a morning workshop Fiona will share some of the skills she uses to great success (30+ published titles) and, in your one-on-one session, she will critique the piece you've submitted so you'll know where to concentrate your efforts. With Fiona's input, combined with the inspiration and fabulous experiences only Italy can provide, you will be on your way to producing that long-desired manuscript.
And while on your way to finding your muse, you'll savor Umbrian cuisine and our delicious Sagrantino wine; stroll intimate villages filled with stories; rub elbows with the locals at town markets and festivals; meet artisans and shop for world famous ceramics in Deruta. You'll also discover our Etruscan, Roman, Medieval, and Renaissance heritage; visit glorious churches, and museums; and enjoy breathtaking views all along the way.
Accommodations at the 17-century Palazzo Fiumi-LaPlaca in the walled town of Bettona the perfect base from which to explore Umbria.
7 day all inclusive package: 3000€
Airfare is not included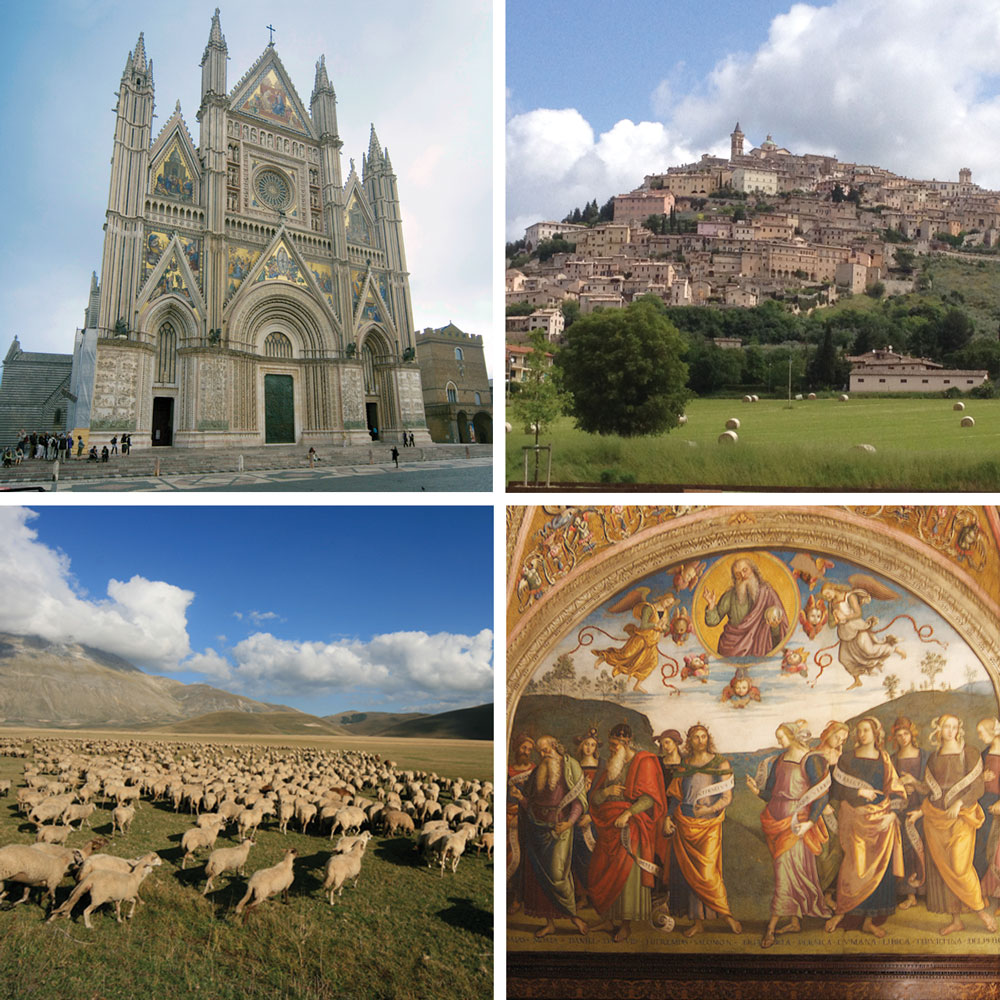 Package includes:
• 7 nights accommodation (a mixture of shared and double rooms available. Couples welcome. 250€ surcharge for single occupancy);
• Workshop with Fiona McIntosh, includes a private hour-long meeting, dinner with Fiona;
• All local transportation including pick-up and drop off at Rome's Fiumicino airport;
• Daily adventures, tours, visits to hill towns, and more;
• All meals (except for one lunch on your own);
• A cooking lesson and wine tasting at a local winery;
• A truffle hunt and lunch
Booking deadline July 1, 2017
August 30 deadline for manuscript submissions
Minimum 8 people, maximum 12.
Guests are encouraged to purchase flight insurance.
Prior to the trip guests are asked to read two books that will be relevant to the places we will visit. The Name of the Rose by Umberto Eco and The Lady in the Palazzo by Marlena di Blasi.
Note: Breakfasts will be either at the palazzo or at the bar in the main piazza. Please discuss dietary restrictions in advance.
Stay at Palazzo Fiumi-LaPlaca in Bettona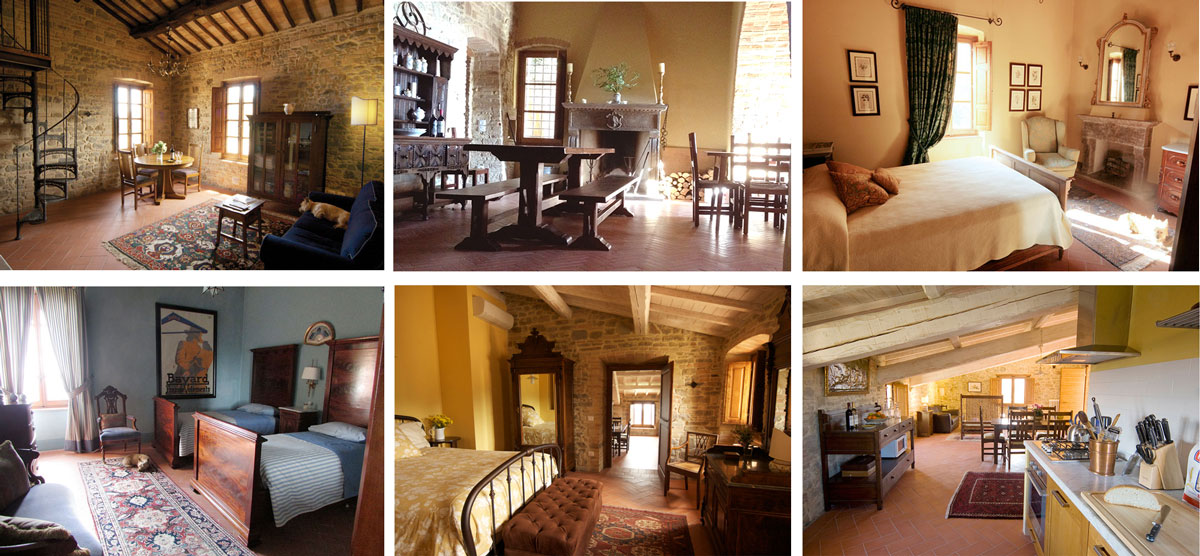 Proposed Itinerary:
Mon, October 9: (Day 1)
• 2pm pick-up at Rome's Fiumicino airport. You will be met by your hosts and transported to Bettona, stopping along the way for life-changing mozzarella from Campania;
• Settle in rooms , take a walk to explore Bettona on your own, or people watch at the bar;
• Welcome dinner at Palazzo:
Tues, October 10: (Day 2)
• Visit the abbey at Montelabbate for a private tour and discussion of Umberto Eco's The Name of the Rose;
• Visit the medieval city of Gubbio;
• Lunch (gnocchi stuffed with truffle cheese) at il Bargello;
• Visit the jewel-like Borgo Santa Giuliana;
• Relax time to Journal/write;
• Dinner at palazzo cooked by a local chef;
• Share a writing sample:
Wed October 11: (Day 3)
• Visit Assisi and Basilica of San Francesco, Giotto, Lorenzetti, and Martini frescoes;
• Free time for shopping;
• Lunch (delicious cappellacci with parmigiano and honey) at La Palotta;
• Visit Spello to see Pinturicchio's famous Baglioni chapel;
• Relax time to Journal/write;
• Dinner at a local Sagra (town festival)
Thu October 12: (Day 4)
• Breakfast and morning workshop with Fiona McIntosh;
• Each participant will have an hour long one-on-one meeting with Fiona;
• When not with Fiona, Journal/write time;
• Lunch in the palazzo or garden;
• Activities or writing time at palazzo;
• Dinner at palazzo with Fiona
Fri October 13: (Day 5)
• Visit Trevi, famous for its olive oil;
• Go on a truffle hunt above Spoleto;
• Enjoy a truffle lunch at agriturismo;
• Visit Spoleto — Filippo Lippi frescoes;
• Relax time to Journal/write;
• Dinner at palazzo cooked by local chef
Sat October 14: (Day 6)
• Visit Perugia's farmer's market;
• MiniMetro into center to visit museums and Eurochocolate (lunch on your own);
• Shopping at a great Italian kitchen shop;
• Visit to nearby Etruscan tomb complex;
• Relax time to Journal/write;
• Dinner in Bevagna
Sun October 15: (Day 7)
• Visit Orvieto and visit duomo with
spectacular frescoes by Luca Signorelli;
• Enjoy special treasure hunt based on Marlena di Blasi's The Lady in the Palazzo;
• Lunch at il Moro (another incredible pasta experience);
• Stop in wonderful Todi to visit a Renaissance church designed by Bramante;
• Meet artisans in Deruta and shop for world famous ceramics;
• Farewell dinner at local restaurant;
• Share a writing sample:
Mon, October 16: (Day 8)
8am departure for airport for afternoon flights. We cannot meet morning flights.