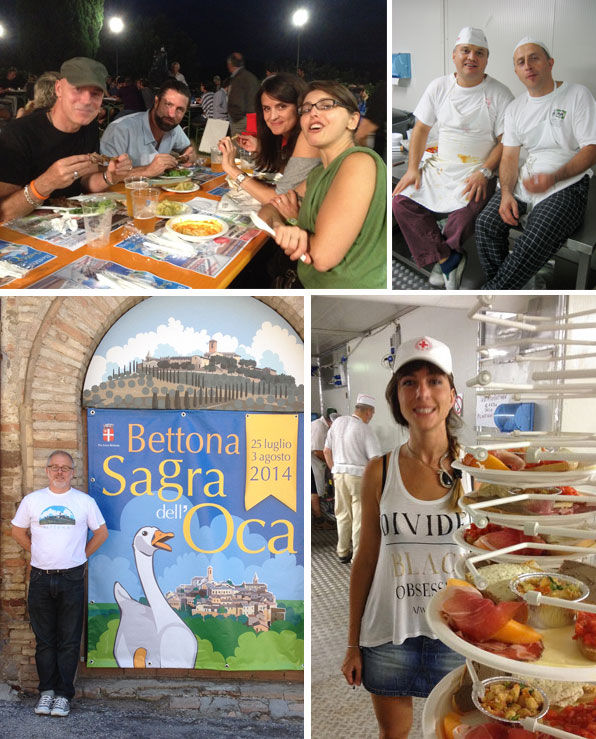 Sagra dell'Oca — July 28 – August 6, 2017
Join us for Bettona's biggest annual festival. Our annual Sagra dell'Oca (Sagra of the Goose) is a 10 day celebration when the whole town comes alive like no other time of the year. Thousands of people flock to Bettona to enjoy great food — goose being the specialties — for which we are justifiably famous.
It's an amazing community event when all of us pull together. Organized by our Pro Loco (sort of like a Rotary Club), all of  the locals prepare, cook, and serve local cuisine in the typical Italian summer festival style. Our good cooking, which attracts over 1000 people each night, is served in the garden of the former convent of Santa Catarina near the town's main gate.
There will be crowds (and parking is always an adventure) so arrive early (7-ish) and avoid a long wait for our ever popular delicacies. I recommend the roast goose with salad, tagliatelli with goose sauce, and the nightly specials which range from hand made gnocchi to a wonderful "porchetta dell'oca" – goose rolled and roasted like the traditional porchetta. Each night also offers dancing in the main piazza to a variety of Sagra bands. Come one come all, it's something you'll never forget.
Explore other events in Umbria: