While Umbria is known for its many Etruscan, Roman, and Medieval towns, it also possesses extraordinary works from the Renaissance. Towns large and small boast beautiful churches filled with frescoes, paintings, decorative works, and sculpture that rival those found in Tuscany. From Giotto's great fresco cycle in Assisi to the spectacular last work of Filippo Lippi in Spoleto, Umbria offers surprises to even the experienced art traveler. From the monumental duomo of Orvieto and the basilica of San Francesco to Spoleto's intimate 6th-century San Salvatore and the Romanesque churches of Bevagna, you'll discover an Umbria you didn't know existed. And, with far fewer tourists, your art experiences will be sublime peaceful.
Customized tours for 2 to 14 people offered anytime April to November. Contact info@aweekinumbria.com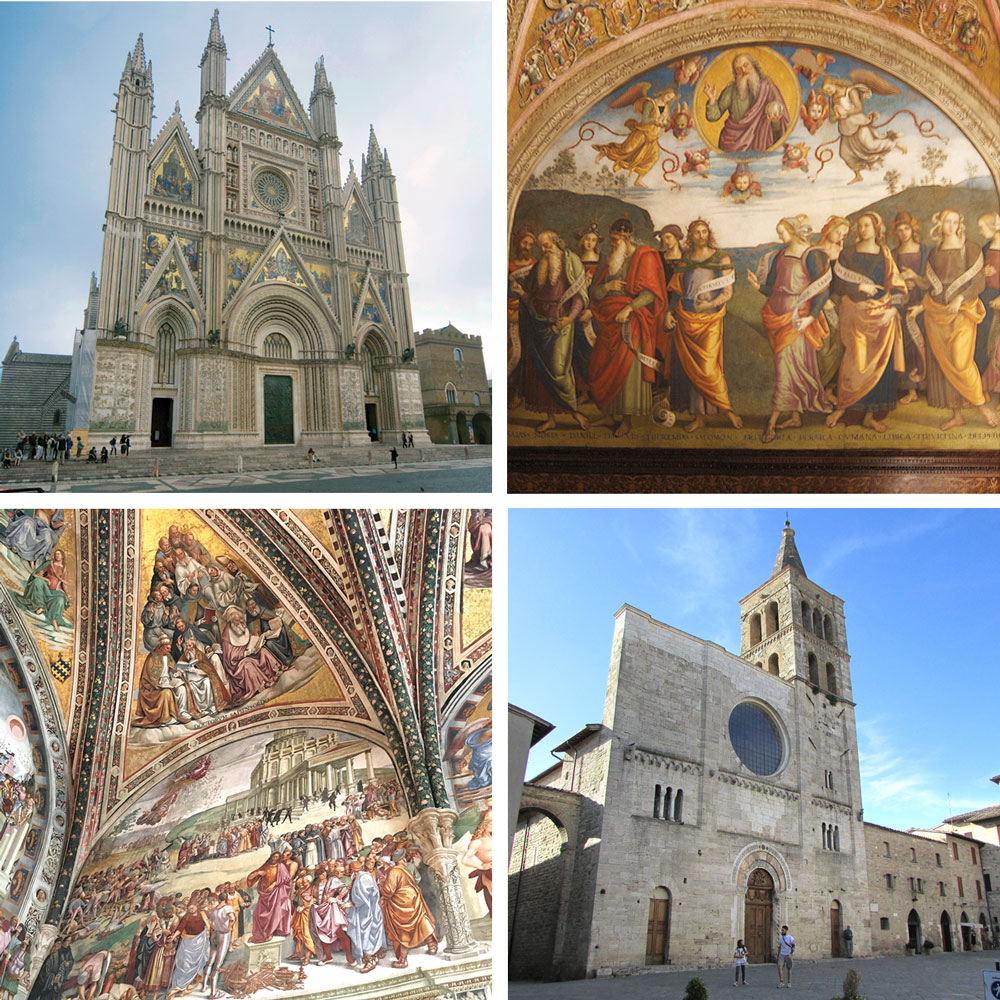 Discover extraordinary Renaissance works in intimate settings
A visit to Umbria is not complete without discovering the work of Perugia's most famous artist, Pietro Vanucci called Perugino. You will find his work throughout Umbria but some of his best works can be found in the Collegio del Cambio and the National Painting Gallery, both located in Palazzo dei Priori in the center of Perugia. In addition, the Gallery is home to extraordinary works by the Master of San Francesco, Fran Angelico, Benozzo Gozzoli, Duccio and many more.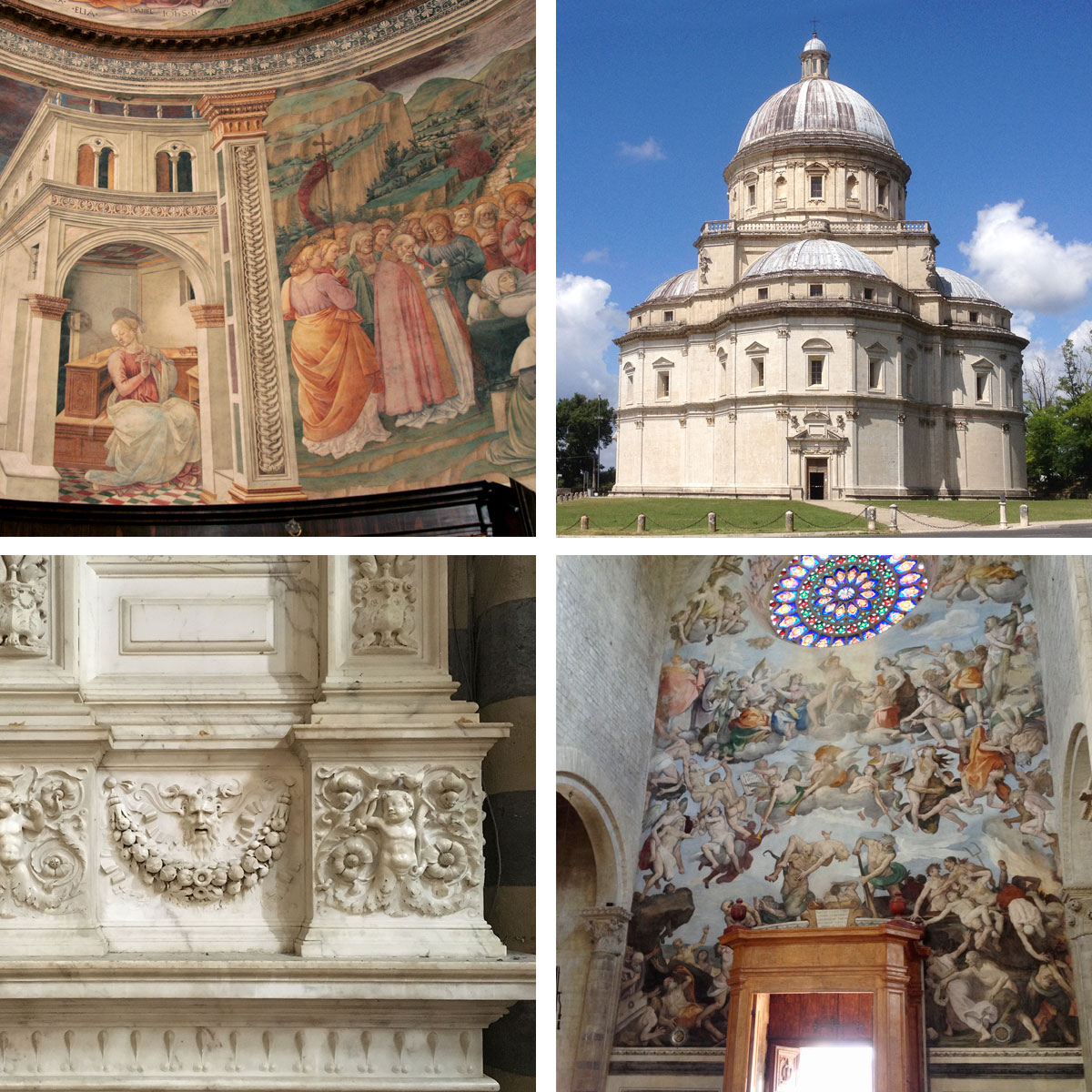 The Art of Umbria tour will bring guests to every corner of the region to discover great works. We will visit the duomo in Orvieto to see Luca Signorelli's frescoes that were so important that Michelangelo stopped to see them on his way to Rome to paint the Sistine Chapel. We'll spend a morning in the basilica of San Francesco in Assisi, which alone houses works by Cimabue, Giotto, Pietro Lorenzetti, and Simone Martini. We will search out Pinturicchio in Spello, Lo Spagna in Trevi, Benozzo Gozzoli in Montefalco, and find Perugino all over the place, and even visit his resting place in Fontigiano.
Lest we not be stuck only in the Renaissance, and with time permitting, we will also take in several of Umbria's more famous Etruscan and Roman sites. A visit to the Hypogeum of Volumnus, an Etruscan tomb and burial site outside Perugia, and Roman Mosaics in Bevagna and Assisi.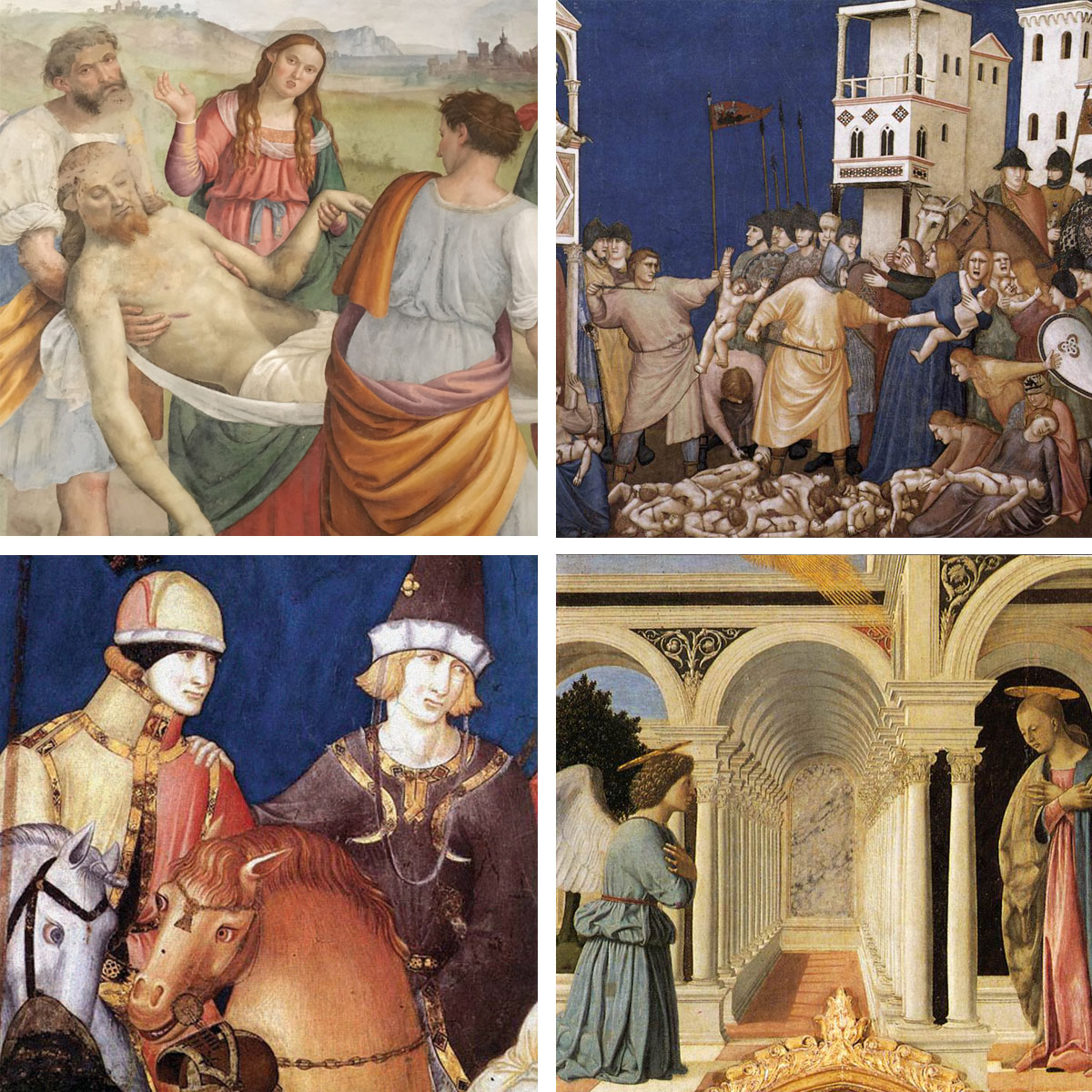 You'll walk the streets of our wonderful hill towns to discover beautiful piazzas faced with impressive churches; spectacular views that will fill your heart; and savor the extraordinary food and wine for which we are justifiably famous. And you'll kick back and relax in a restored 17th-century palazzo in a perfect walled town.
aWeekinUmbria's tour packages offer a spectacular way to discover Umbria. From the moment you are picked up at the airport you will be in the capable hands of the owner of Palazzo Fiumi-LaPlaca. In his second career as and innkeeper, Michael LaPlaca, a transplanted New Yorker who founded an advertising agency that specialized in museums and cultural institutions in the US, is more than happy to share his knowledge and expertise to help you explore this wonderful region that has so captivated his heart. While this tour emphasizes Umbria's rich heritage of art, combined with sightseeing and our great food and wine, it will be an enjoyable introduction to all things Umbrian.
Tour cost: $2600 per person (4 people), double occupancy in a private or shared apartment or B&B room.  (Depending on group size and room availability, there may be a $350 surcharge for single occupancy.) Depending on availability, two person tours are also accepted at a slightly higher cost and may include a morning or afternoon on your own in Perugia or Assisi. Airfare is not included.
Our all-inclusive packages include:
• Pick-up and drop off at Rome's Fiumicino airport;
• 7 nights accommodations at Palazzo Fiumi-LaPlaca;
• Day trip tours of our fabled hill and plain towns, including Perugia, Assisi;
• Entrance fees to all museums and churches for the week;
• All meals (excluding one possible lunch on your own);
• A truffle hunt in the beautiful mountains above Spoleto and then a truffle lunch (if season permits);
• A cooking lesson in the palazzo's wonderful main kitchen;
• A wine tasting at one of our extraordinary wineries;
• Afternoon excursion to Deruta to shop for world famous ceramics;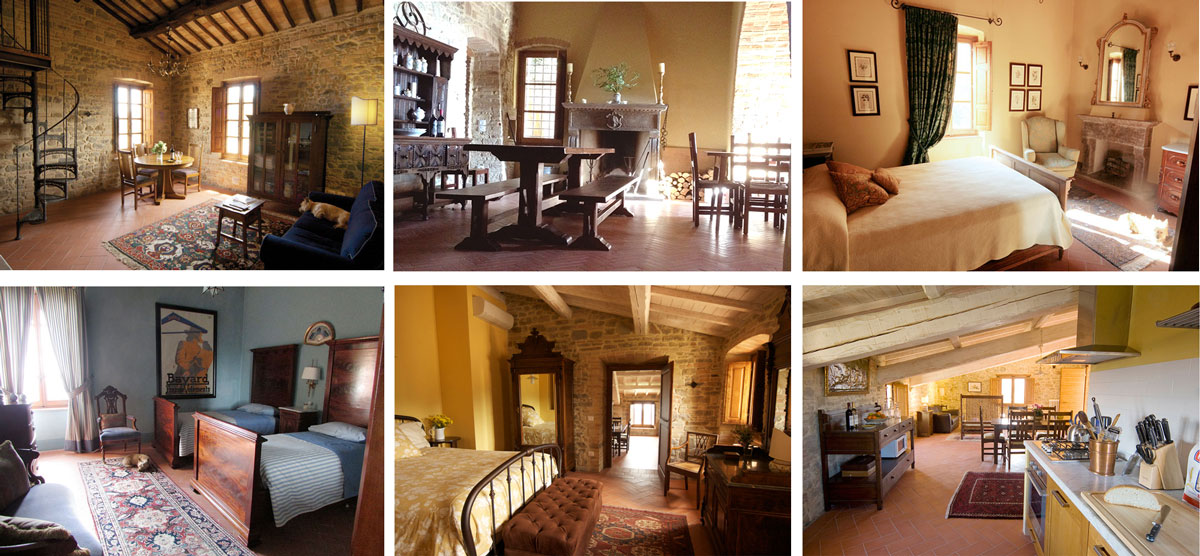 Accommodations in a restored 17th-century Palazzo Fiumi-LaPlaca in the walled hill town of Bettona, situated just south of Assisi and Perugia. A variety of options for shared and private rooms — two 2-bedroom apartments, a 1-bedroom apartment, and 2 private B&B rooms – are available. Couples and singles are welcome. (Depending on group size and room availability, there may be a $350 surcharge for single occupancy.) For more information go to Accommodations

Sample Itinerary
Day 1:
• Arrive Rome Fiumicino, transport to Bettona, Umbria
• Lunch at Palazzo Fiumi-LaPlaca
• Afternoon to explore town and our small museum
• Evening meal Bettona restaurant
Day 2:
Breakfasts at palazzo or cafe
• Visit to Perugia, Umbria's capital and largest city;
• Explore the wonderful National Painting gallery, Perugino's Collegio del Cambio, Raphael altar piece, and much more;
• Early dinner at fabulous pizzaria
Day 3:
• Visit Assisi – Explore the Basilica of San Francesco with frescoes by Giotto, Pietro Lorenzotti, Simone Martini, and Cimabue;
• Visit Spello – Pinturicchio's Baglioni Chapel and Church of San Andrea;
• lunch in local trattoria;
• Visit Trevi to discover works by Lo Spagna and Perugino;
• Dinner in Torgiano
Day 4:
• Visit church of San Pietro in Perugia with its wonderful collection of paintings including Perugino and a small Caravaggio;
• Head off to Panicale for lunch and Perugino's Martyrdom of San Sebastiano fresco and stop at Perugino's burial place in Fontignano
• Dinner at local Sagra (festival)
Day 5:
• Enjoy a truffle hunt followed by lunch in the mountains above Spoleto.
• Explore Spoleto and environs — 8th century church of San Salvatore (a UNESCO World Heritage site) and the spectacular duomo with fresco cycle by Filippo Lippi;
• Dinner at Palazzo
Day 6:
• Visit 2 Romanesque churches and a mosaiced Roman bath in Bevagna;
• Visit Montefalco – museum visit with Benozzo Gozzoli fresco cycle of the life of Saint Francis
• Lunch and wine tasting;
• Shopping excursion to famous ceramic center of Deruta;
• Dinner at a local restaurant
Day 7:
• Visit Orvieto, its duomo and famous chapel frescoed by Luca Signorelli, Fra Angelico, and Benozzo Gozzoli;
• Lunch at il Moro
• Visit Todi — Bramante's Santa Maria della Consolazione as well as the historic center and duomo with recently restored Last Judgment by Fenzoni (1596);
• Dinner at the palazzo
Day 8:
• 8:30 departure for airport
Accommodations for additional days are available for those who wish to stay longer or arrive earlier.
Airfare NOT included.