Glorious Gardens Tour
Join us for an adventure to discover beautiful gardens in Umbria and just over the borders in Lazio and Tuscany 
Spectacular Garden Adventure
Umbria is known as the Green Heart of Italy for its central location and the lushness of its hills and plains. Join us as we discover the glorious gardens of Umbria and a bit beyond — we'll venture in to Lazio and Tuscany.
Villa Lante
at
Bagnaia
is a Mannerist garden near Viterbo, in Lazio, attributed to Jacopo Barozzi da Vignola
. 
The Villa Lante is formed by two
casini
(houses), nearly identical but built by different owners in a period separated by 30 years. Each square building has a ground floor of rusticated arcades or loggias and is crowned by a tower or lantern. The villa was first commissioned by Cardinal Gianfrancesco Gambara and work commenced in 1566.
The second casino was completed by Cardinal Alessandro Peretti di Montalto, the nephew of Pope Sixtus V, . It was this mere youth who completed the project at Bagnaia and built the second casino. Both casini contain frescoes,   plaster sculpture, and trompe l'oeil.
The gardens  includes many water features — cascades, fountains, and dripping grottoes with a sophisticated hydraulic system. The central feature of the garden is the perfectly square parterre known as the Quadrato. Two Mannerist houses, called casini built by the first two owners with work beginning in 1566, fill one side of the parterre. The remaining sides are enclosed by high box hedges and the centre filled with low box sculpted into decorative patterns around small fountains and sculptures. The parterre has a complex fountain at its centre, formed of four basins, separated by walkways and the centre basin contains sculptures by Giambologna. The rest of the garden contains several other large terraces with an intricate series of fountains, sculptures, hedges, and plantings, which are reminiscent of Villa Farnese and Villa d'Este.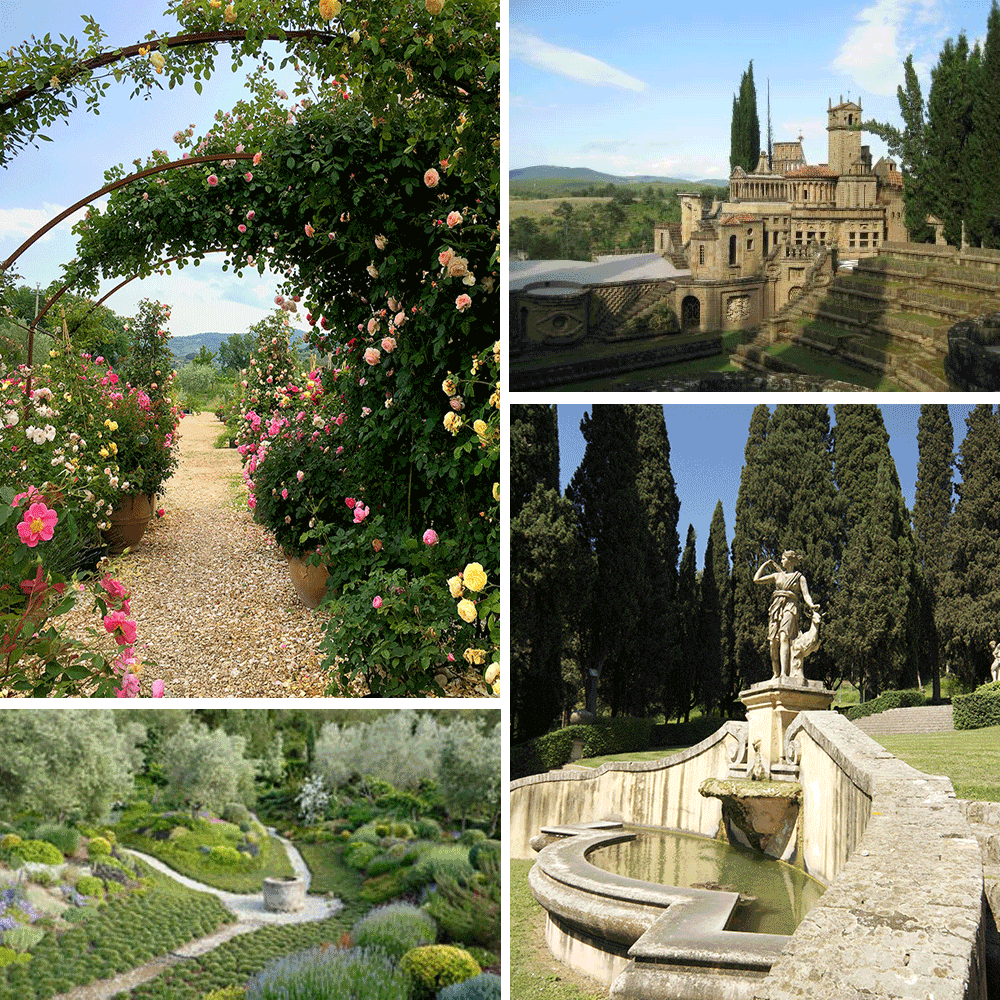 Tour cost: $2700 per person, double occupancy in a private or shared apartment or B&B room. (Possible surcharge for single occupancy, depending on number of guests and room availability.) Airfare is not included.
Our all-inclusive packages include:

• Pick-up and drop off at Rome's Fiumicino airport;
• 7 nights accommodations at Palazzo Fiumi-LaPlaca (go to
Accommodations
);
• A beautiful printed book of treasure hunts in various Umbria towns;
• Day trip tours of our fabled hill and plain towns, including Perugia, Assisi, Montefalco, and more;
• All meals (excluding one possible lunch on your own);
• A truffle hunt and then a truffle lunch;
• A cooking lesson in the palazzo's wonderful main kitchen;
• A wine tasting at one of our extraordinary wineries;
• Excursion to Deruta to shop for world famous ceramics;