Parliamo Italiano in Italia
Immersion Italian Language Tour

2020/tbd
aWeekinUmbria.com is pleased to offer a spectacular 7-day Italian language tour package filled with opportunities to hone your Italian language skills in this full immersion adventure. Structured morning lessons with local Italian language teachers will focus on the days activities and prepare students for a full immersion experience.
Then, stepping into a living classroom, the adventure begins for real.
You'll start your day by ordering a cappuccino and cornetto at the bar in the piazza. In the afternoon you'll stroll the intimate streets of an Umbrian hill town and ask for directions or do some shopping. At lunch you'll practice how to order off the menu and then sit back and savor the Umbrian cuisine and wine you've been longing for. You'll get to meet the locals and practice your conversational skills at a barbeque held in the palazzo's garden surrounded by roses, and olive and fruit trees. We'll also visit Orvieto on market day where you'll help buy food for dinner at the stalls. One afternoon we'll sit in the shade in Assisi and read the Prayer of Saint Francis then go to Deruta to meet local artisans and shop their world famous ceramics. And you'll do all of this in Italian. What fun! And you'll also discover Umbria's Etruscan, Roman, Medieval, and Renaissance heritage, visit glorious churches and museums, and enjoy breathtaking views all along the way. (Beginner intermediate level.)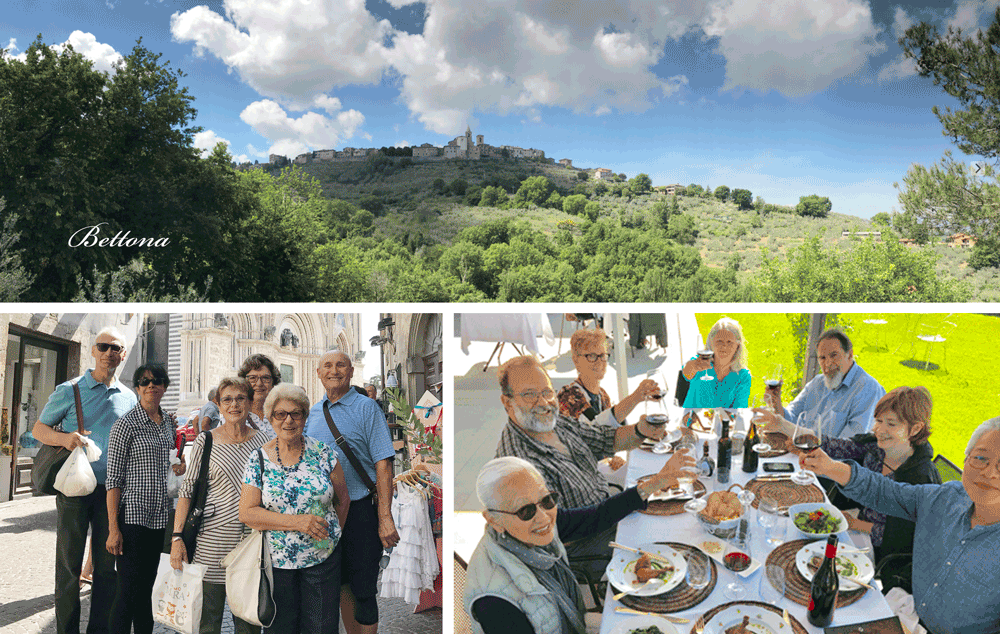 For this Italian language tour, lessons will focus on the daily experiences — going to the market, ordering in a restaurant, shopping — with an emphasis on understanding Italian phrases so that you'll be able create your own. There will be lots of opportunity to practice Italian without pressure as well. Past guests have said the car rides through the Umbrian hills and vineyards have been particularly fun and helpful as we discuss what we're passing and they get to ask questions. Yes, we do as much as we can in Italian.
Accommodations: To round out the experience, you'll stay at the 17-century Palazzo Fiumi-LaPlaca in the walled town of Bettona, home of  your American host who will make you feel at home as you explore Umbria.
Why not join other Italilofiles and me for the spectacular language adventure you've been waiting for. For more information, write  info@aweekinumbria.com  
Vieni, vieni!  — Michael LaPlaca
7-day tour package cost: $2750
aWeekinUmbria's special 7-day tour cost is $2750 per person, double occupancy in a private or shared apartment or B&B room. (Possible surcharge for single occupancy, depending on number of guests and room availability.) Airfare is not included.
Minimum 4 people, maximum 8. 
Package includes:
• Pick-up and drop off at Rome's Fiumicino airport;
• 7 nights accommodations at Palazzo Fiumi-LaPlaca (go to Accommodations);
• 4 morning lessons (2-1/2 hours each) with a Italian as a second language teacher;
• 2 additional lessons – one focusing on idioms and the other demystifying dialects;
• Copies of of Kathryn Occhipinti's Conversational Italian Books for Travelers:  Just the Verbs, and Just the Grammar (one set per couple)
• Day trip tours of our fabled hill and plain towns, including Perugia, Assisi, Montefalco, and more;
• All meals (excluding possibly one lunch on your own);
• A barbeque in the garden with locals to practice your conversational skills;
• A lesson on the Italian card game Burraco;
• A cooking lesson in the palazzo's wonderful main kitchen;
• A wine tasting at one of our extraordinary wineries;
• Excursions to Deruta to shop for world famous ceramics and a cashmere outlet.