Parliamo in Italia 2018
Discover Umbria on an 8-day Language Adventure
(In the planning stage)
aWeekinUmbria.com offer a spectacular 8-day tour package filled with opportunities to hone your Italian language skills. Five lessons by an experienced teacher will ground us in the language. (Beginner to intermediate level.) The rest of the time we'll explore the fabled cities of  Assisi, Perugia, Orvieto, Spoleto, to name but a few; interact with locals at social events; enjoy a truffle hunt; attend a town festival; and much more.
Stepping into a living classroom, you'll savor Umbrian cuisine and our delicious Sagrantino wine; practice how to order off the menu; stroll intimate villages and ask for directions; visit local markets and shop for food; meet artisans and purchase world famous ceramics in Deruta; read a poem or passage from a famous novel — all in Italian. And all the while you'll discover our Etruscan, Roman, Medieval, and Renaissance heritage; visit glorious churches and museums, a medieval abbey; and enjoy breathtaking views all along the way.
Accommodations at the 17-century Palazzo Fiumi-LaPlaca in the walled town of Bettona, home of  your American host and the perfect base from which to explore Umbria.
 8-day package: $2750
Airfare is not included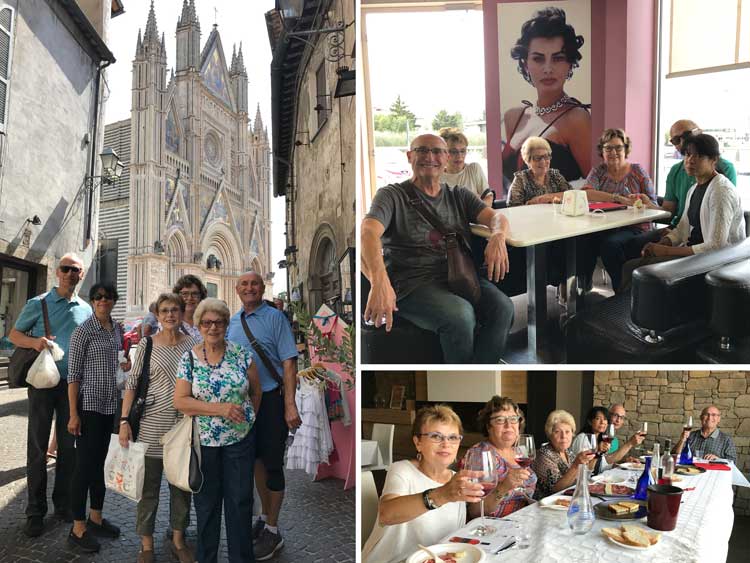 Tour cost: $2750 per person, double occupancy in a private or shared apartment or B&B room. (No surcharge for single occupancy, depending on number of guests and room availability.) Airfare is not included.
Our all-inclusive packages include:
• 8 nights accommodation in Bettona, Umbria;
•  All local transportation including pick-up and drop off at airport;
• 5 morning or afternoon lessons with an experienced Italian teacher;
• Daily adventures, tours, visits to hill towns and more.
• Almost all meals;
• A cooking lessons (in Italian and English)
•  A tastings at a local winery;
•  A truffle hunt and lunch;
• Visit to a local market where students will order on their own (alright, we'll be there to help);
•  Countless opportunities to interact with locals.
Note: Breakfasts each morning will be either at the palazzo or at the bar in the main piazza. Please discuss dietary restrictions in advance.

Discover some of the most beautiful places in Umbria