Small Group Tours:
All inclusive tours when you decide
OK, you want to take a trip with a few of your best friends and you'd like it to be really special, i.e great places to visit, extraordinary food and wine, spectacular accommodations, and maybe a charming host thrown it to make it all run smoothly. Well, you've come to the right place. Personalized tours are what I do best. (But then again, I am 'best' at many things around here.) The point is, if you want an amazing personalized vacation, I can make it happen. And groups of as few as 4 people are all you need.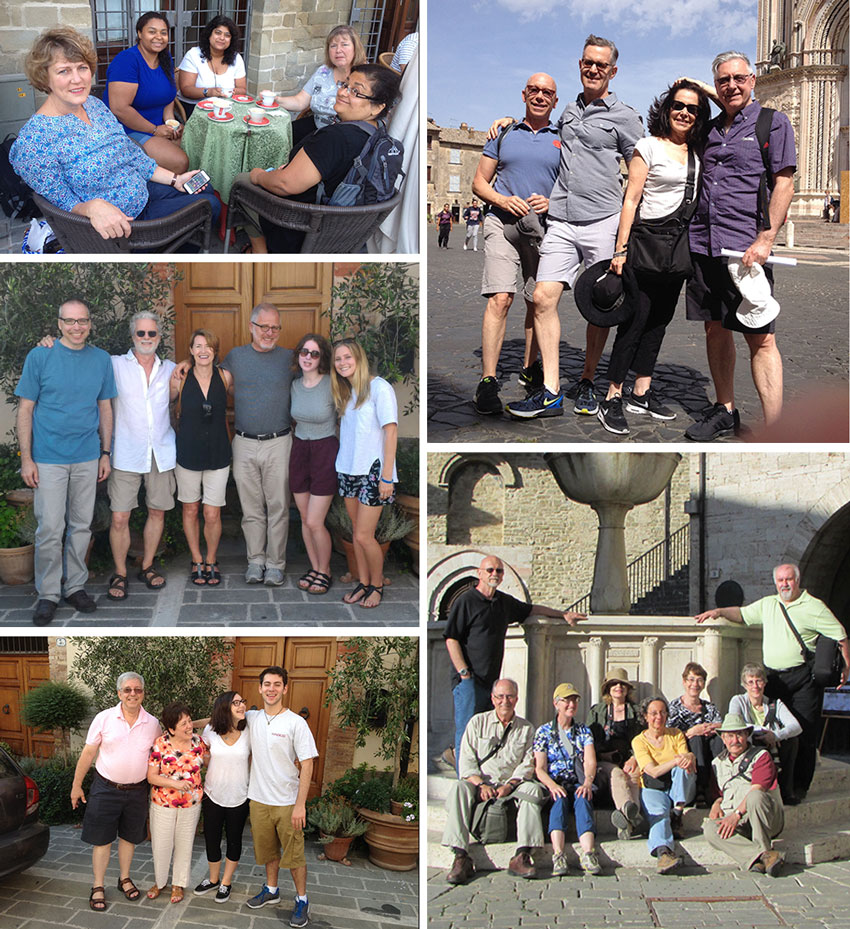 Choose your area of interest or let me craft a very special tour just for you.
I'm happy to take you under my wing and show you the Umbria I've fallen in love with. I specialize in cultural and art themed tours with a strong emphasis on Umbrian cuisine and wine. There are so many places to go and things to do and plenty of time in between for relaxing. You set the pace. If you'd like lots of things everyday or leisurely mornings, a nice lunch out and then something – great. Maybe a day of pampering at a spa or an afternoon at a golf course is what you had in mind. Maybe you'd like a cooking lesson one afternoon – easily done. Or maybe you've dreamed of discovering the most wonderful art treasures Umbria has to offer – that one's easy. I'll make it special and filled with memorable experiences.
Small tour packages include:
• Pick-up and drop off at Rome's Fiumicino airport;
• 7 nights accommodations at Palazzo Fiumi-LaPlaca (go to Accommodations);
• Day trip tours of our fabled hill and plain towns, including Perugia, Assisi;
• All meals (excluding one possible lunch on your own);
• A truffle hunt in the beautiful mountains above Spoleto and then a truffle lunch;
• A cooking lesson in the palazzo's wonderful main kitchen;
• A wine tasting at one of our extraordinary wineries;
• Afternoon excursion to Deruta to shop for world famous ceramics;
Tour packages range in price from $2500 to $3000 per person, depending on activities selected. Price is for a minimum of 2 people sharing an apartment or B&B room or 4 people sharing the largest apartment -Assisi. Other room/apartment configurations are also available and larger groups are always welcome.
Full/Half Day Tours:*
350/200€ Perfect for couples or small groups renting here at the palazzo who would like help fitting a lot into a day or two. Visit several towns as well as taking in a wine tasting.
*plus cost of meals and van rental, if necessary depending on size of group.
Let's talk.