Guided tours in Umbria:
The original goal, and hence the name aWeekinUmbria, has been to offer specialized experiences. I've always enjoyed taking people who stayed with me around to show them the Umbria I fell in love with. It started out with groups of 4 people who needed more help finding places and wanted to spend less time worrying about how to get there, where to park or, more importantly, where to eat. It was fun sharing what I had discovered with them and I realized it was what I enjoyed most.
I really started doing full out tours, like this year's Knitting Adventure or Parliamo in Italia, in 2012. Since then I've done about 25 tours on a variety of topics. Food and culinary tours are what I'm asked to do most but I have done several photography tours, many general art and culture tours, and several book club tours, which are a lot of fun. Tour sizes have ranged from one or two couples up to 32 people. But from 4 to 8 person tours are the norm.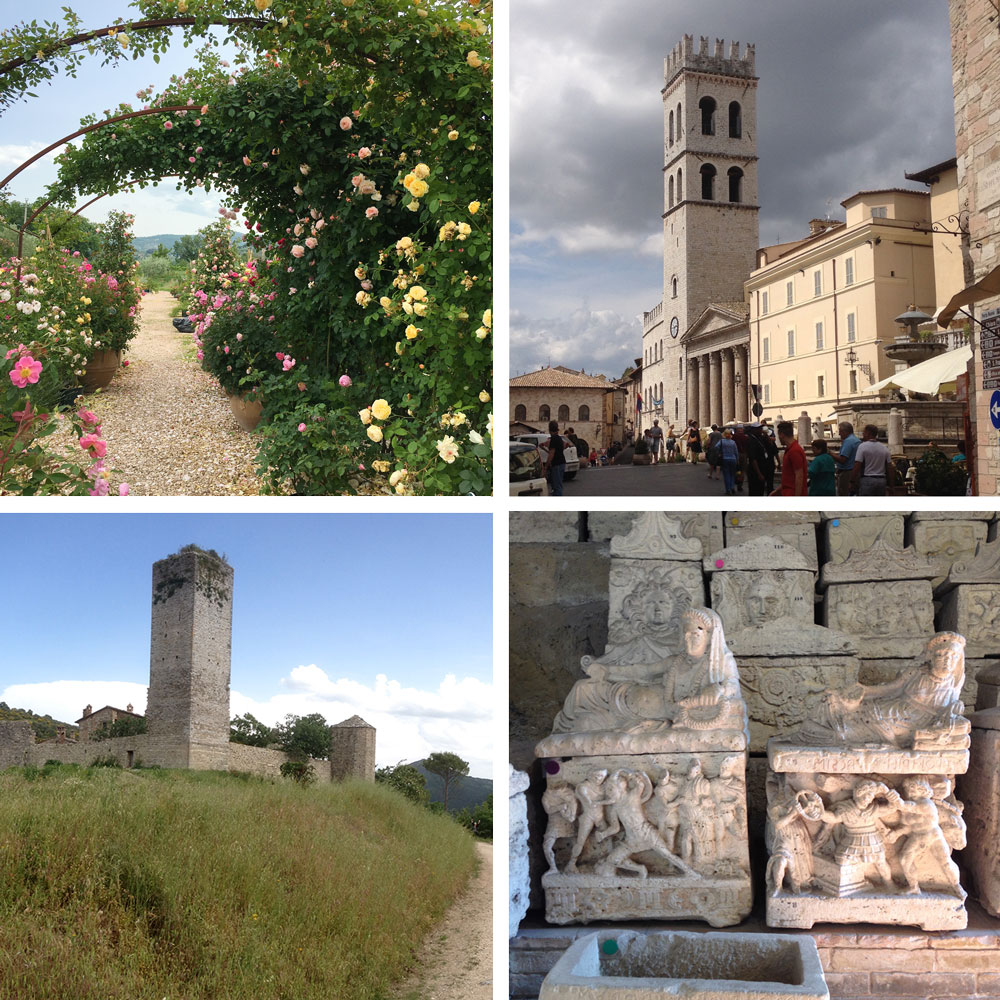 Small Group Tours:
Groups of as few as 2 people can make up a tour. Choose your area of interest or let me craft one especially for you. I specialize in cultural and art themed tours with a strong emphasis on great food and wine.  Small tour packages include accommodations, pick up and drop off at airport, tours, meals, and most other fees. All inclusive tour packages average between $2500 and $3000 per person, depending on activities. (Price for a minimum of 2 people sharing a one bedroom apartment or B&B room or 4 people sharing the largest apartment -Assisi.  Other room/apartment configurations also available.)
Tours are from 7 to 10 days and range in price from $2500 to $3750 per person. Double occupancy is preferred and there is an up-charge for one guest in a room. (If the entire palazzo is full, I usually wave the surcharge for single occupancy.) Included in packages are accommodations, all transportation, tours, meals, admissions/activity fees, and pick up/drop off at airport.  Air fare is never included.
For more information contact Michael at info@aweekinumbria.com
Themed Group Tours already planned
Join us for one of the themed tours already planned for this year (see column to the right) or let me plan one for this or next year. Family events like  special birthdays, anniversaries, even a destination wedding are great excuses to come and make a week of memories.  I can put together an all inclusive package you'll love. The palazzo sleeps 14 guests with additional rooms at the town's hotel a few blocks away. (Remember nothing in Bettona is more than a 'few blocks away" in any direction.)