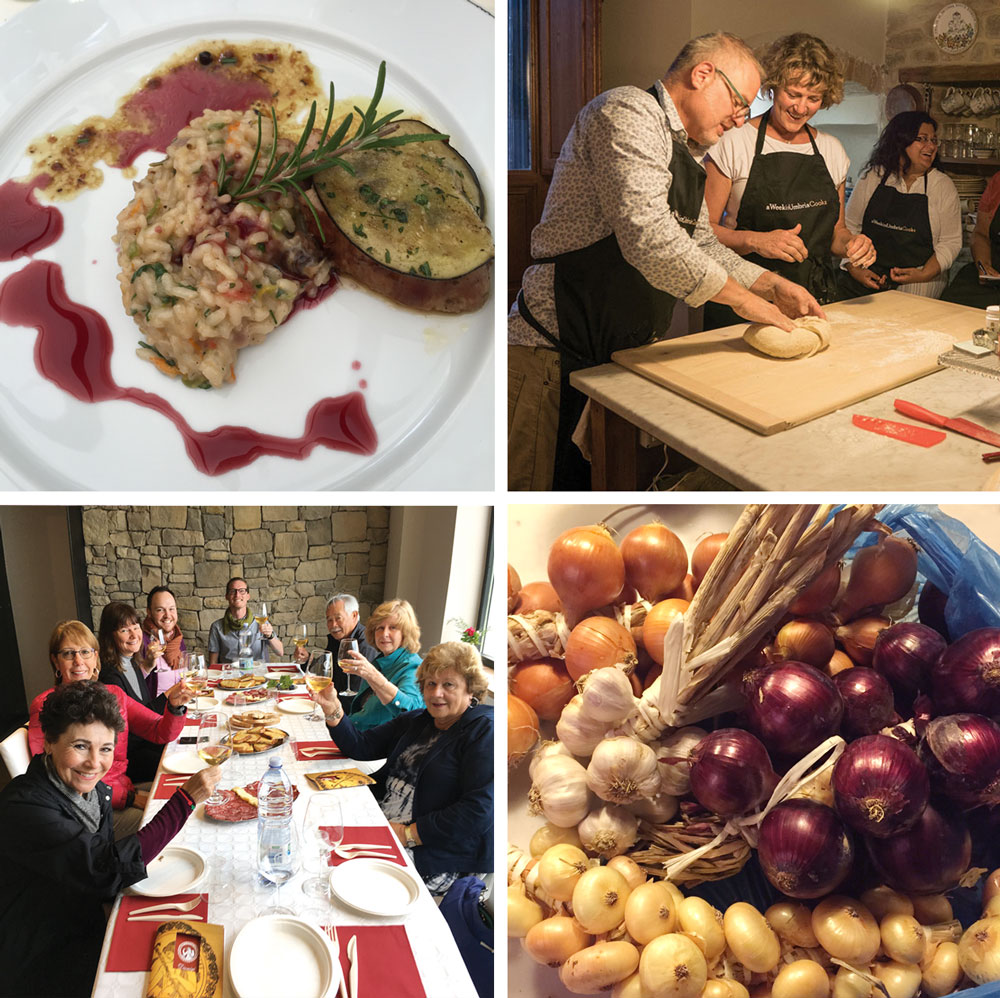 Umbrian Culinary & Wine Adventure
July 1–8, 2017
Join Umbrian master chefs and local cooks for a spectacular week savoring the great tastes of Umbrian cuisine and wine
In addition to offering small private tours, each year aWeekinUmbriaCooks plans one all out spectacular week — this year it's July 1-8. This is your opportunity to experience Umbrian cooking up close and personal with a stellar cast of great chefs and cooks. If you're looking for the best culinary tour of Umbria, this is it.
Our hands-on lessons with local chefs and cooks are the authentic culinary experiences guests keep asking for more of. And you will get into the thick of things. Some lessons will be held in the palazzo's beautiful kitchen and others in the kitchens of local restaurants. In either case, these extraordinary friends will share some of the dishes for which they are renown.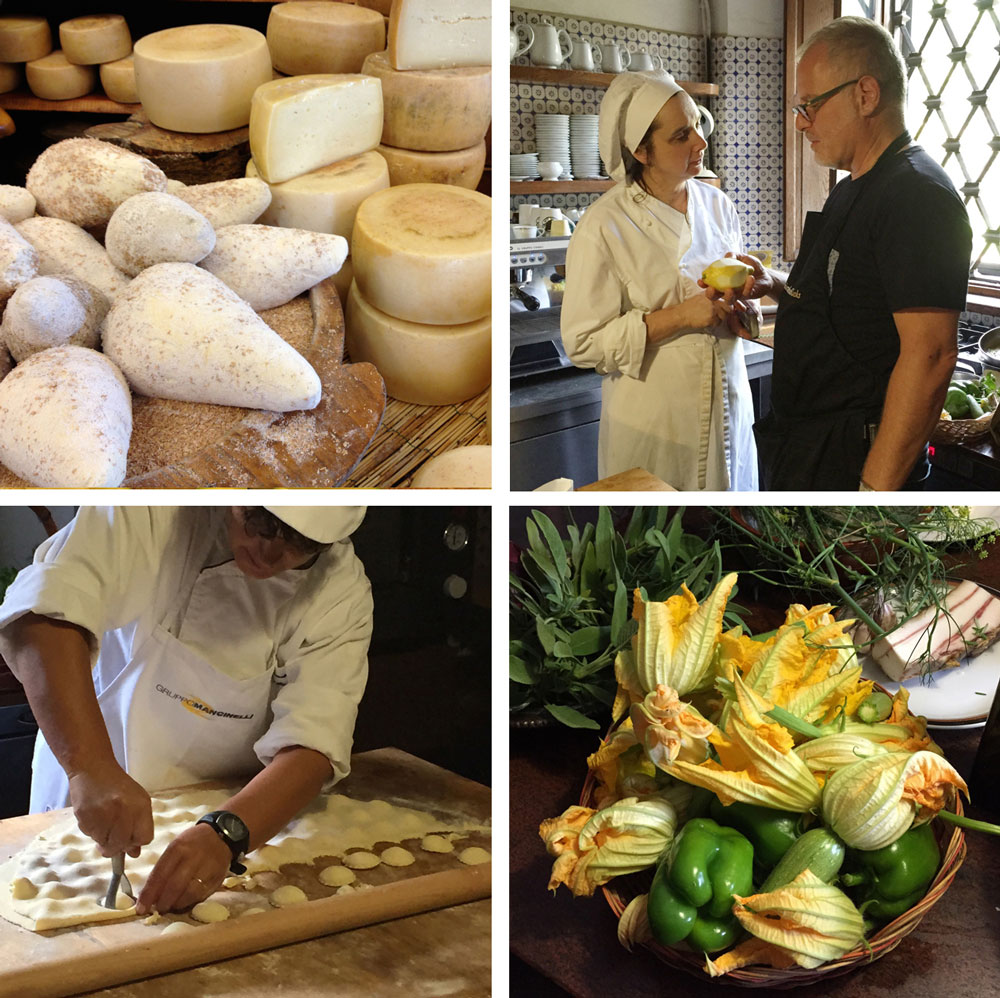 7-Day Tour package: $2800 per person
(Double occupancy in shared apartment or B&B room. If available, single occupancy is $250 additional.) Airfare is NOT included
Package includes:
• accommodations for 7 nights at Palazzo Fiumi-LaPlaca in Bettona;
• all classes with local chefs and cooks;
• daily guided tours, all entrance fees;
• all but one meal (there's a lunch out on your own);
• wine tasting at a fabulous winery;
• olive oil tasting;
• Truffle hunt followed by a lunch in the hills above Spoleto;
• pick up and return to airport (to meet one flight each way).
Tour will accept up to 8 people.
Not available this week? Plan your own customized tour whenever you want. All-inclusive tours are available mid-April–mid-November for 4 to 8 people. 
For more information write info@421.259.myftpupload.com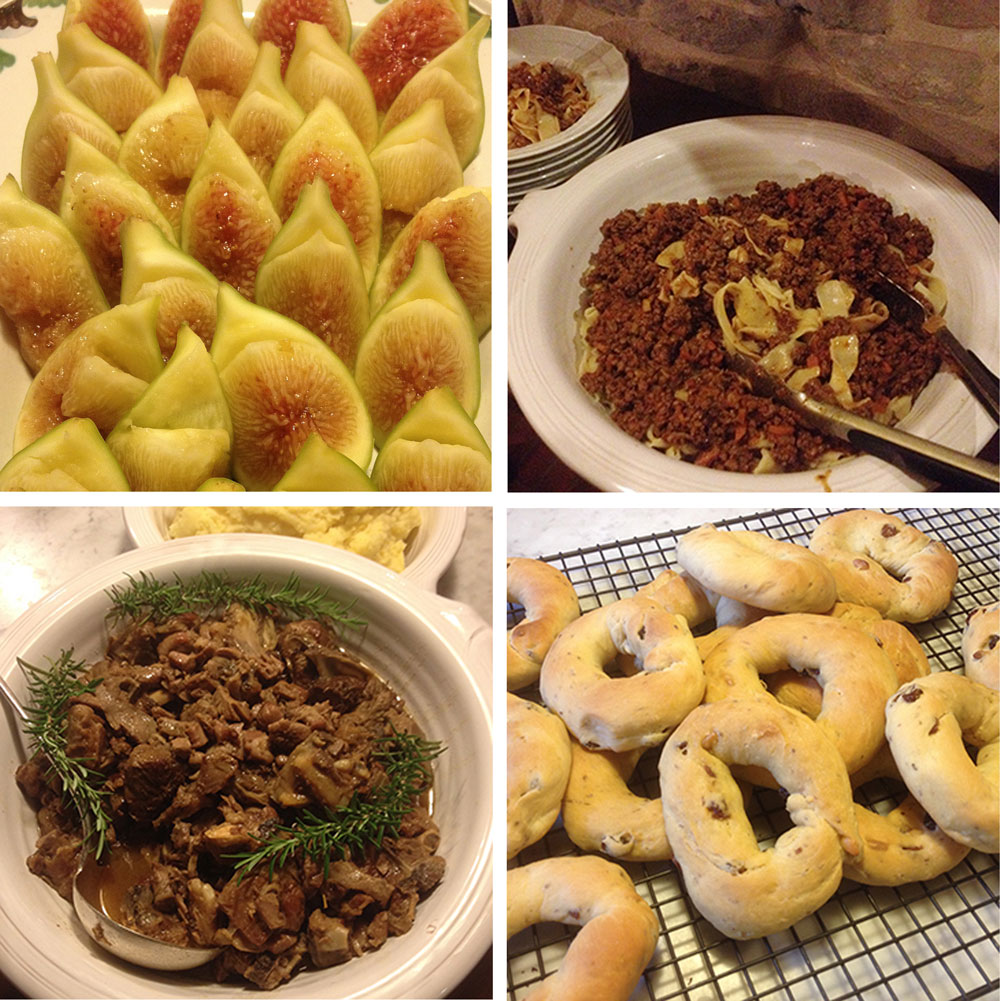 Sample Lessons: Great chefs, cooks, and friends
Villa Roncalli, Foligno: Our last Culinary Tour lesson was supposed to be 4 hours and it stretched to 7 while Maria Luisa Scolastra prepared course after course. There was an amazing frittata with garden vegetables followed by a more than amazing filled gnocchi in two sauces, then risotto with roast pigeon in a fabulous sauce, then pork tenderloin in a Sagrantino (wine) reduction, and finally Marialuisa's individual apple/pear cakes. It was all just too wonderful. Can't wait to do it again with what's in perfect season in 2017.
______________
A morning with dear friends: Share a morning of raised dough and dolce. Luisella Reale, famous in Bettona for just about everything, teaches us two dolce recipes — torta della nonna and a crostata, Umbrian style made with olive oil. Loretta Bartolini teaches us the classic Umbrian torta al testo (Umbrian flat bread), cooked on a metal plate (a testo) on top of the stove and used traditionally for sandwiches. And, the treat of all treats, the amazing Margherita Sciattella, a 92 year old legend will share her recipe for the beloved zuccherini di Bettona, a traditional dolce found only, you guessed it, here in Bettona. A morning filled with local recipes and a chance to meet the real people that make living in Italy so memorable and the reason why Bettona is such a wonderful place to live.
______________
Roberto Piergiovanni: Bettona is well known throughout Umbria as offering one of the best sagras (town festivals) featuring authentic local dishes. Who better to teach us how to make the classic sugo del'oca (goose sauce) than the delightful chef from our renown Sagra del'Oca (goose festival). Roberto will come to the palazzo to teach us how to make his famous sauce but also the traditional Umbrian umbricelli (fresh eggless pasta). Definitely a delicious treat for all.
Farm visit: Guests will spend a morning visiting the organic farm  in nearby Collazzone, specializes in responsible meat production — Chianina beef, lamb, pigs, and chickens — raised with an absolute commitment to a healthy farm to table philosophy. Tour the farm, see prosciutto preparation, understand the curing process, and watch sausage being made.
______________
Amanda Masoni of l'Osteria i Birbi  opens her kitchen for a lesson in several of her most special dishes. First her wonderful vegetable tempura and battered bacalà and then her delicious faraona (guinea hen) stuffed with artichokes. Both are my favorites.
Your host, Michael LaPlaca, will certainly be in the act sharing some of the Palazzo Fiumi-LaPlaca's special recipes like pannacotta with fresh fruit and vin santo, an amazing torta Caprese, as well as pepperoni jam, and other seasonal treats. His pasta workshop will focus on filled pastas leading to a relaxed dinner at the palazzo.
Beautiful accommodations are what we specialize in at Palazzo Fiumi-LaPlaca
Stay in a beautifully restored 17th-century palazzo where you'll find comfortable beds, soft towels, and a welcoming host to help make your visit to Umbria memorable. A variety of options for shared and private rooms are available in one and two-bedroom apartments and B&B rooms. Palazzo Fiumi-LaPlaca is located in the small hill town of Bettona situated between Assisi and Perugia.
Go to accommodations for more info.
Accommodations for additional days are available for those who wish to stay longer or arrive earlier.

Join us for an all inclusive tour this year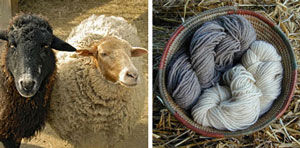 Explore the cashmere and wool farms of Umbria and much more. 2 places still available >Knitting Tour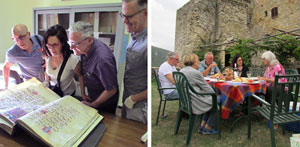 • Book Club tours
Available anytime you want. Joins us for a fabulous adventure. Read 3 books and come prepared for the authors' world come alive as you discover the actual settings and real flavors of Umbria. (Available for 2 to 4 people too)
More info> Book Club tours