For more information, contact info@aWeekinUmbria.com
aWeekinUmbria announces our cooking school aWeekinUmbriaCooks with Julia della Croce, celebrated journalist, cook, author, and friend.
Meet the extraordinary Julia della Croce
Julia della Croce is one of America's foremost authorities on Italian food. She is the James Beard award-winning author of over 14 cooking and travel books, including Umbria: Regional Recipes from the Heartland of Italy (Chronicle Books), which Lidia Bastianich has called "a must-have for anyone serious about Italy and its food." Her books have been translated into 13 languages, and distributed around the world. She was distinguished by the James Beard Foundation as "one of America's best cooking teachers" and has conducted many cultural and culinary tours to Italy. Find out more of what Julia is up to at Forktales.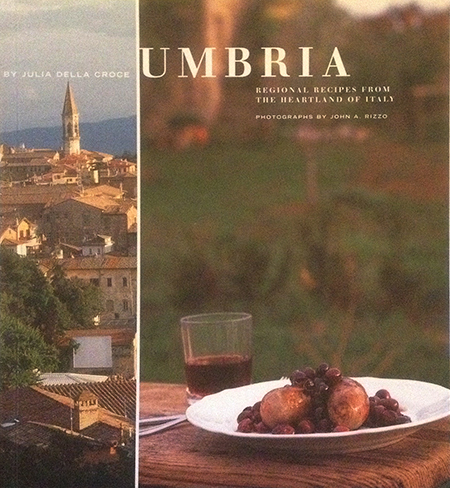 aWeekinUmbriaCooks: Cooking School in Umbria: The cooking school will have two distinct parts. The first will offer extraordinarily rich culinary experiences focusing on not only the cuisine of Umbria but on the art and culture of the region as well. (See itinerary below.) Lessons in Italy are conducted at Palazzo Fiumi-LaPlaca in the picturesque hill town of Bettona. Located 18 kilometers from both Perugia and Assisi in the heart of Umbria, the restored 17th century palazzo offers extraordinary accommodations for a spectacular vacation. Nestled within its medieval walls, the town and palazzo are the perfect base from which to discover Umbria.
Culinary Tours: 8-Day package
This year our tour will be held in August when Julia will be in residence teaching, cooking, and accompanying guests on a magical culinary adventure. Michael LaPlaca, your host at Palazzo Fiumi-LaPlaca, will lead the day tours to wonderful hill towns bursting with charm and amazing art. Having lived in Umbria for many years, he knows his way around and is anxious to share the wonders of the region he fell in love with.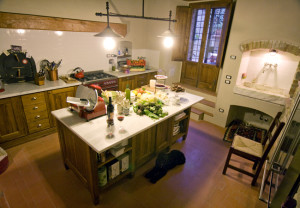 The palazzo's beautiful kitchen, the envy of every guest, easily accommodates 8 students for demonstration and hands-on lessons. Our tour will include classes with Julia and Michael at the palazzo as well as with Maria Luisa Scolastra, a renown Umbrian chef. Also trips to local markets, visits to artisan producers and local wineries, and extraordinary meals out. Our 8-Day Culinary Tour Packages offer more than any other school — not only great lessons and food, but the attention and expertise of both Julia and Michael.
To compliment the cooking lessons, visits to some of the most enchanting hill towns will provide a culinary context and thus yield a richer understanding of Italian cuisine. There simply is no better way to appreciate the glorious food traditions of Italy than tasting your way across its heart. The pace will be relaxed throughout but still jam packed with culinary delights. In addition, you'll have the opportunity to stroll the medieval streets of Perugia, Assisi, and Norcia and discover their art and architecture; enjoy a local festival; and take in the spectacular views from farmland and vineyard to mountain vistas.
Tour Package: (8 days/8 nights) at Palazzo Fiumi-LaPlaca, Bettona (prices are per person)
$3,500pp double occupancy bedroom in shared apartment or B&B room
$3,750pp double occupancy in private apartment
$3,750pp single occupancy in shared apartment or B&B room
Package includes all classes with Julia as well as with local cooks — including the lesson at Villa Roncalli, accommodations at Palazzo Fiumi-LaPlaca in Bettona, guided tours, most meals, pick up and return to airport (to meet one flight each way). Tour prices based on 6 to 8 people. Airfare is NOT included
Accommodations in a restored 17th century palazzo in the small hill town of Bettona situated between Assisi and Perugia. A variety of options for shared and private rooms are available and, if desired, additional private rooms are available in the town's hotel, a few blocks away. Most lessons will be held in the palazzo's wonderful kitchen with dining in the spacious rooms of the "piano terra." (Accommodations for additional days are available for those who wish to stay longer or arrive earlier.)
Julia's honors and affiliations include:
• Salon International du Livre Gourmand, World Cookbook Awards, "Best Italian Cuisine Book," 2003
• Co-honoree for contribution to the literature of Italian cuisine, Italian Embassy, 2003
• Diplome D'Honneur of France for French language translation, La bonne cuisine italienne, 1996
• James Beard Foundation nomination for The Vegetarian Table: Italy, 1995  
• James Beard Foundation, "One of America's Best Cooking Teachers," 1992

CULINARY TOUR OUTLINE:
• Three lessons will be given by Julia in the palazzo's kitchen
• A special lesson in the kitchen of chef Maria Luisa Scolastra at Villa Roncalli in Foligno
• Hands-on pasta lesson with Michael in the palazzo's kitchen
• AnHour+ Workshops focusing on meal prep and desserts
Umbria cuisine at it's finest with Julia della Croce:
Demonstration classes followed by the meal. Wine included.
Sample menus (following) are subject to change.
Umbrian Menu

Primo: Etruscan Soup, Chickling Peas, Prosciutto (zuppa etrusca)
Secondo: "Hunter's Style" Chicken, Lemon and Capers (pollo alla Signora Cibocchi)
Contorno: Roasted Peppers with Mint and Anchovy
Dolce: Umbrian Sweetheart Cake (ciaramicola)
Antipasto Workshop
Roasted Eggplant Bruschetta
Cauliflower Salad
Stuffed peppers
Norcino Workshop
Antipasto: Salumi of the region Primo: Spaghetti in the Style of Norcia (spaghetti alla norcina)
Secondo: Porchetta, Wild Fennel (porchetta al finocchio)
Dolce: Sesame Biscotti (biscotti della nonna)
Polenta workshop
Antipasto: Prenuptial Meatballs (polpettini di carne prenuziali)
Secondo: Polenta with Mushrooms and Fontina
Contorno: Tomato salad, mint, basil, Umbrian olive oil
Dolce: Pears in Pastry (pera in giachetta)
Villa Roncalli lesson with chef Maria Luisa Scolastra
Maria Luisa opens her kitchen especially for us with a private lesson and lunch. Villa Roncalli, in Foligno, is a spectacular villa with a reputation for excellence. An experience tour members will truly not want to miss.
Hands-on pasta lesson with Michael LaPlaca
Learn more than just the basics of pasta in a fun hands-on lesson with your host in the palazzo's kitchen and soon you too will be a pro. Starting with fresh egg pasta we'll then move on to filled pastas and even a couple non-egg pastas. You will learn how to make 4 to 5 sauces to accompany our pastas.
•  pappardelle and lasagne
•  ravioli and tortellini
•  umbricelli and orecchiette
AnHour+ Workshops: Short lessons will highlight Umbria specialties and desserts.
Learn secrets of that essential "Umbrian" mix of herbs for meat, poultry, and game with a dear friend and native Bettonese, Luisella Reale. "Dolce" workshops, to prepare desserts for the evening meals, will be included several mornings.
Visits & Tastings:
• Wine tastings at local vineyards (number depending on time available)
• Cheese tasting at artisanal shop
Special meals out:
We certainly want to get you out and about to enjoy some extraordinary restaurants as well.
Proposed Itinerary:

Wed, Aug 12: (day 1)  Arrive Rome Fiumicino, 10.30am transport to Bettona, Umbria; lunch at Palazzo; afternoon to relax and explore town; evening meal and orientation
Depending on departure times, breakfast every morning at palazzo or in piazza bar;
Thu, Aug 13: (day 2)  Morning visit to explore Assisi and the spectacular Basilica of San Francesco with frescoes by Giotto, Simoni Martini, and Pietro Lorenzotti. Lunch at the delicious La Palotta. Wine tasting at Tenute Lunelli, designed by Arnoldo Pomodoro. Relax time before full lesson with Julia followed by dinner.
Fri, Aug 14: (day 3)  Visit Spoleto to see the wonderful Filipo Lippi frescoes in the duomo. On to Norcia for a wonderful lunch and visits to meat/cheese/truffle shops. Then visit the mountains above and the spectacular Piano Grande and the hill town of Casteluccio, famous for lentils. A quick stop at a fish farm and then visit Visso. Return to the palazzo for a baked fish dinner.
Sat, Aug 15: (day 4)  Visit the open market of Perugia for a sensory experience you won't want to miss. Before heading into the center of Perugia we'll stop at a nearby pizzeria for the best pizza in Perugia. Then go on to explore the richness of Umbria's capital and wander on your own. Optional visit to the National Painting Gallery and Collegio del Cambio with frescoes by Perugino. Relax time at palazzo before full lesson with Julia followed by dinner.
Sun, Aug 16: (day 6) Begin the day with AnHour+ workshop with local cook Luisella Reale — an unstoppable baker. Take a relaxing walk or just hang out in Bettona before a hands-on pasta lesson with Michael. Later we will have another AnHour+ workshop focusing on antipasti with Julia. Dinner in the Palazzo's "orto" featuring wood-grilled local meats and a lasagne made earlier in the day.
Mon, Aug 17: (day 6)   Morning visit to an organic agriturismo for a tour and lunch prepared by the farm's owner and a local cook. Relaxed afternoon (or a visit to Deruta for some shopping in some of the best ceramic shops.) Evening full lesson by Julia followed by dinner.
Tue, Aug 18: (day 7)  Visit an artisanal cheese shop, then on to Foligno for a very special lesson with Chef Maria Luisa Scolastra in the kitchen of Villa Roncalli. Eat out at a "sagra" — a traditional local festival.
Wed, Aug 19: (day 8)  Visit an organic granary, then on to Spello and a wonderful rustic lunch. Visit Montifalco — famous for the Sagrantino — and the museum there to see the fresco cycle by Benozzo Gozzoli. Wine tasting at Arnoldo Caprai. Return to palazzo to relax and pack. Final dinner at Osteria i Birbi in Torgiano
Thu, Aug 20: 8am departure for Fiumicino airport. Please note, flights from Rome should depart early afternoon.