Discover the Spirit of Umbria Tour
Discover the heart, soul, and spirit of Umbria through our Saints and holy places.
Enjoy a very special small group tour
8 days & nights of touring,
Join us for a spectacular tour to the home towns of Saints Francis and Clair, and Saint Bonaventura, as well as wonderful abbeys, sacred woods, and other holy places that speak to the spirituality of Umbria. Inclusive package includes superb accommodations, guided tours, extraordinary meals, a wine tasting, and daily transportation.
(Tour can be offered any time, April through October)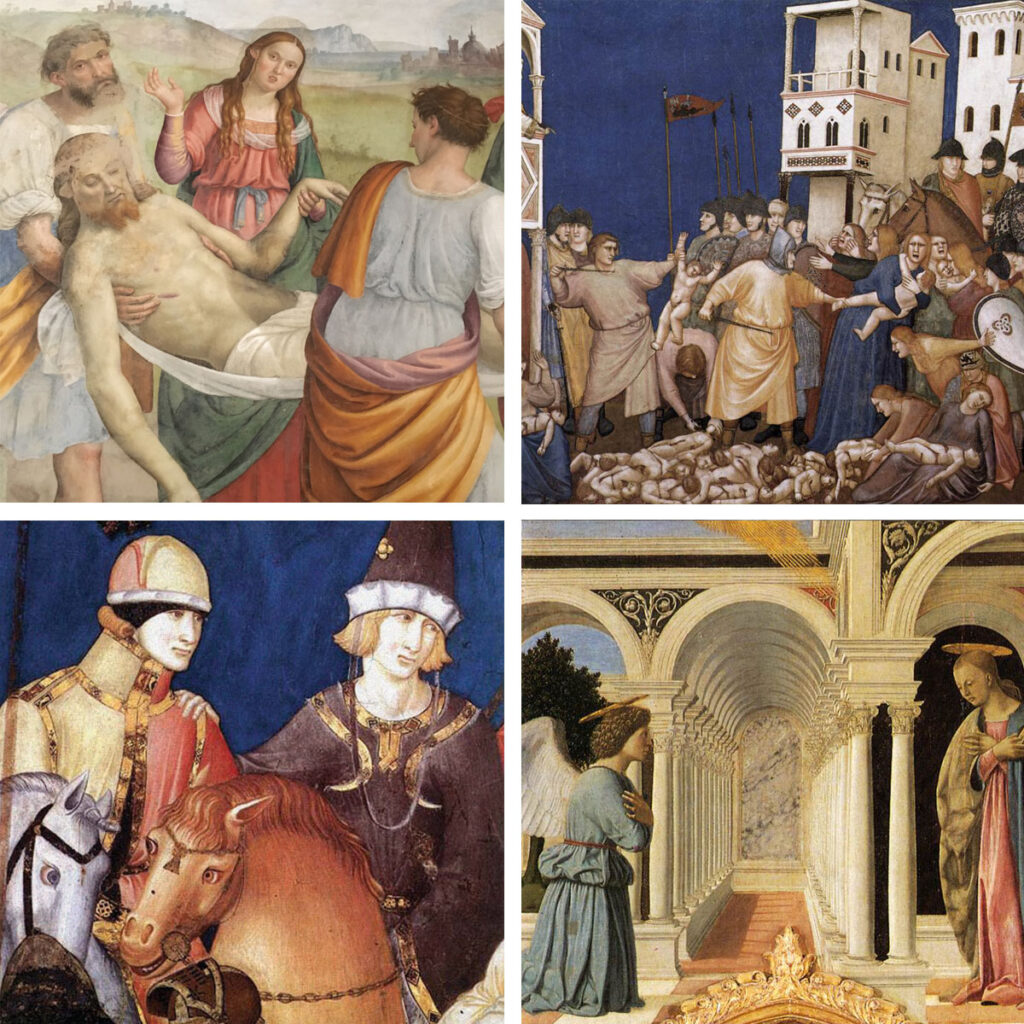 TOUR HIGHLIGHTS:
Discover Saint Francis of Assisi
Italy's patron saint for good reason. His peaceful spirit still fills the places he knew well and where his ministry took root. Visit the spectacular basilica in Assisi with the famous fresco cycle by Giotto of the Life of Saint Francis as well as the saint's tomb; the rustic Porzuncola, the 11th century church now within the basilica of Santa Maria degli Angeli where he began his mission and where he died; visit his hermitage and stroll the paths of the bosco that bears his name. Visit the church of Saint Clair, disciple of Francis and founder of the Poor Clairs; and San Damiano, the church where Francis first heard God's command to "fix my church."  Spend a day exploring the Assisi now completely restored after the 1997 earthquake.
Discover Saint Benedict
Take a day trip to the beautiful Sibillini Mountains and the town of Norcia, birth place of Saint Benedict (and his sister Scholastica). Founder of what would later be known as the Benedictine rule, Benedict codified a monastic life based on his motto: Ora et labora meaning "pray and work," referring to the two major parts of the monastic life. It is first prayer (and study) and then work to support the community and its charities.
Discover Spectacular Abbeys
During your week tour, we will visit two abbeys: the Benedictine Abbey of Montelabbate, circa 1000AD, near Umbertide for a private tour of the currently closed abbey, grand church, and spectacular grounds; second, we will explore the abbey of Sassovivo near Foligno known for it's beautiful columned cloister.
Discover the Art of Umbria
Discover masterpieces of Renaissance art, glorious architecture, medieval hill towns, and even Roman ruins. The museums and churches of Umbria are home to some of Italy's great art. The basilica of Saint Francis alone boasts glorious frescoes by Giotto, Cimabue, Pietro Lorenzetti, and Simone Martini.
Our small towns offer wonderful art experiences without the crowds. We will visit Montefalco's museum with frescoes by Benozzo Gozzoli; Spello's Baglioni Chapel by Pinturicchio; Orvieto's duomo with frescoes by Luca Signorelli and Fra Angelico (so pivotal that Michelangelo stopped to see it on his way to paint the Sistine Chapel); Spoleto's duomo with frescoes by Filippo Lippi and the 7th century church of San Salvatore outside the walls. In addition, you'll discover numerous works by Perugino throughout the region.
Relax, Savor, Enjoy
Relax with friends over extraordinary meals and visit wineries to discover Sagrantino — wines for which we are justifiably famous. Enjoy the tranquility of our countryside and wander the out of the way places — hidden towns and majestic mountains with views that sweep on forever.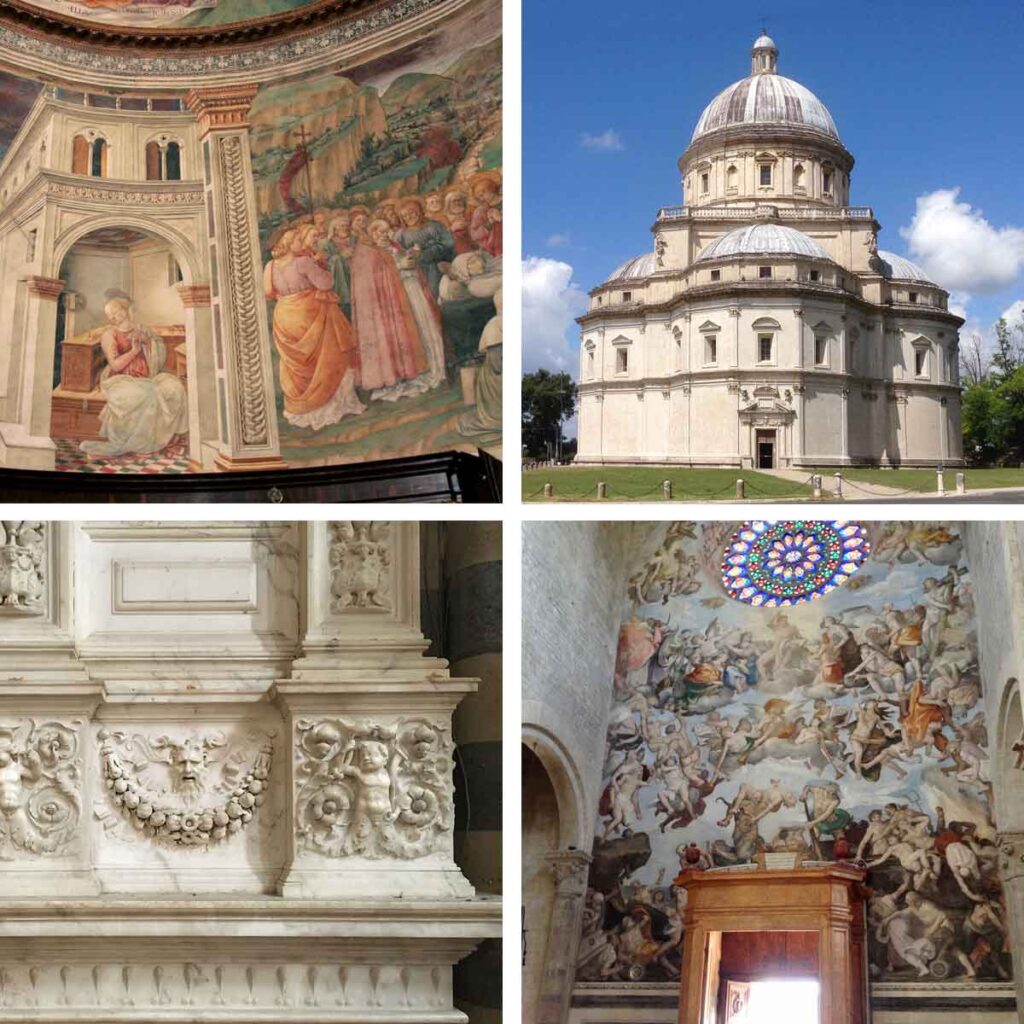 Tour package cost:
$2750 per person ($2500 per person for double occupancy)
(Airfare is not included.)

Tour packages include:
• Pick up and drop off at Rome's Fiumicino airport;
• Outstanding accommodations for 8 nights in a restored 17th century palazzo in the walled hill town of Bettona, Umbria;
• Special Saint Francis itinerary;
• Daily tours and museum fees;
• Most meals in the palazzo and out;
• A cooking lesson in the palazzo's main kitchen;
• A tasting at a superb local winery;
• Transportation throughout the week
Accommodations:
at the restored 17-century Palazzo Fiumi-LaPlaca in the historic center of the picturesque hill town of Bettona. Located just 18k from both Perugia and Assisi. The palazzo offers a variety of extraordinary accommodations — beautiful one or two bedroom apartments or B&B rooms on the Piano nobile. There is a discount on accommodations for double occupancy.
Apartments with beamed ceilings, full kitchens, living and dining room areas, and private baths. B&B rooms furnished with beautiful antiques and have private baths are on the palazzo's main floor.
(For larger groups, accommodations can be combined to sleep up to 14.)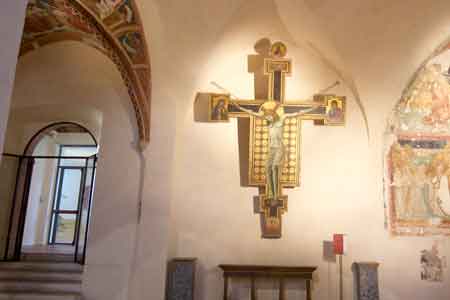 What to expect on our tours:
Explore the fabled cities of Assisi, Perugia, Orvieto, and Spoleto – to name but a few. Savor Umbrian cuisine and wine with a mixture of home cooked meals, visits to extraordinary restaurants, and wine tastings.
Discover intimate villages and hill towns and shop for world famous ceramics in Deruta. And you'll enjoy breathtaking views all along the way.
Sample Itinerary:
Day 1: Pick up at Rome airport, drive to Bettona, lunch at Palazzo, relax and explore town.
Day 2: Morning visit to the Porzuncolo where Francis began his ministy and on to the church of San Damiano one of the most authentic Francis sites.  After a delicious lunch we'll  explore the town and the spectacular Basilica of San Francesco with frescoes by Giotto, Simone Martini, and Pietro Lorenzetti. 
Day 3: Visit Spello to see the work of Pinturicchio in two churches then on to picturesque Trevi and the abbey of Sassovivo. Then visit Montefalco to see Benozzo Gozzoli's frescoes of the Life of Saint Francis and stop for a wine tasting to sample our famous Sagrantino – our "Sacred" wine as both a delicious and deep dry wine and the tradition sweet passitos that were used for mass.
Day 4: Visit Spoleto to see the Filippo Lippi's Life of the Virgin frescoes in the duomo and explore churches outside the walls as well. If possible due to the 2016 earthquake and how restoration is proceeding, we will head on to Norcia, birthplace of Saint Benedict, for lunch and visits to their wonderful meat, cheese, and truffle shops. Then visit the mountains above to see the spectacular Piano Grande, walk with the clouds, and visit the hill town of Casteluccio.
Day 5: Visit the open market of Perugia then on to explore Umbria's capital. Visit to the National Painting Gallery and Collegio del Cambio with frescoes by Perugino. Visit the churches of San Domenico and San Pietro, with its extraordinary collection of paintings. A shopping stop in Deruta, world famous for its ceramics since the 14th century. Visits to artisans workshops and showrooms.
Day 6: Private morning tour of the Benedictine Abbey of Montelabbate — a special treat as the abbey is open only for private tours — and then on to the medieval town Gubbio. On our return trip will will stop in to visit the small town called Borgo Santa Giulianna and a nearby badia, or possibly on to Montone, another beautiful medieval town.
Day 7: Make and early day of it as we head out to discover the amazing city of Cività Bagnoregio (pictured above), birthplace of Saint Bonaventura, a spectacular place to visit due to its location on a small plateau within a valley and only accessible by a walking bridge. After lunch it's on to Orvieto and the see the magnificent Italian Gothic duomo there to see the 13th Century Biblical carvings on the duomo's exterior and Luca Signorelli's famed frescoes of the Last Judgement.
Day 8: Begin our last day with a leisurely walk through the Bosco di San Francesco and then to lunch at a quaint restaurant under Assisi.