Guided tours in Umbria:
Join aWeekinUmbria for a spectacular adventure of your choosing.
As the name implies, week-long customized tours are what aWeekinUmbria is known for. My goal has always been to offer spectacular special experiences for small groups.
What I enjoy most is taking guests around and showing them the Umbria I have fallen so deeply in love with. Umbria is fabulous in every way. There are beautiful hill and plain towns that boast Roman ruins, medieval streets, Gothic cathedrals, intimate museums, and so much more. The food and wine is off the charts delicious and the scenery spectacular.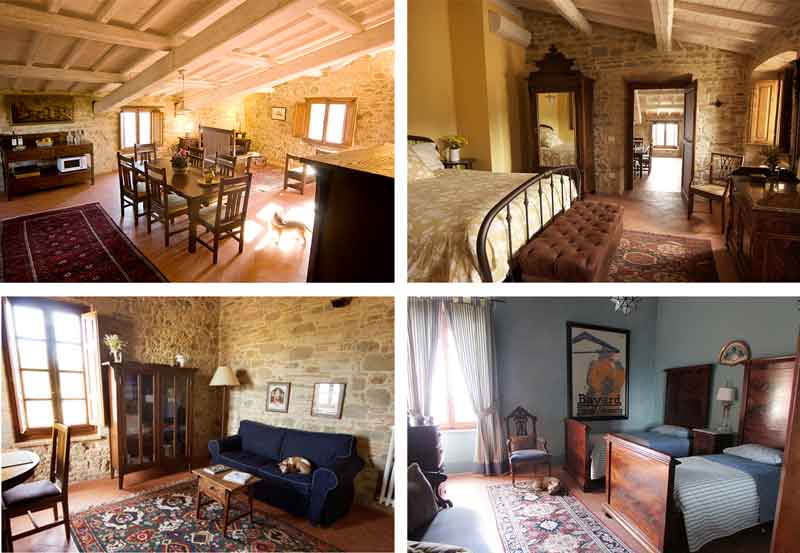 Stay in a fabulous historic palazzo.

The wonderfully restored 17th-century Palazzo Fiumi-LaPlaca sleeps up to 14 people with flexible apartments and B&B rooms. Restoring the palazzo was an adventure in itself. I'll be happy to show you the book about it. This great palazzo is never happier than when filled with guests. Meals in the great dinning hall in front of a fire are magical. It's the perfect home base from which to start your Umbrian adventure.
Add to the mix my background as an illustrator and graphic designer, my love of Italian art, and being a more than decent cook, and there's the recipe for a great week-long vacation you're not soon to forget.
Lots of options to choose from or create your own.
Whether you're coming for a full out tour like this year's Knitting Adventure,  or Book Club tour or letting me build a customized tour just for you, you're sure to have a dream vacation. Whether it's a gastronomic adventure, a photography club tour, or my new Treasure Hunt tour, you'll be pleased with every aspect of the tour from the comfort of the palazzo to the beauty that will surround you all along the way.  Larger groups can be organized with additional accommodations in town.
Have a look at what's on offer this year or let me customize one specially for your group. I've done quite a few group tours to celebrate birthdays (like all those 60ths happening this year), anniversaries, and more.

Customize your own Small Group Tour:
Usually a small group is four to 8 people but I can even do a customized tour for a couple if you like. Whatever your number, choose your area of interest(s) and let me craft something special just for you. I specialize in culinary, cultural and art themed tours with a strong emphasis on great food and wine.
Small tour packages include accommodations, pick up and drop off at airport, tours, meals, and most other fees. All inclusive tour packages average between $2500* and $3000* per person, depending on activities. Airfare is not included in tour packages. 
5 or 10 day tours also available.
*Price for a minimum of 2 people sharing a one bedroom apartment or B&B room or 4 people sharing the largest apartment -Assisi.  Double occupancy is preferred. However, there rarely is an up-charge for single occupancy and, with larger groups, often a discount for sharing. Accommodations at the palazzo is quite flexible with other room/apartment configurations also available. Let's talk
For more information contact Michael at [email protected]