Discover Umbria with us! Vacation rentals & private tours
The tourist industry has been hard hit by the international Covid-19 crisis but Umbria is coming back in a big way. Throughout the pandemic, Umbria has consistently been one of Italy's safest regions. We have done a very good job with social distancing and it shows. Please know that aWeekinUmbria.com will do everything possible to help you have a wonderful and safe visit.
private apartments in an historic palazzo
The beautifully restored Palazzo Fiumi-LaPlaca, in the historic center of Bettona, awaits you.
Discover the beautifully restored Palazzo Fiumi-LaPlaca in the historic center of the walled town of Bettona. Conveniently located — between Perugia and Assisi— in the center of Umbria with easy access to all of major roads, the perfect place from which to discover all that Umbria has to offer.
Explore the fabled cities of Assisi, Perugia, Orvieto, and Spoleto – to name but a few. Savor Umbrian cuisine and wine with a mixture of home cooked meals, visits to extraordinary local restaurants, and wine tastings. Discover intimate villages and hill towns or shop for world famous ceramics in Deruta, and you'll enjoy breathtaking views all along the way.
Choose from three private apartments with full kitchens:
• ASSISI – 2-Bedroom Apartment: sleeps 4 people and features views over the valley toward Assisi; full kitchen, full bath with tub & shower, and private balcony with table and chairs
• CRISPOLTO – 2-Bedroom Apartment:  sleeps up to 5 people (with a twin size daybed – perfect for young adult or child), full kitchen, full bath with shower;

• GUFO – 1-Bedroom Apartment:  sleeps 2 with a spiral staircase to the sleeping loft; full kitchen, full bath with shower
(Additional B&B (Giallo and Azzuro) rooms on the main floor, each furnished with beautiful antiques and a private bathroom, will be available again in the near future.
Palazzo Fiumi-LaPlaca extends a warm welcome to the LGBT community where you can relax in a gay friendly environment.
Drop me a line at info@aweekinumbria.com if you have any questions or what more information about staying here.
join us for a special themed tour in 2021
June 2020 Update: Currently our special themed tours, which included local transportation, guided day tours, and all meals are suspended. However, it is possible to plan an extraordinary vacation by being creative and adhering to social distancing guidelines. Why not consider reserving a place for one of our 2021 season of special themed tours or planning your own special tour.
May 19-26, 2021:
Lace Knitting with André de Castro:
Knitwear Designer and Instructor André de Castro returns to Umbria for an exciting tour featuring three of Europe's most iconic lace traditions – Estonian, Shetland, and Orenburg laces. Six 3-hour workshops.
More info >
June 18-25
& Sept 6-13, 2021
Book Club tours

Participants will receive the 3 chosen books to read prior to your arrival in Italy. The second part of the book club will take place in Italy — yes Italy— where I will lead you on a 7-day tour to discover the places, experiences, and flavors you will have read about.
More info >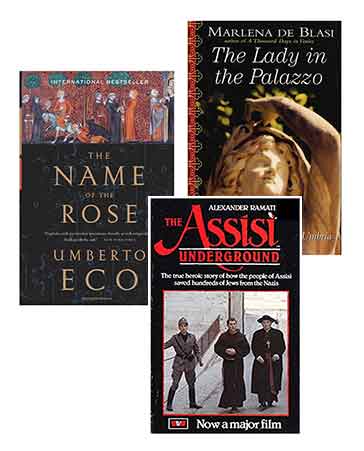 June 8-16, 2021: Master Chef Culinary tour
Come learn with Maria Luisa Scolastra of Villa Roncalli and other local chefs the secrets flavor of Umbrian cooking; visit an organic farm; cheese making demonstration; truffle hunt.
More info>
Private customized tours are available anytime mid-April–mid-Nov. Minimum 4 people.
October 19-27, 2021: Culinary tour including Olive Harvest
The extraordinary Maria Luisa Scolastra treats us to 3 lessons in her kitchen at Villa Roncalli. In addition, you'll discover the process of making olive oil — from collecting to pressing. So much fun all around.
More info >
3-15 September 2020 Cannara hosts one of the largest food events in all of Europe. The Festa della Cipolla or onion festival in the past …