Join us for one of our special themed tours or let me plan an extraordinary vacation when you want.
2020 Themed tours:
Knitwear Designer and Instructor André de Castro returns to Umbria for an exciting tour featuring three of Europe's most iconic lace traditions – Estonian, Shetland, and Orenburg laces. Six 3-hour workshops.  More info >
By popular demand André de Castro will bring us his take on Stranded color work – this time in the Portugeuse style. .  More info >
Come learn with Maria Luisa Scolastra of Villa Roncalli and other local chefs the secrets flavor of Umbrian cooking; visit an organic farm; cheese making demonstration; truffle hunt.  More info>
(Private customized tours are available anytime mid-April–mid-Nov. Minimum 4 people.)
Participants will receive the 3 chosen books to read prior to your arrival in Italy. The second part of the book club will take place in Italy — yes Italy— where I will lead you on a 7-day tour to discover the places, experiences, and flavors you will have read about.  More info>
The extraordinary Maria Luisa Scolastra treats us to 3 lessons in her kitchen at Villa Roncalli. In addition, you'll discover the process of making olive oil — from collecting to pressing. So much fun all around.  More info>
Small groups can be as few as 2 or as many as 14 people and can be one of our themed tours or a mixture of all of them (Best of Umbria Tour)
• Book Club tours  More info>
• Discover Saint Francis and the Spirit of Umbria – More info >
• Spectacular Art Adventures: More info >
Discover the art of Umbria with a list of my favorite museums, churches, and others spectacular places. Or you can always ask me to plan an  Art of Umbria when you want.
Your Perfect Vacation Rental in Umbria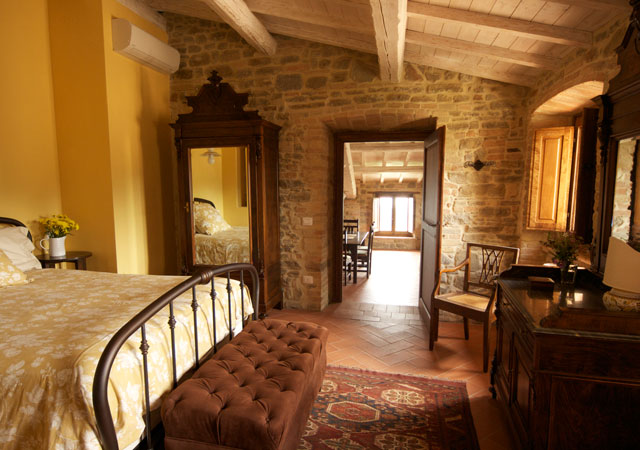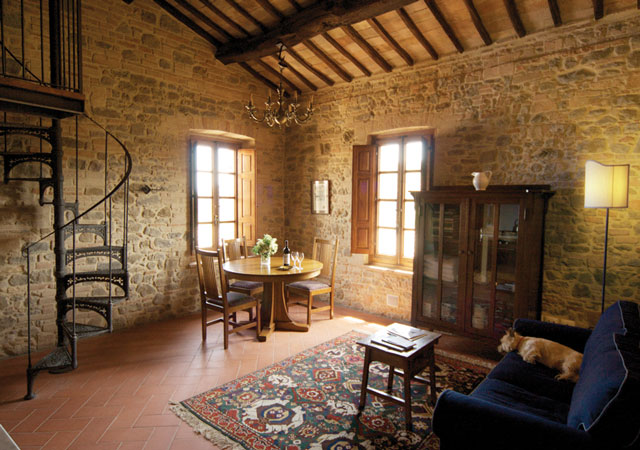 Stay in a 17th-Century Palazzo
Palazzo Fiumi, home to Bettona's last count Fiumi, sat empty for 45 years until a crazy American (me) came along to save it. After three and a half years of restoration the palazzo was finished in 2008 and renamed Palazzo Fiumi-LaPlaca.
The palazzo offers accommodations with three apartments: the 2-bedroom Assisi sleeps 4 people and features views over the valley toward Assisi; the 2-bedroom Crispolto features a full size daybed sleeps up to 5 people; and the charming 1-bedroom  Gufo sleeps 2 with a spiral staircase to the sleeping loft. Each apartment features a kitchen, dining area, and comfortable living room areas. There are also two B&B (Giallo and Azzuro) rooms on the main floor each furnished with beautiful antiques and a private bathroom.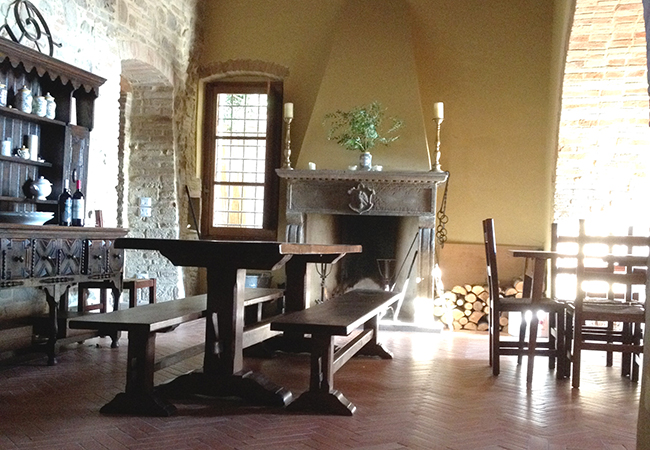 Explore Umbria from a perfect location
• Conveniently located in the center of Umbria with easy access to all of major roads
• Explore the fabled cities of Assisi, Perugia, Orvieto, and Spoleto – to name but a few. Savor Umbrian cuisine and wine with a mixture of home cooked meals, visits to extraordinary local restaurants, and wine tastings. Discover intimate villages and hill towns or shop for world famous ceramics in Deruta, and you'll enjoy breathtaking views all along the way.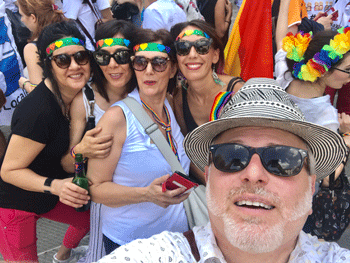 LGBT Welcome:
Palazzo Fiumi-LaPlaca extends a warm welcome to the LGBT community where you can relax in a gay friendly environment. Find out more: info@aweekinumbria.com
What to expect at Palazzo Fiumi-LaPlaca
Choose from a range of themed tours or customize your own. All-inclusive packages available April to November