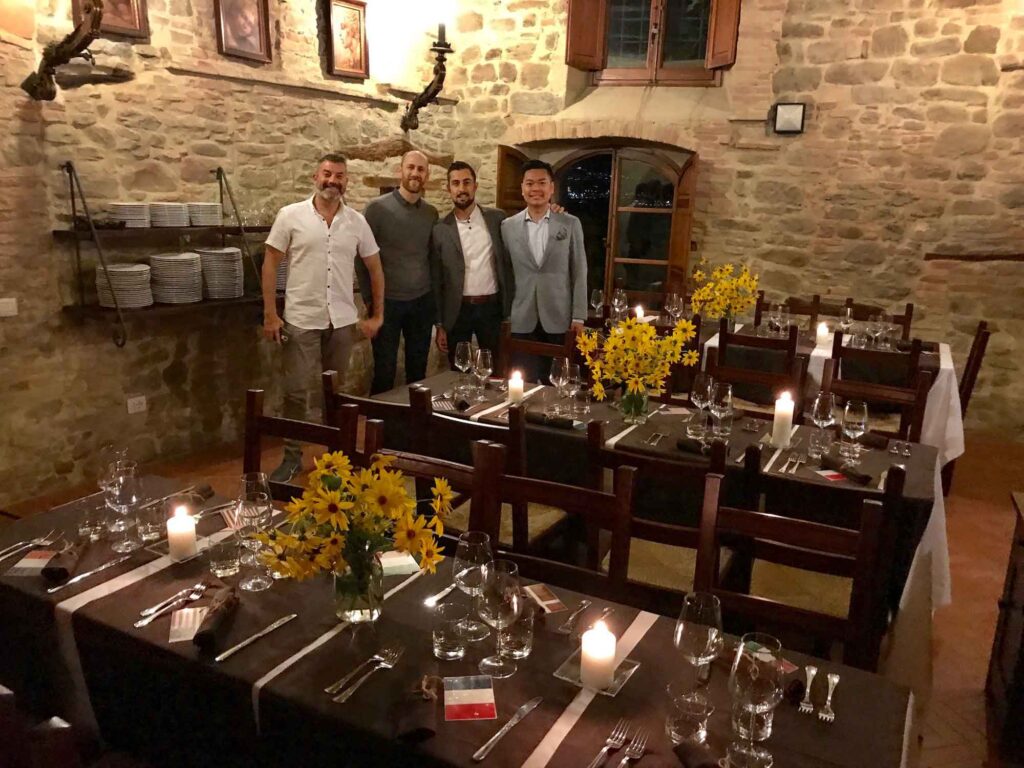 The perfect small event space
The ground floor (or piano terra) of Palazzo Fiumi-LaPlaca is an awesome place to host an event, party, reception, or conference. The space (made up of 5 rooms) was formerly a frantoio (olive mill), stable, and cantina (wine cellar).
It is now beautifully restored and offers, while decidedly medieval in aspect but with a mixture of antique and modern furniture, a very comfortable space to entertain. There is a lovely terrace with a beautiful pergola covered in grapes and a view out over the Spoleto Valley toward Assisi and Mount Subasio. It is the perfect space for your special event.
Let us cater your event:
• seating for 28 people at two long tables;
• or up to 36 with the 2 additional tables of 8;
• Enough space for buffet for up to 125 people
• Cantina/wine cellar (Entry off or Piazza Preziotti)
• Easy access to kitchen for preparation and serving of food;
• Comfortable lounge for guests;
• Antique stone fireplace for great blazing fires (when appropriate);
• Bose digital sound system for music;
• Coat room;
• Two bathrooms for guests;
• Terrace (where smoking is permitted) with wonderful views of the valley toward Assisi
Elegant cocktail party space
For something more intimate, the Piano Nobile (grand floor) of the palazzo is also available for rentals for cocktail parties, musical gatherings, or receptions. This grand floor features painted ceilings, stunning furnishings, and a Steinway grand piano. (A pianist can be provided for your gathering.) Truely entertainment in an old world charm and modern comfort and quite unlike any other venue in Bettona.
Make your reservation today!
Email: [email protected]
Phone: +1 212 206 9151
or in season: 339-869-7829
Palazzo Fiumi-LaPlaca
Piazza Preziotti 4
Bettona (PG)
Italy