The adventure begins here in the quiet hill town of Bettona, on the edge of the Spoleto Valley about 18km south of both Perugia and Assisi. It is home to me and home base for my guests. The perfect place from which to explore the region.
In addition to providing extraordinary accommodations, I specialize in small group and private tours. You can hire me for just a day, join one of the group tours already scheduled, or let me plan a trip specially designed for your group.  Full tours are all inclusive (sorry, not the airfare though) include airport pickup and drop off, day tours, most meals, cooking lessons, wine tastings, and more. My goal is to help guests discover the Umbria I have fallen in love with.  It's what I do best.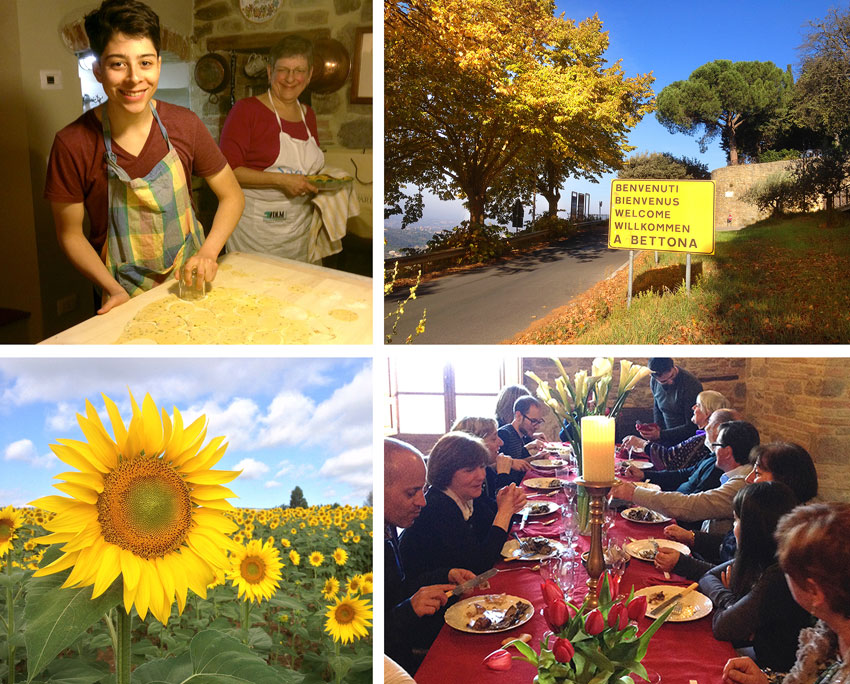 Life in a small town may be relaxing, but there are many events throughout the year. From our patron saint's feast day (May 11th complete with fireworks) to dance performances and the town's famous July/August Sagra celebrating the 'Oca' (goose), these are events you don't want to miss. Visit our small museum or just stroll to the central piazza for a morning cappuccino and some people watching. Let me help make your vacation truly a Slow Travel holiday.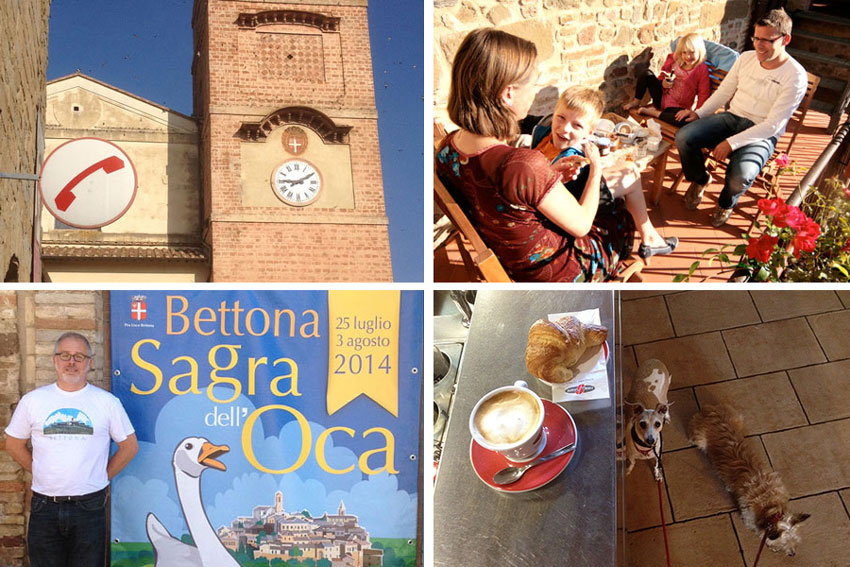 The 17th century Palazzo Fiumi-LaPlaca has been completely restored and is located in the historic center on the ancient town wall with a view of the entire valley off toward Assisi. The palazzo provides a splendid atmosphere in which you can relax. There is air conditioning if you need it, meals available, cooking lessons if you'd like to learn something, and wifi to keep you in touch. Be aware, however, it's a television free zone.
Take your time and use this section of the website to explore some of the most wonderful places in Umbria.
If you're looking for one of the best vacations in Umbria, this is the place.
For bookings, more information, or if you have questions, contact Michael at info@aweekinumbria.com
Explore some of the most wonderful places in Umbria Assisi Bettona Bevagna Borgo Santa Giuliana Carsulae Cascata delle Marmore Civita di Bagnoregio Deruta Frassasi Caves Gubbio Lago Trasimeno Montefalco Montelabate Monte Pennino Montone Norcia Orvieto Panicale Perugia Piano Grande Saint Francis of Assisi Spello Spoleto Todi Trevi Vallo di Nera The...

anemptytextlline

A wonderful day trip Todi has the reputation for being the world's most livable city because of it's beauty, scale, sustainability and ability to reinvent...

anemptytextlline

Umbria's wonderful capitol Perugia is the capital city of the region of Umbria as well as the capital of the largest of Umbria's two provinces....

anemptytextlline

Medieval Center To many, Gubbio, a spectacular medieval hill town on the way to le Marche, is famous for the Corso dei Ceri. Every May...

anemptytextlline

If you're interested in natural beauty, I'm going to whole-heartedly recommend a visit to Lago Trasimeno, Italy's fourth largest lake. Access to the ferries to...

anemptytextlline

From the eastern windows of Palazzo Fiumi-LaPlaca one looks out over the Spoleto Valley. Straight ahead is Assisi and to the left, beyond the...

anemptytextlline

From the highway Trevi is the perfect Umbrian hill town. Surrounded by thousands of silver-green olive trees, it's buildings and campanile slope up to...

anemptytextlline

Home of Saint Benedict, Umbrian meats, & truffles Norcia, located very near the epicenter of the August 24, 2016 earthquake, was severely damaged by an...

anemptytextlline

World famous ceramics since the 14th century Living just a stone's throw away from Deruta is actually one of the things I love about where...

anemptytextlline

Ancient Roman waterfalls People often arrive here and ask to be taken to the famous water falls of Umbria. As odd as it sounds, the...

anemptytextlline

Another World on the Edge of Umbria Bar none, Piano Grande is my favorite place in Umbria. Nestled within the Sibillini National Park's almost on...

anemptytextlline

Town of delicious art and sagrantino wine That the town of Montefalco, beautifully situated on the edge of the Colli Martini ('colli' means hills), was...

anemptytextlline

Originally an Etruscan town, Bevagna became an important Roman town on the plain not far from Montefalco. It is completely surrounded by medieval walls...

anemptytextlline

Refuge of Popes and Home of Luca Signorelli Orvieto is situated on the flat summit of a large volcanic butte of almost vertical tufa stone....

anemptytextlline

Hidden Umbrian gem While most guide books of Umbria barely mention Bettona, it's really because they have not spent any time here and fallen under...

anemptytextlline

Spectacular Spoleto If you've been reading through all my musings on the various towns of Umbria you will by now have gotten used to my...

anemptytextlline

Patron saint of Italy (1181-1226) People often ask what it's like living in a Catholic country. True, the history of Italy has been entwined with...

anemptytextlline

Exploring Roman ruins Rocco is really the best dog and he's quite at home in his native land. He's been by my side throughout this...

anemptytextlline

Of chance and wonderful meetings A borgo is a very, very small town or fraction (frazione) of a town and Borgo Santa Giuliana has got...

anemptytextlline

il paese che muore (the town that is dying) Although just over the border in the Lazio region, the small town of Civita di Bagnoregio...

anemptytextlline

So I ventured out of Umbria . . . . . . (which is occasionally allowed) on an adventure to le Marche with some friends last week. Destination:...

anemptytextlline

Hidden treasure on the Nera River I've passed the sign for Vallo di Nera dozens of times on the way to Norcia. Now Norcia, with...

anemptytextlline

Picnicing on a breathtaking mountain My friends Rixa and Peter had been telling me how beautiful Monte Pennino was and finally I got to make...

anemptytextlline

Birthplace of San Francesco The birthplace of Italy's patron saint, (Saint Francis – 1181-1226), Assisi is a spectacular place to visit. While it is the...

anemptytextlline

The perfect monastery The Benedictine monastery of Montelabate (officially known as Abbazia di Santa Maria Valdiponte) is as spectacular 11th century monastery as one can find ...

anemptytextlline

Medieval jewel A couple years ago I had a guest who spent two weeks with me. She liked to go off the beaten path and...

anemptytextlline

Umbria is a spectacular treasure trove of art and history from our Roman ruins and storied Medieval towns to our great Cathedrals and intimate...

anemptytextlline