3-6 September 2022 Cannara hosts one of the largest food events in all of Europe. The Festa della Cipolla or onion festival in the past …

May 11, 2023
Festa di San Crispolto Bettona's Patron Saint celebration 
Bettona's biggest annual celebration honors the town's Patron Saint, San Crispolto. A concert, special mass with the Bishop presiding, and two processions (in full regalia with the Bishop carrying the reliquary of the Saint) around town and outside the walls are par for the course here in Bettona. Religiously significant for the town, for many the highlight is a wonderful fireworks display on the hill overlooking Bettona. And Palazzo Fiumi-LaPlaca has a pretty spectacular front row seat from the rear balcony. It's the perfect place to join in as friends come to the palazzo for prosecco, dessert, and the best view in town.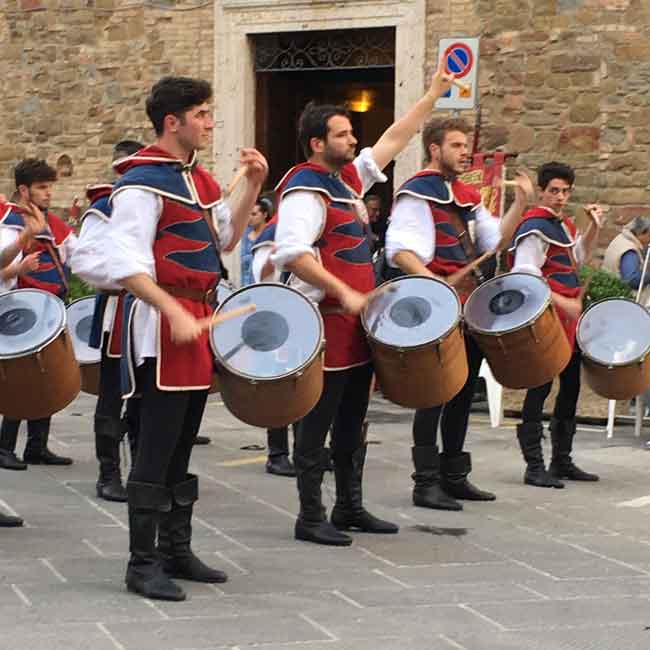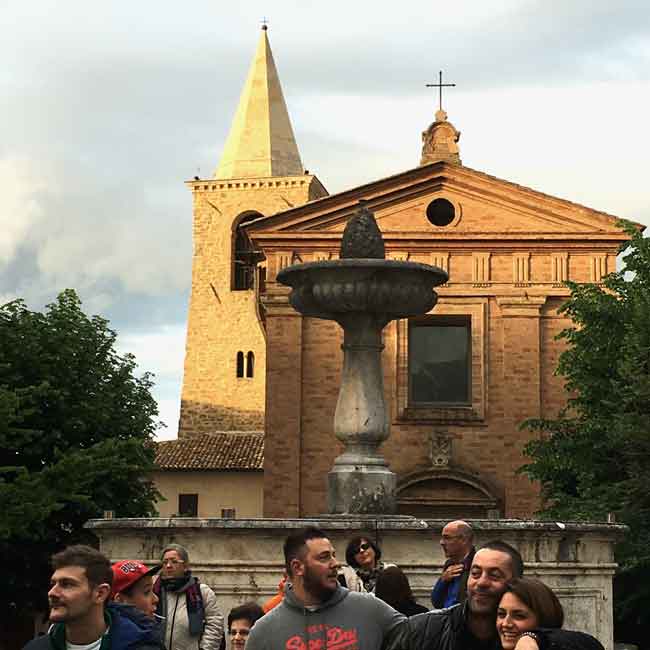 May 30 & 31, 2020
Cantine Aperte
The last Sunday of May is always Cantine Aperte in Umbria. Dozens of wineries are open for tours and wine tastings. Visit just one or as many as you like. Many wineries have special admissions that include food along with their wine tastings, and even entertainment to round out the day. It's a MUST for wine lovers who already familiar with Umbrian wines and a great opportunity for others to fall in love with them.
Why not plan a customized tour?
Here's an idea, why not let aWeekinUmbria built a special week tour surrounding Cantine Aperte. That means it would be one delicious culinary and wine tour of Umbria. How great would that be? Great! And you'll get to discover the best Umbria has to offer.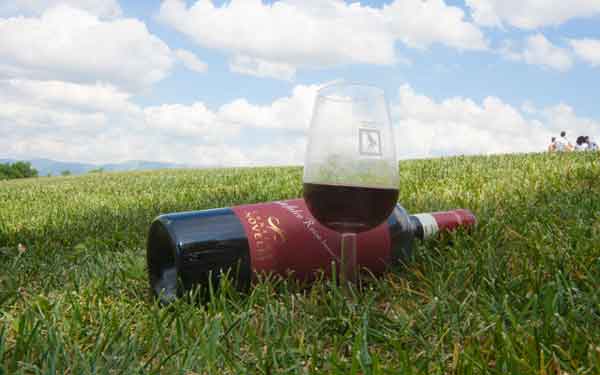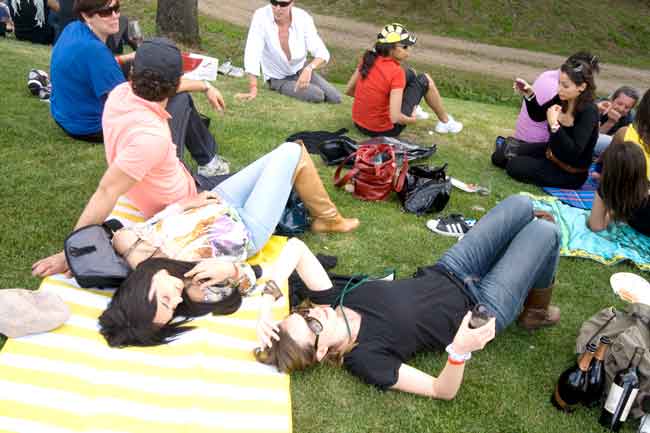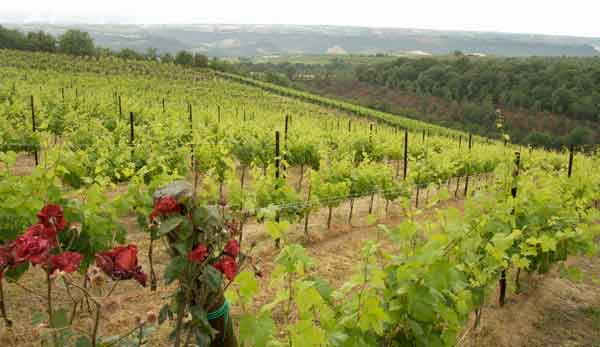 Sun, June 14, 2020
Spello's Infiorata (Festival of flowers)
Cancelled this year
The feast of Corpus Domini (the Body of Christ) is one of the most spectacular events in Umbria and one I never miss. The normally peaceful town of Spello is transformed into wonderland of flowers like none other. The streets are literally carpeted with flower petals of every imaginable color both found in nature and dyed. Teams of workers — both social and church groups — work for months planning the event that each year celebrates the feast. The day before the feast, the groups layout their designs (line drawings on large paper sheets) in the center of major streets and, within their tarp-covered tunnels, work throughout the night creating the most elaborate designs. Some are purely geometrical and others are wonderful depictions of Biblical themes (think Noah's Arc, doves, Popes, and Jesus in lots of positions. All are amazingly detailed and the result of an extraordinary amount of time and talent.
I always go around 7am as the workers are uncovering their masterpieces and I am never disappointed. For me it is essential to be heading back to my car by 9am when everyone else in Umbria descends. It must be heart breaking to hang around for the mid-day pass after which the holy troop process down the major thoroughfare destroying the beautiful works of art. The symbolism is not lost. No matter how we endeavor to create things of lasting beauty, we all come to dust in the end. Humbling sentiments but a fantastic event.
Come, spend some time discovering Umbria and witness the fantastic celebration.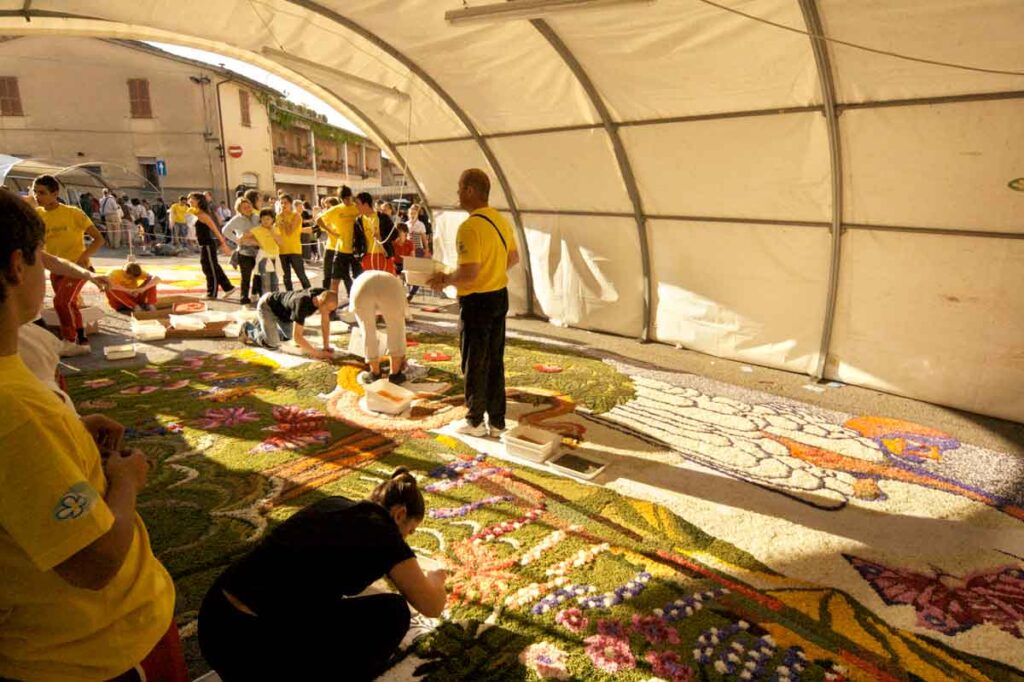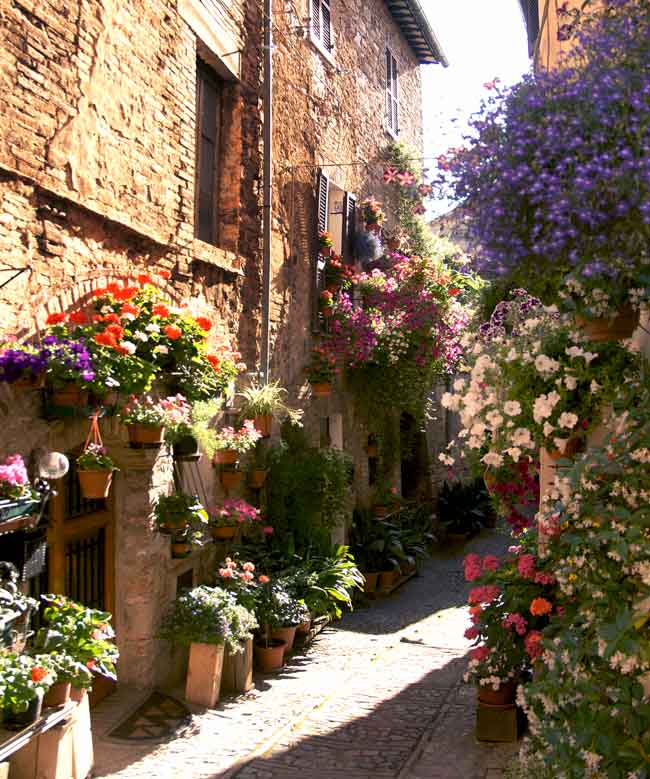 Perugia Pride
Cancelled this year
We're still proud here in Umbria we're just not going to be strutting it in the streets like we used to.
Perugia's gay community literally comes out in all its diversity to celebrate Perugia Pride like only we can. 2018 was our first Pride Parade and it was spectacular. (I really racked up on my FitBit for this one.) Join us for the festivities organized by Omphalos LGBTI, Perugia's out and proud LGBTQ group.
Looking for a fabulous place to stay? You're welcome anytime at aWeekinUmbria anytime. info@aWeekinUmbria.com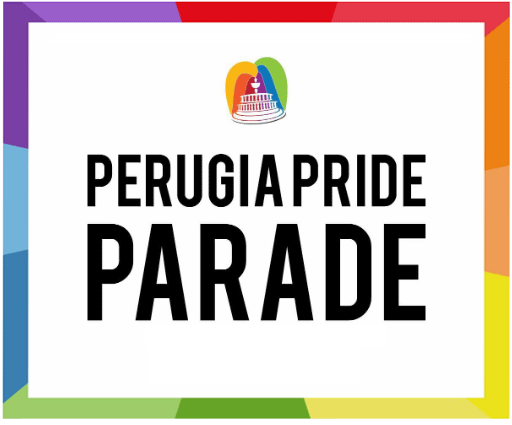 September 4, 5, 6, 2020
Perugia 1416
Join us for a Perugia 1416, a festival filled with events, costumes, parades, music, and food. In this third annual edition, the medieval streets of Perugia, Umbria's capital, will host its largest costumed event ever. Parades, spectacles, a joust, and so much more.
Why the title Perugia 1416?
The date is not arbitrary. It commemorates a turning point in the history of Perugia and marks to end of the Medieval era and the beginning of the Renaissance here. In that year Braccio Fortebracci of Montone (a beautiful town in northern Umbria, just above Umbertide) entered the city and became its ruler. Perugia 1416 celebrates the unity of all the people of Umbria at this specific period. Residents and members of various districts stage events throughout the weekend. Costumes are certainly the highlight of the event with everyone from nobles to peasants being in attendance. The streets of Perugia, filled with the sights and sounds of our distant past, are a wonder to behold and a whole lot of fun.
Check out our accommodations page>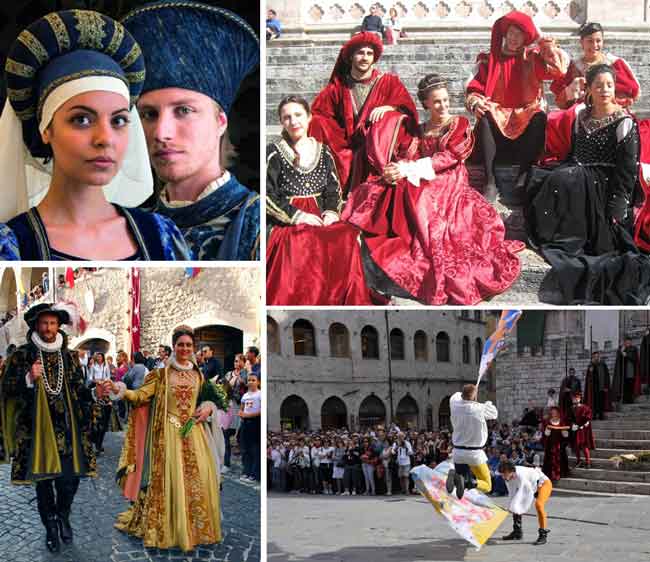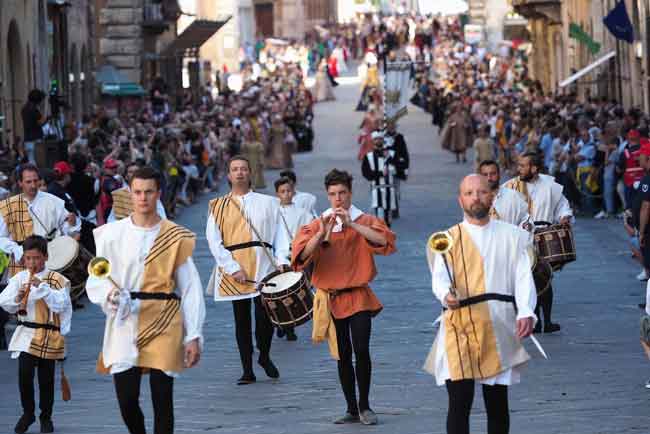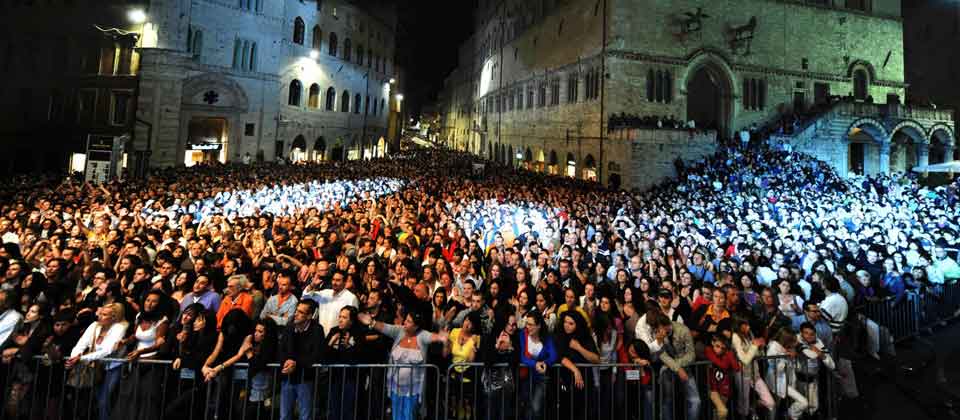 July 7–16, 2023
Umbria Jazz Festival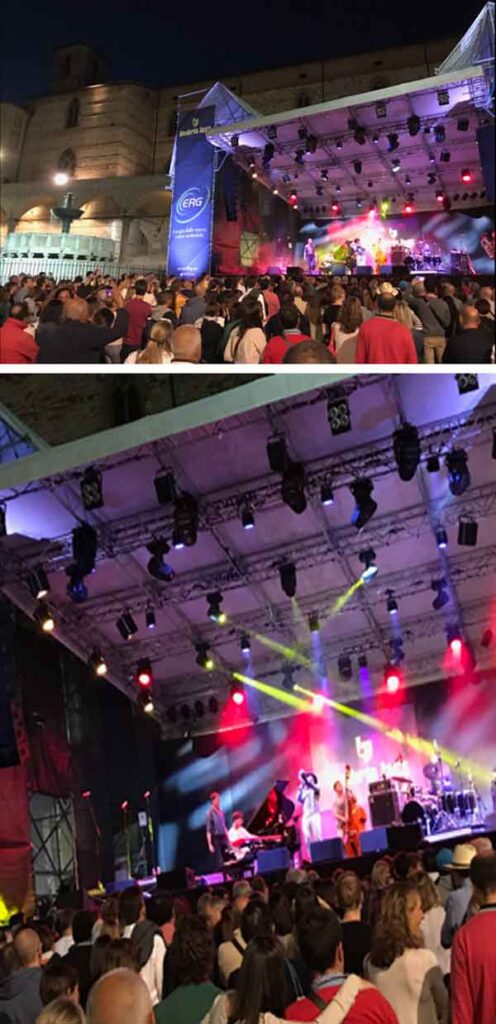 Join us for Perugia's  fabulous Umbria Jazz Festival, one of the most important jazz festivals in the world.
Since 1973, Perugia has hosted this annual star studded music celebration. Headline performances at Arena Santa Giuliana, with additional (ticketed) performances at the Pavone theatre, the Carducci Gardens, and the Oratorio of Santa Cecilia.  Scores of concerts in around town and in the streets, as well as a grand stage in Piazza IV Novembre infront of Perugia's famous fountain in the heart of the city. Evenings Perugia's medieval streets are filled with joyous explosions of music. Come and have the time of your life.
This year don't miss performances by Lenny Kravitz (10 July), Wynton Marsalis (11 July), Stefano Bollani (20 July)
For more information: umbriajazz.com
Come and join in the celebration!!!!
Let me plan a Umbria Jazz Week Tour 
Turn a Jazz Event into a week-long adventure:
Come, enjoy a fabulous week with us and spend your days touring Umbria and your evenings enjoying Perugia's annual Umbria Jazz festival. Week-long inclusive packages for groups of 2 to 8 people. Reserve now to see performances by Lenny Kravitz, and others to be announced. And you'll stay in a wonderfully restored 17-century palazzo in the beautiful walled hill town of Bettona. Your American host is happy to pull out all the stops and make your holiday exactly as you'd like.
Tour cost $2750  (per person, excluding airfare, minimum 2 people in a shared room/apartment)
Package includes:
• Pick-up and drop off at Rome's Fiumicino airport;
• 7 nights accommodations at Palazzo Fiumi-LaPlaca (go to Accommodations);
• Drop off and pick-up in Perugia to spend the 3 evenings at the Festival;
• If available, tickets to 2 MainStage events. BOOK NOW FOR THIS
• Day trip tours of our fabled hill and plain towns, including Assisi, Montefalco, and more;
• All meals (excluding possibly one lunch on your own);
• A barbeque in the Palazzo's garden;
• A cooking lesson in the palazzo's wonderful main kitchen;
• A wine tasting at one of our extraordinary wineries;
• Excursion to Deruta to shop for world famous ceramics
July 31 — August 9, 2020
Sagra dell'Oca
Cancelled this year
Join us for Bettona's biggest annual festival. Our annual Sagra dell'Oca (Goose festival) is a 10 day celebration when the whole town comes alive like no other time of the year. Thousands of people flock to Bettona to enjoy great food — goose being the specialties — for which we are justifiably famous.
Our Sagra dell'Oca is an amazing community event when all of us pull together. Organized by our Pro Loco (sort of like a Rotary Club), all of  the locals prepare, cook, and serve local cuisine in the typical Italian summer festival style. Our good cooking, which attracts over 1000 people each night, is served in the garden of the former convent of Santa Catarina near the town's main gate.
There will be crowds (and parking is always an adventure) so arrive early (7-ish) and avoid a long wait for our ever popular delicacies. I recommend the roast goose with salad, tagliatelle with goose sauce, and the nightly specials which range from hand made gnocchi to a wonderful "porchetta dell'oca" – goose rolled and roasted like the traditional porchetta. Each night also offers dancing in the main piazza to a variety of Sagra bands. Come one come all, it's something you'll never forget.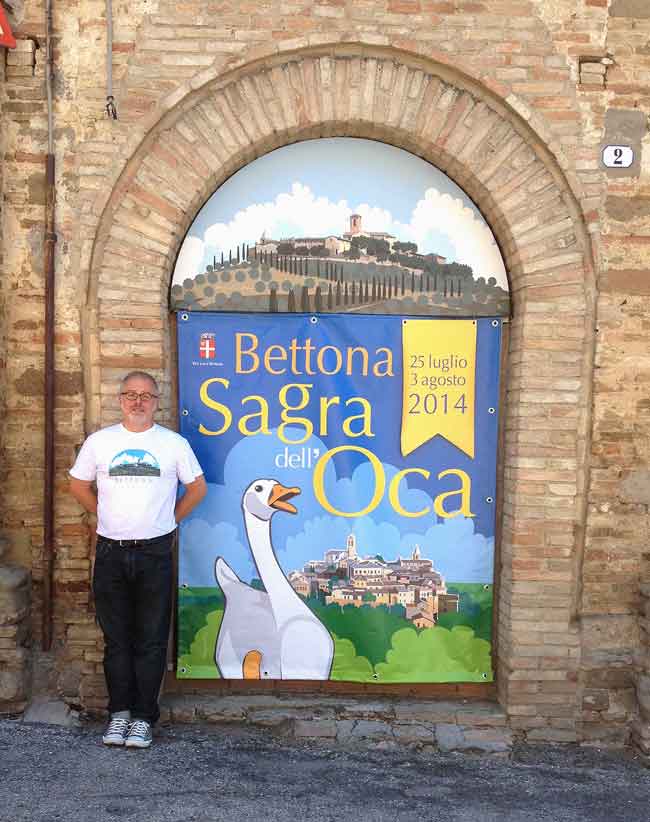 Why not celebrate with a week here?
Come, spend a week with us and experience, not only our renown Sagra dell'Oca, but discover the best Umbria has to offer. Week long packages for groups of a few as 4 people include everything from pick up and dropoff at Rome's Fiumicino airport, meals, daily tours, and accommodations in a wonderfully restored 17-century palazzo in the beautiful walled hill town of Bettona. Your American host is happy to pull out all the stops and make your holiday exactly as you'd like. With a week's stay you'll have the opportunity to visit to Assisi, Bevagna, Montefalco, Spello, Spoleto, or Orvieto, to name a few. Customized tour packages available from mid-April till mid-November.

September 26, 2020
Bettona Crossing
Running in Bettona
Bettona Crossing 50K (2000 D+)
Start time TBA
Short Trail – degli Olivi 20K (870 D+)
Start time TBA
Bettona Trekking (Course and length yet to be determined)
Start time TBA
Join us for the fifth edition of our running event in Bettona. Bettona Crossing offers two different courses so participants can choose the length and course. Both runs the take participants through the hills and plains in and around Bettona. 90% of each run is off road and 100% in our clean Umbrian air.
Like last year, Bettona Trekking is offered for families and non runners to enjoy a leisurely walk through the hills and woods surrounding Bettona.
Organized by a great group of people, many of whom are part of Bettona's own Bettona in Shape, which organizes several fitness themed events each year. The runs begin and end in Bettona's central piazza and each participant will be presented with a commemorative for their participation.
(Oh, and I got to design and illustrate the poster and other graphics for the event.)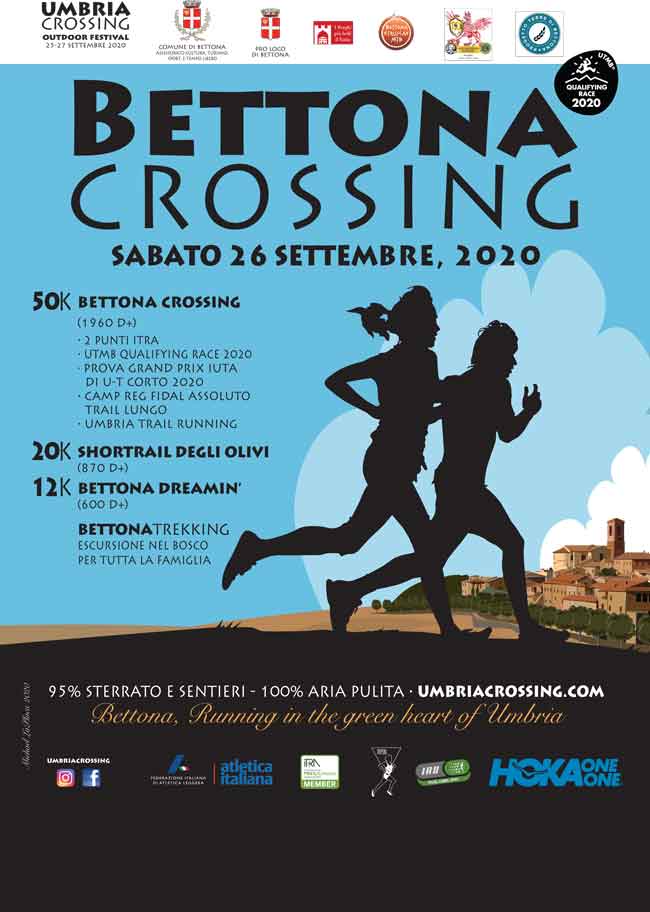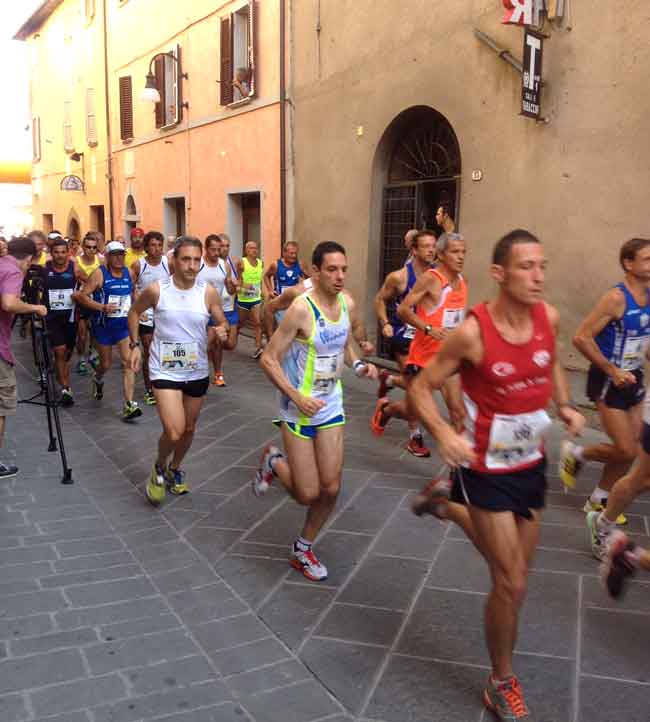 October 16-25, 2020
Eurochocolate
Make your plans now to join us for Eurochocolate 2020. The streets of Perugia are flooded with not only the most amazing selection of chocolate but thousands of chocolate lovers too. In addition to international chocolate producers, you will find dozens of small specialty makers. Fruits covered in a variety of chocolates, an array of delicious HOT chocolates, as well as new and inventive treats. In the palazzo we will also offer a chocolate lover's cooking lesson – coco pasta with shrimp in a cream sauce and chocolate desserts to die for.
Autumn is one of the best times to visit Umbria
Eurochocolate may be what got you interested in coming to Umbria but there's so much here to discover. Why not use it as the start of  a wonderful visit to a region you've always been meaning to get to know. aWeekinUmbria will do a great job of putting together a special trip to help you explore all Umbria has to offer. Maybe you're interested in a culinary tour, or maybe discovering the spiritual heart of our region and base a tour around Saint Francis, or maybe you want to get a better grip on your Italian language skills. We can arrange a special trip based on your interests.
Spectacular accommodations in the restored Palazzo Fiumi-LaPlaca are the perfect setting for your Umbrian adventure. With three apartments and two bed & breakfast rooms, the palazzo sleeps up to 14. Perfect for a family vacation or that special birthday.
Why not drop me a line and talk about it —  info@aweekinumbria.com