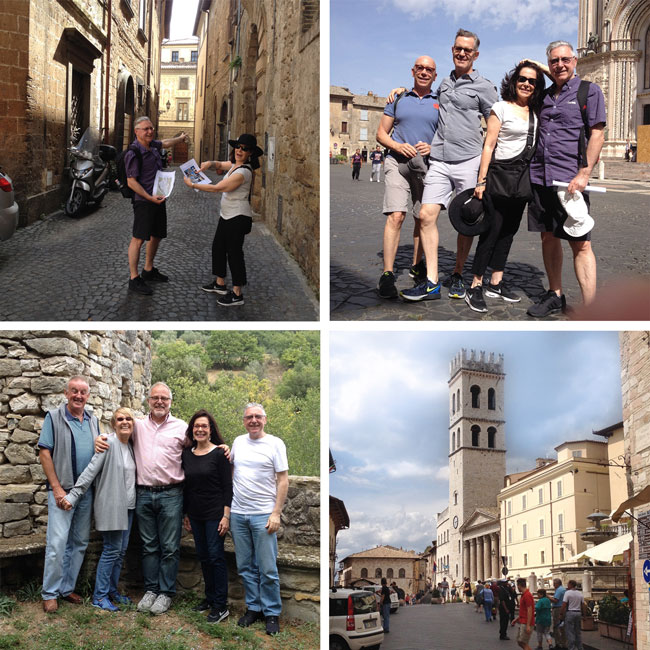 An Amazing Book Club Tour
September, 2015
Exceeded our expectations in every way
— said a guests from our 2015 tour.
To conjure up the setting of our first book, Umberto Eco's The Name of the Rose, we visited the partially derelict Benedictine abbey of Montelabbate, which dates to the ninth century. We also visited Borgo Santa Giuliana, near Umbertide, for a picnic on the grounds of this 13th century castle with its only full time resident. A special treat indeed. We'll also get to visit a mountaintop convent and a museum library in Assisi to leaf through a 14th century illuminated manuscript.
We wandered the streets of Orvieto, the setting for our second book, The Lady in the Palazzo by Marlena de Blasi, to find clues of a treasure hunt I created.  We visited on market day to experience the fun of that and visited Orvieto's fantastic duomo, with its frescoes by Luca Signorelli and Fra Angelico. AND, this is really good, we happened to run into the author at a street cafe. She was funny and gracious and we got our books autographed.
Living in a Foreign Language by Michael Tucker (from LA Law) tells the story of buying a house near Spoleto. The highlight of this part of our tour was a truffle hunt on the spectacular mountains beyond. It was perfect, complete with a little old truffle hunter and his frantic dogs that were straight out of Central Casting. Such fun.
Why not join us for one of our 2016 Book Club Tours.