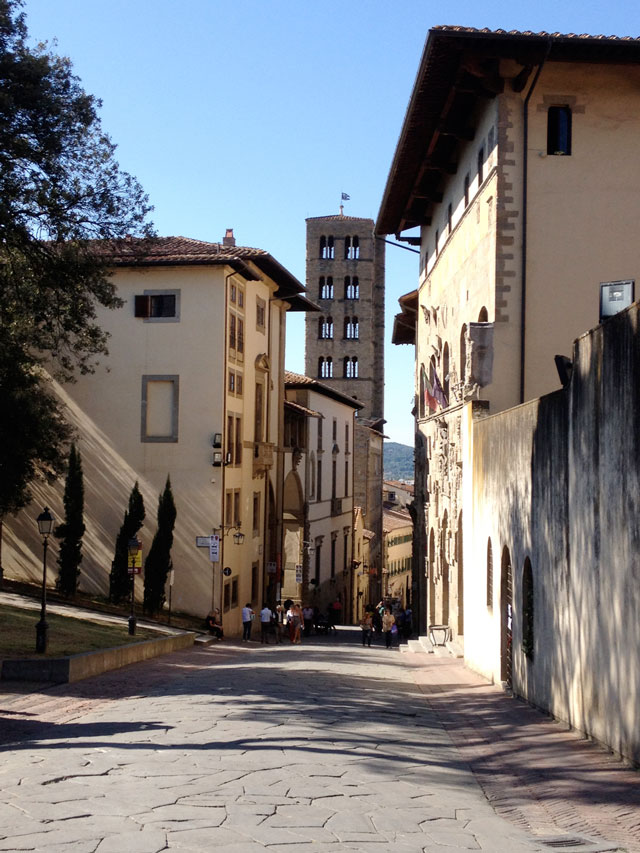 Excursion: Arezzo (in Tuscany)
The first Sunday (and the Saturday before) of every month is the big Antique market in Arezzo. Only an hour away in Tuscany, Arezzo is midway between Perugia and Florence so it's a manageable ride for a day trip. A friend called and said he wanted to go and would I like to join him. I quickly said yes and agreed to pick him up at the station in the town center. It's difficult to park in Arezzo on Fair days and I usually try get there really early but today was going to be a mid day visit. So I was prepared for a 2 kilometer walk from a parking lot. Luckily my friend was very familiar with the town and directed me to a lot that, amazingly, had space. It was a good sign that the shopping gods were on our side.
After a quick lunch —tortellini with cream and ham, and a side of baked artichokes and tomatoes— we started the walk up the hill in the direction of the duomo. While the Antique Fair was the reason to be there, there are many wonderful things to see in Arezzo. Its beautiful churches attest to the city's prominence as a medieval and early renaissance trade center. Being a Fair day the streets were extra crowded with people, strollers, dawdlers, and the like. The quietness and relatively emptiness of the churches was a welcomed change from the chaos outside.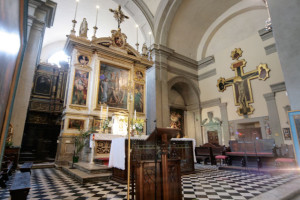 The first church we explored was the Badia delle Sante Flora e Lucilla.  I was immediately struck by its resemblance to Brunelleschi's Santo Spirito in Florence. (The rounded arches, trimmed in grey, separating the nave from the aisles seemed to have similarly pleasing proportions and some of the side altars contained brightly painted 16th century paintings.) Interestingly, the chancel was divided from the choir by a large central altar on which there was a beautiful painting of the apostles fishing. (The only other large scale version of this story I'd seen was of the tapestries of Raphael, so it was interesting to see this story elevated to center stage.) Additionally, there were beautiful bits of 16th century frescoes peeking out along side carved pietra serena door frames and a beautiful large crucifix on the right wall near the altar.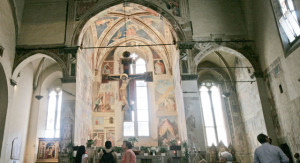 Our second stop was at the Church of San Francesco with the beautiful fresco cycle by Piero della Francesca of the Legend of the True Cross. Suspended over the main altar is a spectacular crucifix by the Master of San Francesco, a contemporary of Cimabue. Truly on par with the Giotto crucifix in Santa Maria Novella and was exciting to see. (I know my friend Karen would have loved discovering this one — the candle was for her.) Although I hate having to resort to sneaking photos, once again, I was forced to be the surreptitious photographer.
Sated both physically and intellectually, it was time to do some shopping. The place really is overwhelming. Over 600 dealers selling everything you can imagine. I remember, before I lived here, how frustrating it was going to antique markets in Italy because I could never take anything (but the smallest trinkets) home. Now, my biggest worry is 'will it fit in the car.' There were many things I could have bought but ended up coming away with a metalwork chandelier (which is what I came looking for to finish off a room on the piano terra) and a great price on a desperately needed cassa panca – storage trunk.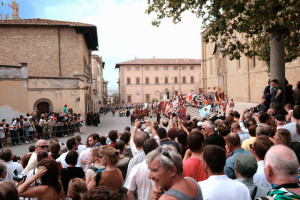 To top it off, there was even some pageantry to behold. It was a feast day in Arezzo and costumed residents processed through the bannered streets in full regalia – horses too – to the duomo where they reenacted something or other. It was a crowd pleaser.
A little food, some great art, shopping, pageantry, and great company — another wonderful outing. Who could ask for a better day?
September 5, 2011