Lace Knitting tour in Umbria with
Andr
é
de Castro
April 28 – May 6, 2022
8-Day adventure
Discover the beauty of Estonian and Shetland lace traditions with 5 4-hour workshops
Knitwear Designer and Instructor André de Castro returns to Umbria for an exciting tour featuring two of Europe's most iconic lace traditions. Through 5 4-hour workshops students will explore — and make samples of — Estonian and  Shetland laces. André has designed a special project and each student will receive enough yarn for a shawl/wrap.
And if all that knitting weren't enough, there is also Umbria to experience. You'll enjoy tours of our fabled hill towns, visits to cashmere and alpaca farms, a weaving demonstration on jacquard looms, visits to knitting and weaving factories, a spectacular iris farm, not to mention extraordinary Umbrian cuisine, a wine tasting, and much more.
Reserve today – 8 places  available! 
Write info@aweekinumbria.com
All participates must be fully up-to-date with their COVID vaccines. (Just has to be that way as we all will be in close proximity of each other in workshops and in traveling around.)
Package includes: accommodations for 8 nights in an historic palazzo (see below), workshops, daily tours and outings, all meals, admission fees, airport pick up/drop-off, and local transportation.
Tour includes:
• 5 workshops with André de Castro;
• One-on-one time with André;
• Beautiful yarn for a specially designed project;
• Tours of fabled hill and plain towns of Umbria;
• Visit to a weaving studio producing antique Jacquard patterns;
• A day out in Tuscany: Visit a cashmere farm and even get to comb a goat. Then on to Siena or San Galgano;
• Visit an alpaca farm and purchase alpaca and wool blend yarns;
• Discover local factories and see all the steps of commercial yarn and knitwear production;
• Visit a cashmere outlet for great savings;
• Enjoy the best Umbria has to offer with wonderful meals out, and a wine tasting . . .
8-day all inclusive package:
$2850 per person for a private room in a shared apartment or private B&B room;
($250 discount –per person – if you and a best friend share a room with twin beds.)
(6 person maximum. Group configuration determines room availability.)
Airfare is not included in package price
For help planning your trip — airline tickets and travel insurance — contact Bill Travers at 212-869-6431 or bill70tt@aol.com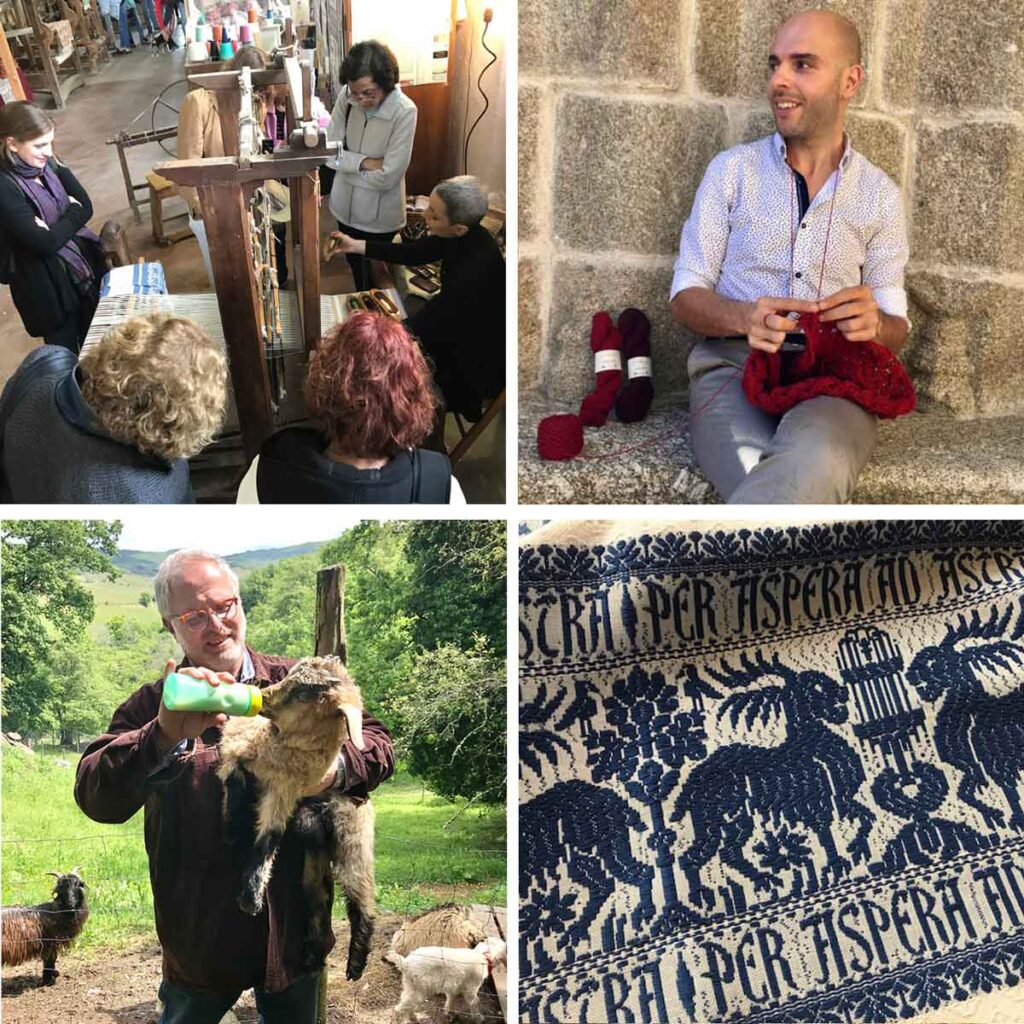 Extraordinary accommodations is the beautifully restored 17-century Palazzo Fiumi-LaPlaca
A variety of accommodations are available on a first come basis. Shared apartments sleep four with queen and twin beds and a shared bathroom. Two B&B rooms, with private bathrooms, are also available. Depending on group configuration, there may be a surcharge for single occupancy, if available.

What people have said:
The knitting seminar in Bettona  was a real wonderful experience to me!
It was conducted together with the master classes of the talented knitter André de Castro and was not only highly professional but also deeply inspirational. The marvelous reception and hospitality of Michael LaPlaca along with his immense patience and fine sense of humor are an attribute to his ability to guide and instruct us to achieve our goals. In addition, the magical surroundings of nature's beauty and the historical scenery of this surprisingly beautiful place, gave me a unique experience that I will never forget and a desire to come back again. I warmly recommend to enthusiastic knitters to participate in such a stimulating event.
     — Sharon Lubasch, Haifa, Israel (ravelry name: sharonlubasch.)
I so enjoyed my first knitting tour with aWeekinUmbria that I came back two years later. Absolutely my favorite knitting trip ever. Not only were the lessons top-notch but the touring exceptional and the food over to die for. I've taken workshops with Andrè before (he's enough of a reason to come) and getting to have this much time with him was an extra special treat. And I love Michael. Can't wait to come back. 
     — Dawn Tanenbaum, Tenafly, NJ
Dear Michael, I would like to thank you for the lovely time I had at your home and the trips you took us on throughout our stay. You really are an amazing person. First of all, you are a warmhearted, caring person with the amazing ability to connect and communicate with people. You certainly are outstanding with your knowledge of Umbria, history and the culinary arts. The knitting seminar conducted by Andre de Castro was professionally performed with great patience and skill. With his guidance and instruction, we were able to reach our goals. He has instilled in all of us, the desire to continue knitting and a strong wish to continue with another course next year. Thank you for giving us the pleasure of your company, visiting your amazing home with its breath-taking view, learning from your and Andre's vast skills and enjoying the beautiful and historical sites you shared with us. You, and the people you introduced us to, are an inspirational group that I will continue to remember for a very long time.
     — Yours truly, Marganit Haber/ Israel