Recipe: Farfalle with Sausage & Zucchini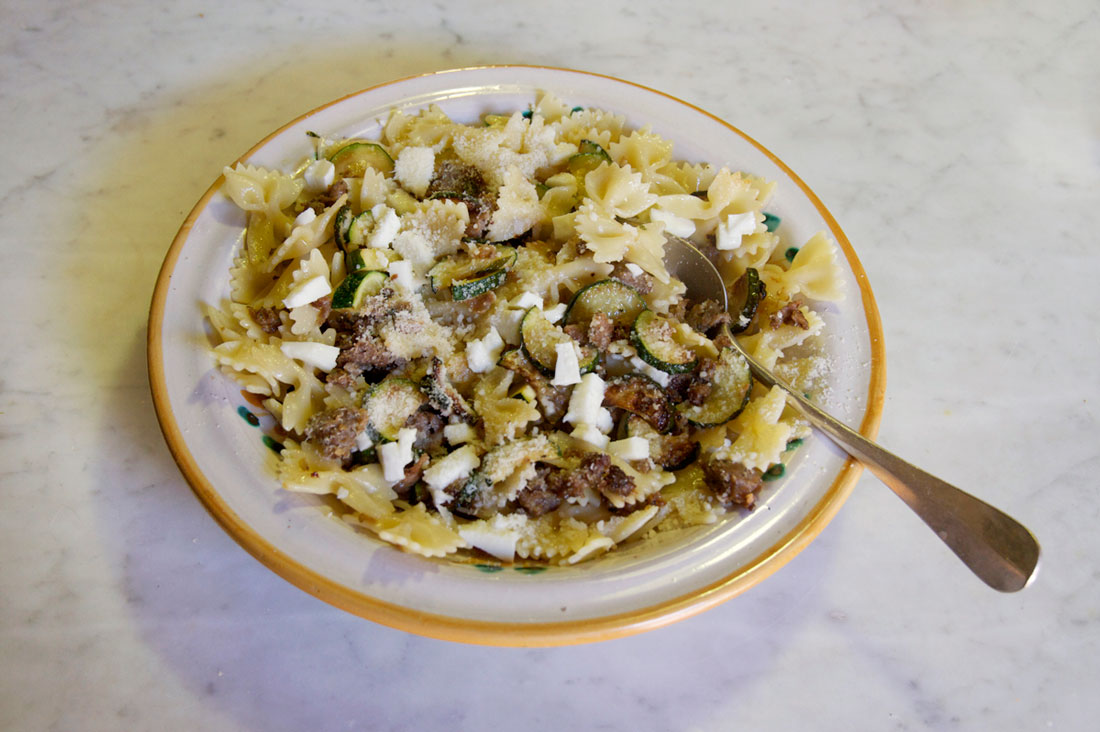 This is a hearty recipe filled with the flavor of Umbria and easy to make.
1lb of good Italian sausage (without fennel);
1 large yellow onion;
1/2 lb  tender zucchini;
Extra Virgin Olive Oil;
Granna Padanna or Parmigiano cheese, salt, pepper, red pepper flakes, garlic, basil
Prep: Peel and finely chop a large onion; halve then thinly slice the zucchini – longwise, crush two cloves of garlic; remove sausage from casings and break up; put a large pot of water (covered) on the stove to boiling.
Step 1: In a large frying pan with deep sides, saute sausage— pressing to cook evenly and then breaking into as small pieces as possible. When it is almost cooked, add half a cup of white wine and simmer until sausage is cooked but not crispy, remove it from the heat and scoop out the sausage leaving the drippings in the pan. (What I usually do is cook about 2 lbs of sausage and, when it has cooled, put half in a ziplock bag in the freezer for next time.)
Step 2: To the drippings add a little Extra Virgin Olive Oil, the onion, garlic, and basil. Then add the zucchini and saute everything until onions are translucent but not browned and zucchini is cooked. Add salt and a few shakes of freshly ground pepper or some red pepper flakes if you like a hotter dish. The zucchini may brown a little as they caramelize. Return the sausage to pan, mix, remove from heat, and turn off heat.
Step 3: By this time your water will be boiling. Remember it is important to use a large enough pot, and plenty water so the pasta rolls around in the pot as it cooks. Generously salt the water and then add your pasta. (This day I used some Farfalle because I had an open bag but you can use any type of pasta that will be able to hold onto the bits of sausage. Orecchiette is perfect as are short Rigatoni or small Shells.) When pasta is al dente scoop into heated frying pad with combined sausage and zucchini, onion mix and incorporate. Save the pasta water in case you need some to add back to the dish should it become dry.
Step 4: Liberally add grated cheese and freshly ground pepper and mix again. (Granna Padanno has a sweeter, lighter taste and less salt than Parmigiano. I prefer these sweeter cheeses are preferable over Pecorino Romano, which is all too common in the US.) Add a little of the pasta water, if necessary. Garnish with a sprig of fresh basil. Serve in individual bowls and drizzle with some additional Extra Virgin Olive oil. I recommend eating this with a spoon to not miss the broth of water, oil, and cheese.
Eat immediately.