April 28 – May 6, 2022
Join us for a Knitting tour in Umbria with
Andr
é
de Castro
Lace Workshop: Featuring  Estonian & Shetland lace techniques;
Please join knitwear Designer and Instructor André de Castro has he returns to Umbria for an exciting tour featuring two of Europe's most iconic lace traditions – Estonian and Shetland, laces. The focal point of the tour will be five 4-hour workshops and lots of knitting time with André, who has designed a special sampler project for our group. In addition, you will receive yarn and a shawl pattern designed for our group.
Don't think you'll be indoors knitting all the time either. There are lots of things to see and do. We'll get out to see some of beautiful countryside, small towns, and other fiber related studios and businesses.
• visit a wonderful alpaca farm in the northern part of Umbria — these are just beautiful animals;
• a day jaunt into Tuscany to visit an extraordinary cashmere goat farm where, if you like, you'll get to comb a goat, we'll have lunch, and work on our lace work as well;
• We'll visit a factory that produces yarn, a small studio to see machine hand knitting and finishing, a sweater outlet;
• We'll visit the famous Giuditta Brozzetti Museum Workshop weaving workshop tucked away in a 13th-century Franciscan Monastery to see linens hand woven on 200 year-old Jacquard looms;
• And we'll visit a factory that creates modern Jacquard linens (and shop too). 
• We'll wind down the days and enjoy evening knitting circles;
• Time permitting, we can stop in the town of Deruta and shoe for world famous ceramics;
• And all along the way we'll enjoy the best Umbria has to offer with wonderful meals, wine, and spectacular scenery
Reserve today – 5 places still  available!  Write [email protected]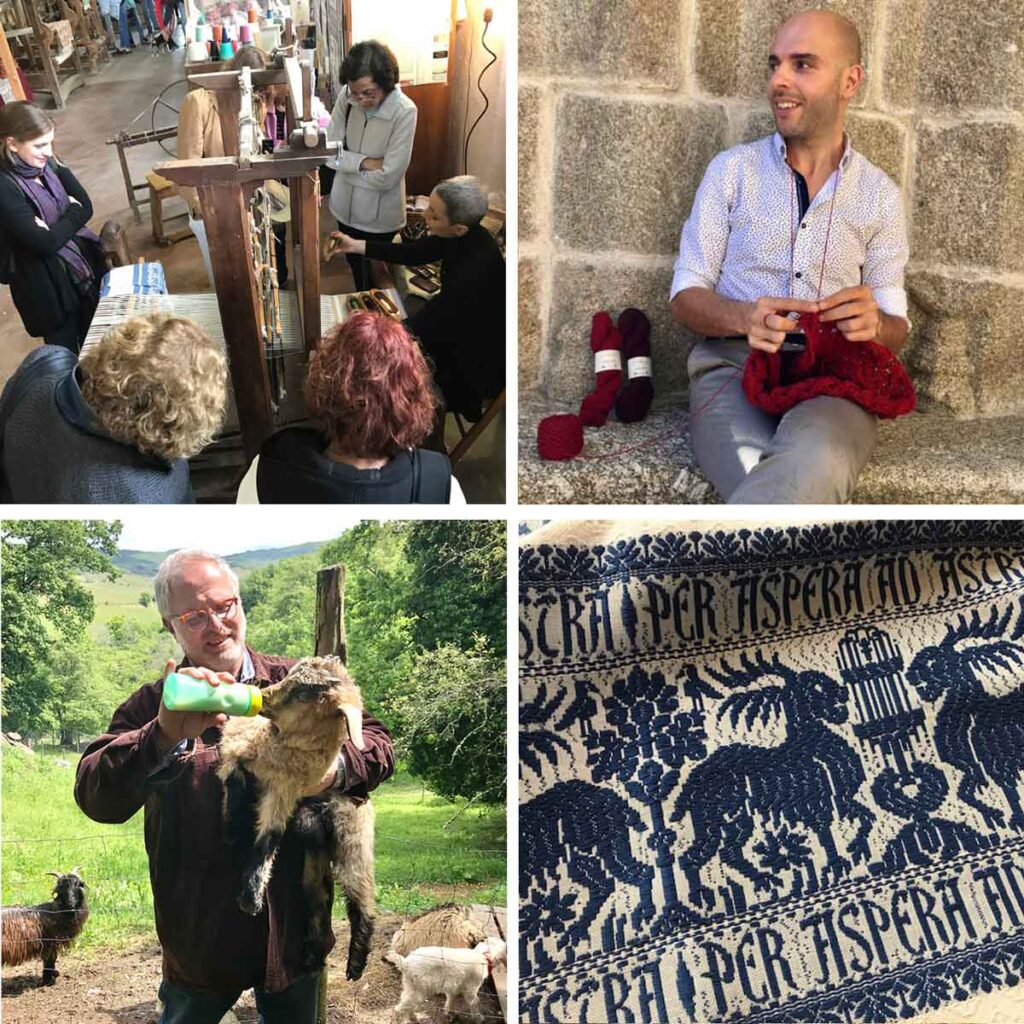 All participates must be fully up-to-date with their COVID vaccines. (Just has to be that way as we all will be in close proximity of each other in workshops and in traveling around.)
Package includes: accommodations for 8 nights in an historic palazzo (see below), workshops, daily tours and outings, all meals, admission fees, airport pick up/drop-off, and local transportation.
8-day all inclusive package:
$2750 double occupancy;
$2950 per person, single occupancy;
Extraordinary accommodations is the beautifully restored 17-century Palazzo Fiumi-LaPlaca
Rooms in a shared apartment or B&B room. (Group configuration determines room availability.)
Airfare is not included in package price
For help planning your trip — airline tickets and travel insurance — contact Bill Travers at 212-869-6431 or [email protected]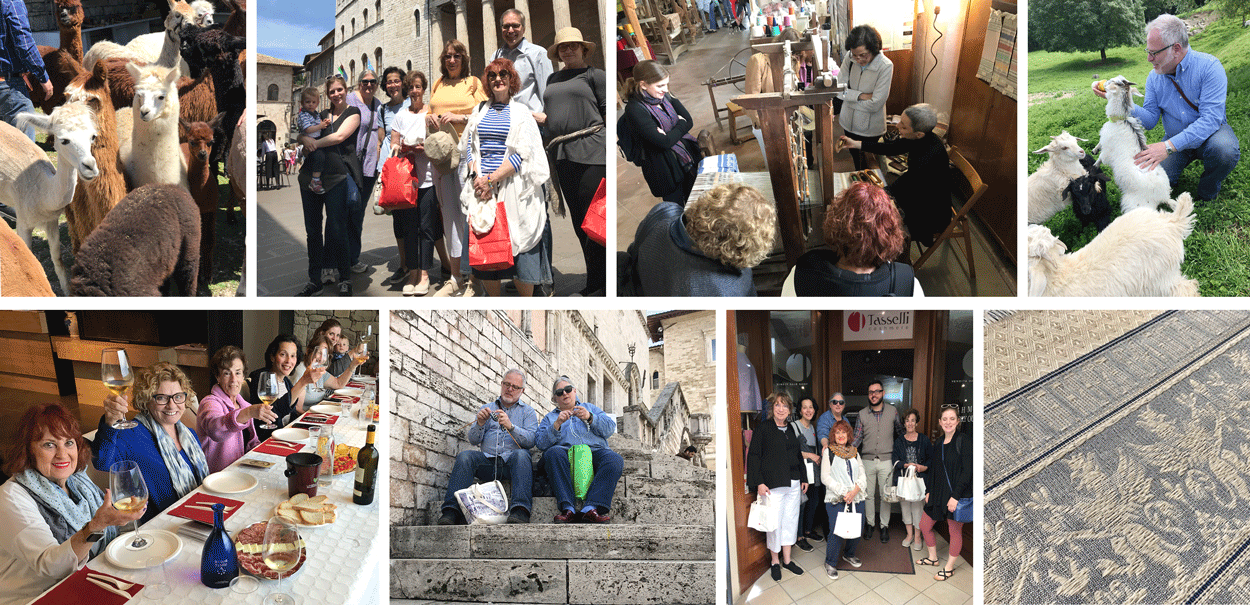 What people have said: 
The knitting seminar in Bettona was a real wonderful experience to me!
It was conducted together with the master classes of the talented knitter André de Castro and was not only highly professional but also deeply inspirational. The marvelous reception and hospitality of Michael LaPlaca along with his immense patience and fine sense of humor are an attribute to his ability to guide and instruct us to achieve our goals. In addition, the magical surroundings of nature's beauty and the historical scenery of this surprisingly beautiful place, gave me a unique experience that I will never forget and a desire to come back again. I warmly recommend to enthusiastic knitters to participate in such a stimulating event.
— Sharon Lubasch, (ravelry name: sharonlubasch.)
Dear Michael, I would like to thank you for the lovely time I had at your home and the trips you took us on throughout our stay. You really are an amazing person. First of all, you are a warmhearted, caring person with the amazing ability to connect and communicate with people. You certainly are outstanding with your knowledge of Umbria, history and the culinary arts. The knitting seminar conducted by Andre de Castro was professionally performed with great patience and skill. With his guidance and instruction, we were able to reach our goals. He has instilled in all of us, the desire to continue knitting and a strong wish to continue with another course next year. Thank you for giving us the pleasure of your company, visiting your amazing home with its breath-taking view, learning from your and Andre's vast skills and enjoying the beautiful and historical sites you shared with us. You, and the people you introduced us to, are an inspirational group that I will continue to remember for a very long time.
— Yours truly, Marganit Haber