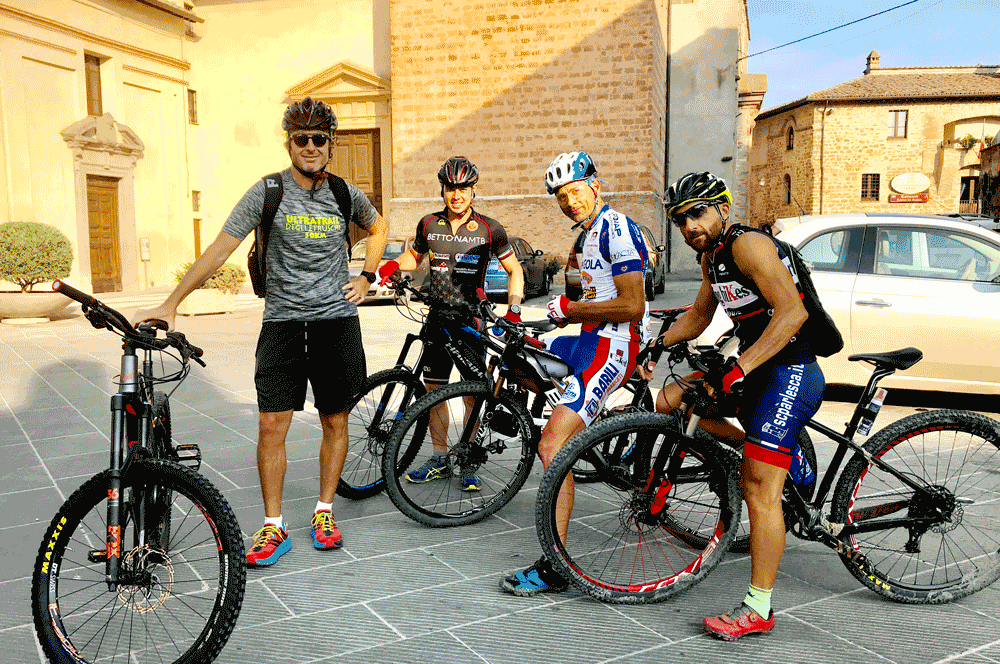 Umbria Outdoor Adventure Tours
aWeekinUmbria offers exciting 7-day Active Adventures for tourists who want to take advantage of our great outdoors. Let us customize an ActiveUmbriaTour which includes 3 half to full-day outing adventures. You choose your energy level and how many adventures you want to embark upon. There will also be plenty of time to explore small hill towns on our way to a delicious lunch. Or discover that hidden away church with wonderful frescoes on the way to a wine tasting.
Hiking, biking, running — we offer it all. You can even spend a morning playing tennis or an afternoon on a golf course, or take a horseback ride past a medieval tower — yes, right here in Bettona. 
All tours will be specially designed with your desires in mind. More strenuous or less. More food, hill towns, art, wine. It's always up to you. 7-day adventure tours starting at $2500 — and priced according to adventures— include accommodations at Palazzo Fiumi-LaPlaca, all meals, and transportation to and from Rome's Fiumicino airport.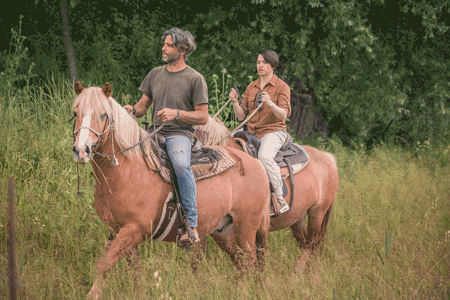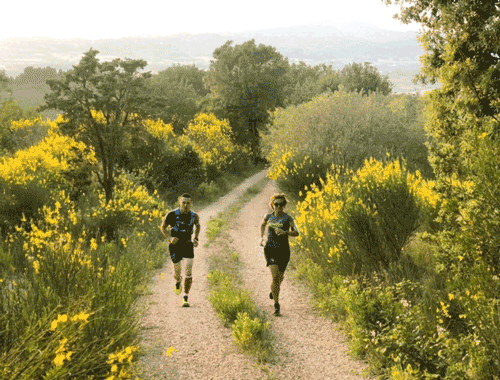 Biking & Hiking in the Green Heart of Umbria: 
Offering guided tours, itineraries for DIY, or transportation to and from spectacular places for these Active Adventures. You choose!
Partnering with Bettona Outdoor, we are happy to offer a full or half day biking itineraries (Guided)  that includes bike rental (mountain bike or electric bike),  lunch, and van transport back to Bettona. 
Biking in the plain:
Beginning in Bettona, ride down the hill, up to neighboring Collemancio, then head on to Bevagna for a wonderful lunch. Transportation by van back to Bettona. (DYI or guided half-day adventure.)
Mountain biking:
Morning or afternoon rides through the Bettona countryside on well maintained trails. (DYI or guided.)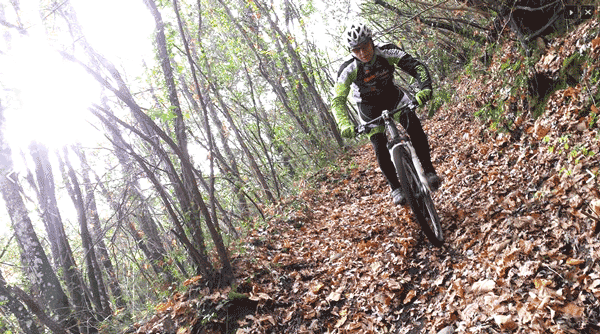 Hiking trails:
Enjoy hiking the beautiful hills of Umbria. Just head out with a provided map or let aWeekinUmbria help with planning a day of mixed hiking, culture, food, and wine. (Half or full day adventure.)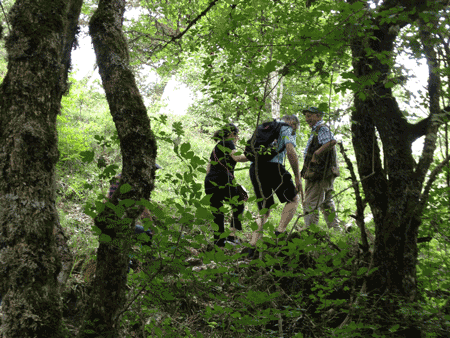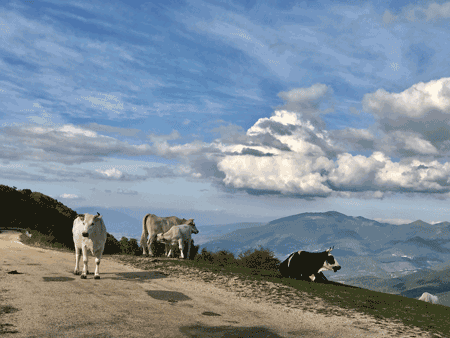 Mountain biking & Truffle hunt:
What a combination. For a full day outdoors we can transport you to the mountain beyond Spoleto for an hour and a half ride. It's not too strenuous a ride (an electric bike rental makes it even easier) across the top of a spectacular mountain. The photo with the cows, we passed one day, gives you some idea of how spectacular it is. Following your ride a leisurely walk on a truffle hunt and truffle lunch. Visit Spoleto afterward or take the van back to Bettona. 
Running in the Green Heart of Umbria: May 21 & Sept 24, 2022
For those runners who are looking for a real run through our spectacular countryside maybe think about joining us for Subasio Crossing May 21, 2022 or Bettona Crossing Septemer 24, 2022.
With the success of Bettona Crossing, 2022 it's seventh year, the organizers of UmbriaCrossing have introduced a new event in the hills above Spello. Different levels of strenuousness and course length offered. 
Let aWeekinUmbria plan a week around the event including visits to hill towns, wonderful cultural highlights, a wine tasting, and great food.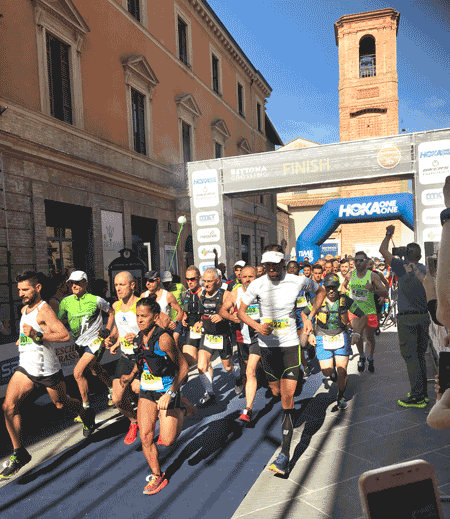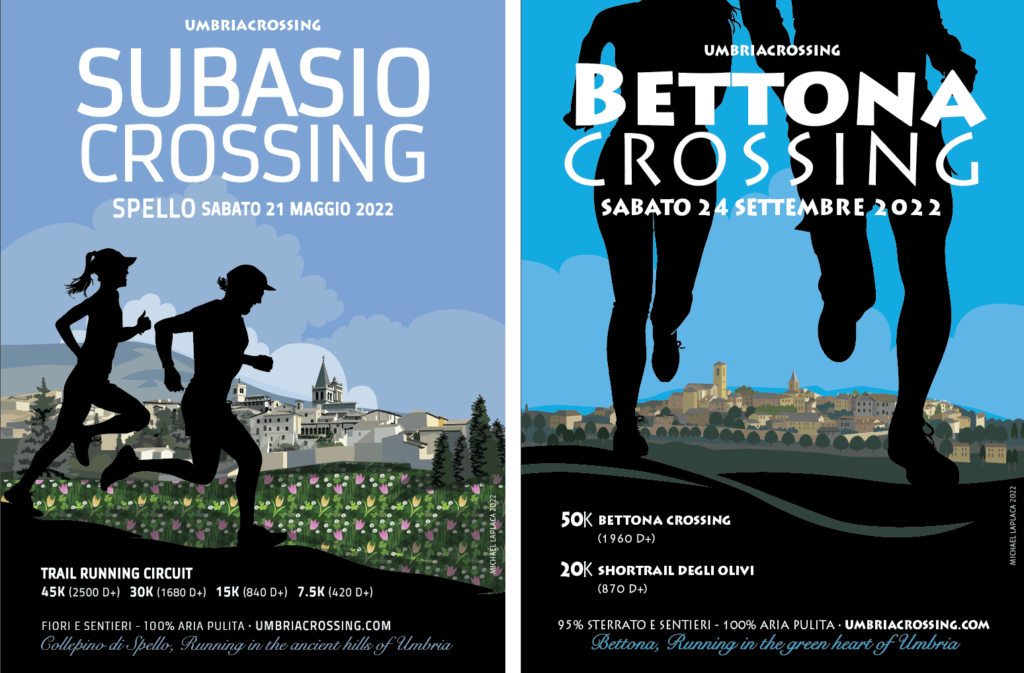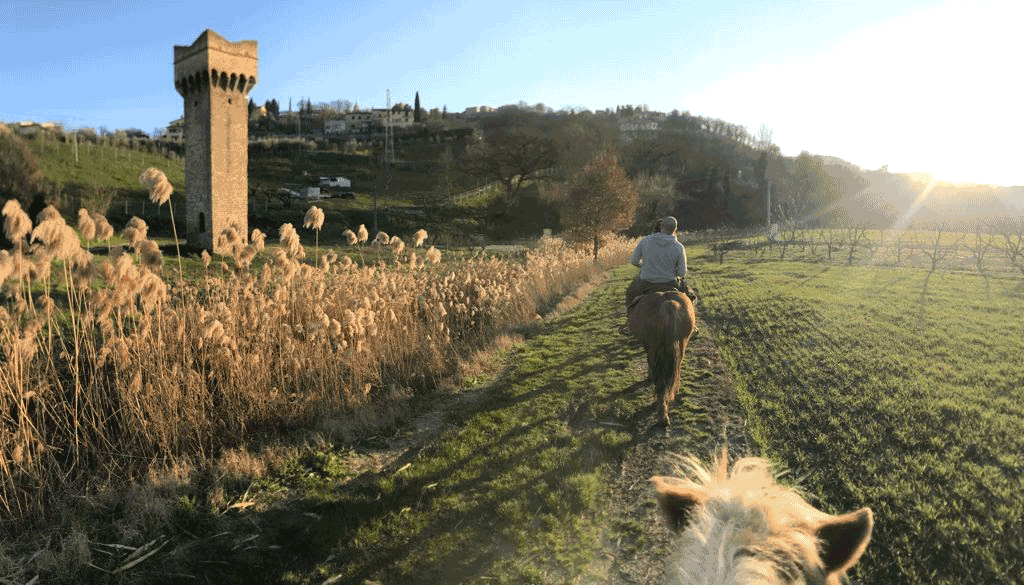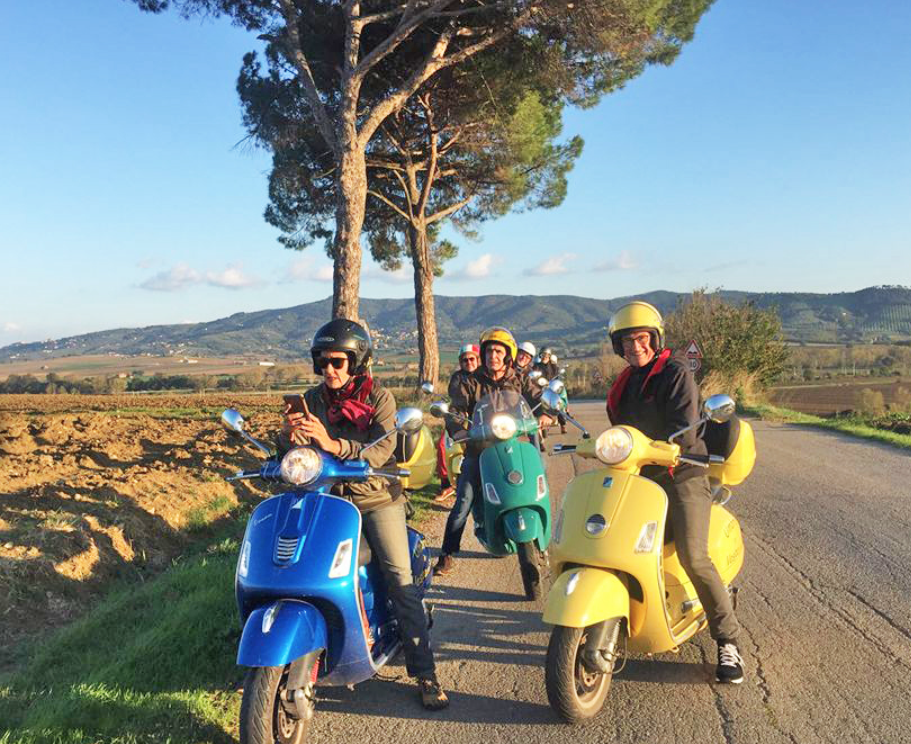 Vespa outing
Spend a morning exploring the villages along Lago Trasimeno
Horseback riding:
Offering several options of horse back riding. Choose from:
a) a peaceful ride below Bettona, alongside fields of sunflowers, corn, and grain and past our medieval guard tower, or
b) a whole day adventure to Piano Grande and Norcia which includes an hour horseback ride with real Italian cowboys.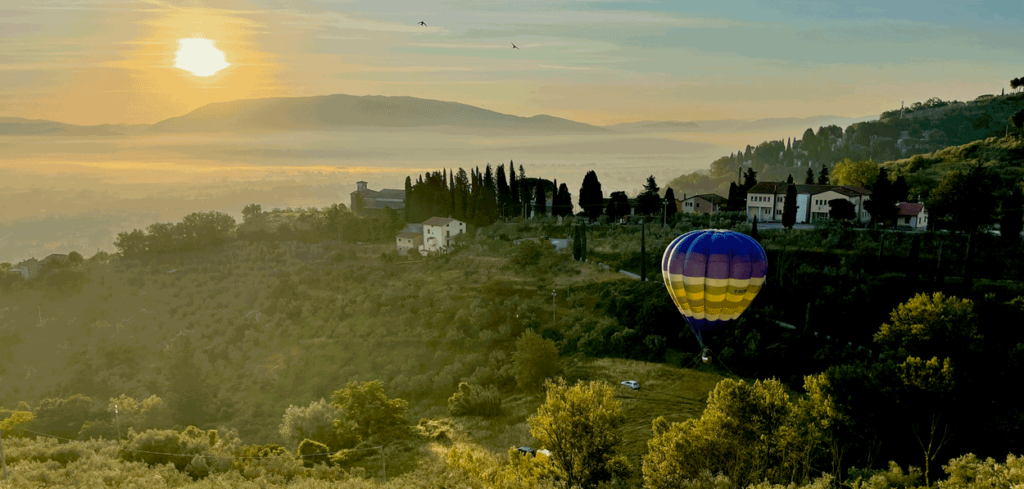 Rafting along the Nera River:
Outdoor enthusiasts will just love spending 2.5 hours rafting along the Nera River within the beautiful Sibillini mountains. Fun for the whole family and not  strenuous at all. All technical equipment  –Neoprene wetsuit, Neoprene shoes, helmet, life jacket — is included.
Transport to and from the Nera valley and lunch included. Let aWeekinUmbria work this exciting adventure into a fantastic week-long adventure.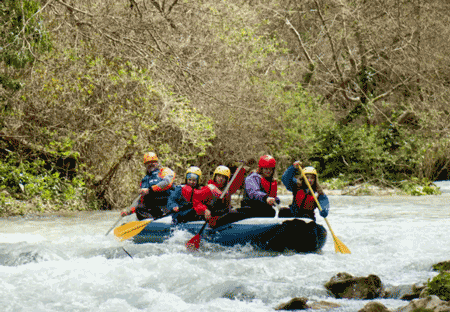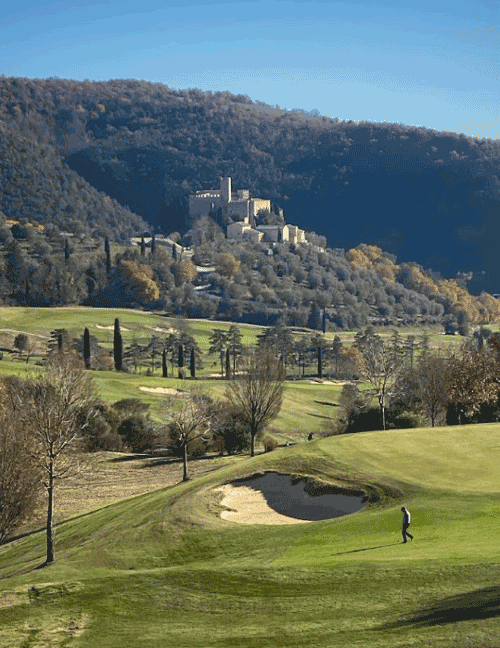 Golf for a day:
For many guests active holiday includes golf. Several excellent Golf clubs are located around Perugia offering a relaxing break from touring. Spend a half day at one of several beautiful courses nearby. Or make a day of it at Antognolla Estate— with a  one of the most spectacular and challenging golf courses in Italy, featuring, cliff-lined fairways, beautiful water hazards and large, undulating greens.


Tennis too:
Just below the Palazzo guests will find Bettona's Campo Sportivo and our newly resurfaced tennis. Start your day with an hour on the court with easily arranged rentals.
In addition our bocce court is available for all round family fun.