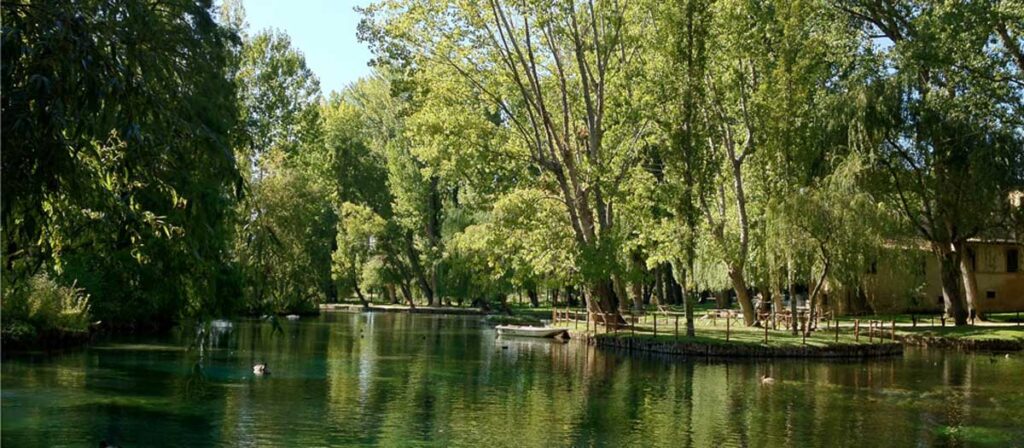 The area known as Clitunno, formerly part of the Duchy of Spoleto, does not have a main town but is made up of interesting small villages, churches, a temple, and the beautiful spring that is the source of the Clitunno river.
Spring of Clitunno:
The tranquil spring, which is the source of the small Clitunno river, is a delightful place to stop for lunch. I think it pretty amazing to see the source of a river, and you can, as it flows out of the rock. Just pay attention to the swans as they're much more beautiful than they are friendly. The sacred Spring of Clitumnus was well known in the Roman era as the Flaminia Way passed nearby. A large temple to Jupiter Clitumnus once stood near the spring surrounded by a complex of smaller temples. 
Temple of Clitumnus:
Not to be missed is a small antique-looking structure located just off the main road a bit beyond the Spring.  The present "temple" was thought to be one of the smaller temples from the sacred complex, however, archeologists have determined that it was built as a small church dedicated to the Savior between the 6th and 8th centuries. As was the practice of the day, the builders reused pieces of carved stone, most probably from actual ancient temples from the area, as building materials. Studying the decorative iconography, the church seems to have been built in two phases. Nonetheless, it is a UNESCO World Heritage Site and you will not be disappointed with a visit. 
Pissignano:
I recommend a visit to the small village above the spring called Pissignano as it is a perfect example of a pretty perfect restoration of a medieval town. The castle, above the main road, (which you'll have to part the car and walk into) was beautifully restored as an artist community in the 1970s by followers of a Swedish psychiatrist. It's stone streets and small cottages sport hand crafted signs based on the the inhabitants professions. 
If you're an antique collector, come on the first Sunday of the month for one of the largest Flea Markets (over 250 vendors) in central Italy.
Lo Spagna:
Several frescoes by one of my favorite artists, Lo Spagna, can be found scattered about Clitunno. The church of Madonna della Bianca (11th century), has two frescoes; on the main road just across from the Spring is the small church of San Sebastiano with a lovely fresco of San Sebastiano and San Rocco; and the Barnabite monastery complex, with a Madonna (as well as a 15th-century fresco of the Crucifixion and Saints in the style of Giotto).