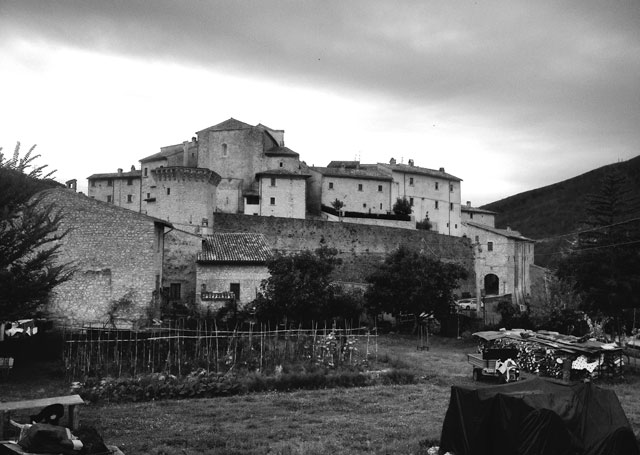 I've passed the sign for Vallo di Nera dozens of times on the way to Norcia. Now Norcia, with it's impressively intact circuit of walls, beautiful churches, and extraordinary shops filled with salumi, pecorino cheeses, and tartuffi (the smell of which hits you square in the face at about 3 meters), is the type of town you take guests to see.
However, today I had an itch for something different and the sign pointing left to Vallo di Nera could not be passed any longer. I told my guests there had been a change of plans and they should hold on. Up the winding road we went passing not a single house until we came to the outside of the town. There the road literally ended leaving us to stare up at the perfectly preserved stone walls with their fortified guard towers.
Backing down the incline, I parked the car beneath a tree and we piled out. Someone walking a dog passed by so we knew at least one person (and a large dog) lived there.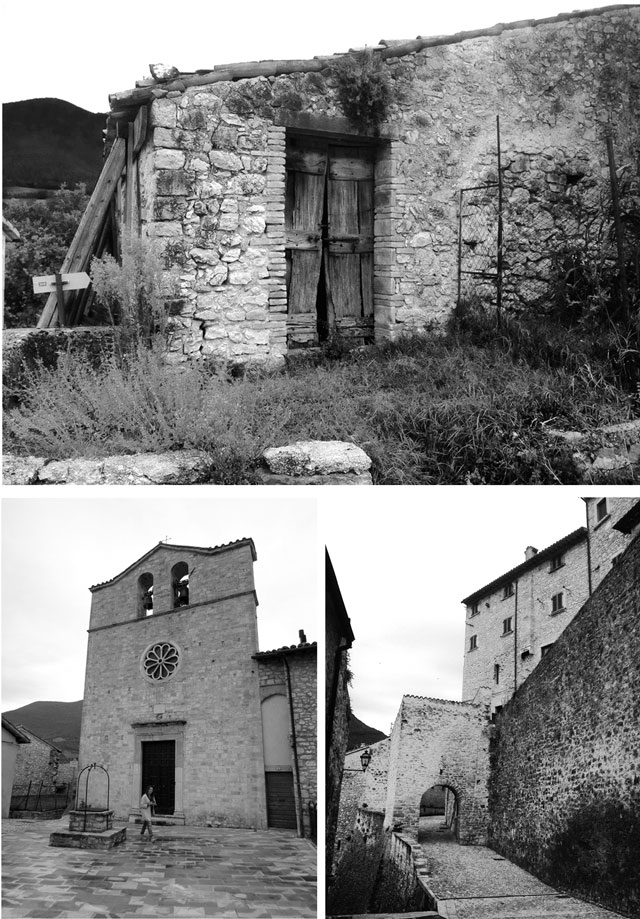 We headed up a ramp to the main gate but it was blocked by a large truck – sort of one of those large food trucks you see selling porchetta alongside the road. It seemed we had arrived on 'market day' and this truck that was actually a mobile mini-mart. A woman at the rear of the truck rattled off her shopping list while the young man inside filled her order from the baskets of products lining the walls. I tried not act like a gawking tourist.
Passing around the truck, we walked into what could only be described as the town time forgot. The narrow streets, alleys really, were completely cobbled and more like long steps punctuated by rows of bricks. The windows were pretty much locked up tight with dark brown shutters sending a clear message that no one was at home. Only an occasional geranium, now past its prime, added splashes of color to break up the uniformity of the stone.
A little farther on I heard some noise and came upon two men carrying wood from a little Api (one of those three-wheeled little trucks, which was probably the only type of vehicle that could enter the town). I said "buonasera," and asked him how many people lived in the town. He thought for half a moment and called to his friend and asked him. He thought for a second and said "80." A little rocking back and forth of his hand suggested it was probably 'around 80.'
Given how overcast the day was to begin with, I felt black and white photography suited the town.
PARKING: Worth a stop on your way to Norcia. There's a bar right in the parking lot for a rest stop too. 
On your handheld, click View larger map for directions.