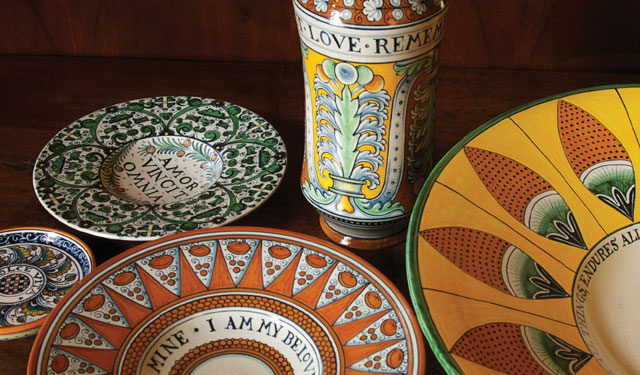 World famous ceramics since the 14th century
Living just a stone's throw away from Deruta is actually one of the things I love about where I've settled down. If you love ceramics as much as I do, living near a legendary ceramic center (and it has been legendary since the 14th century) can be a dangerous thing. I have often told Patrizio Chiucchiu (bar none, the best artist working in Deruta today) that his work is like a drug to me. That's how exquisite it is. There are pieces of his work, as well as, other great artists, throughout Palazzo Fiumi-LaPlaca.
I have been so inspired by Deruta ceramics that I've even started my own line of pottery as part of a new business venture. A beautiful selection of All of the pieces — from wedding plates and urns to mugs and key rings — contain phrases, quotes and, as I like to say, are imbued with meaning. For a look at the most unique painted gifts is available, go to BestDerutaPottery.com
A little background on Deruta, whose name (being a derivative of ruins) was probably built on the foundations of a Roman town destroyed during the Visigoth and Lombard invasions of the 6th century. It is known from the 11th century and traditionally had been aligned or ruled with Perugia, again administered by members of the Baglioni family. However, the town sided with the Pope Paul III —against Perugia— during the Salt War (Guerra del Sale) of 1540. The result was a reduction in taxes for the town as it settled into it's real business —the production of ceramics— as a member of the Papal States.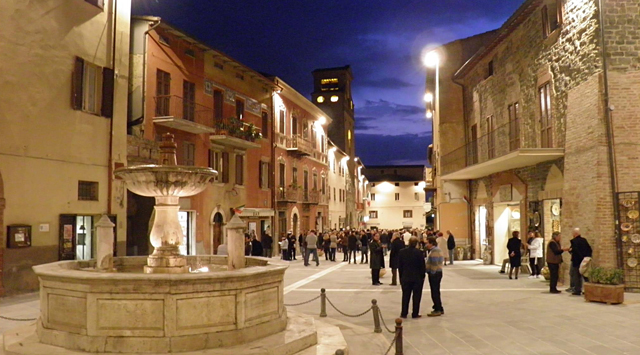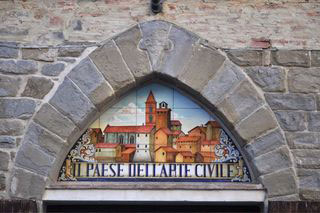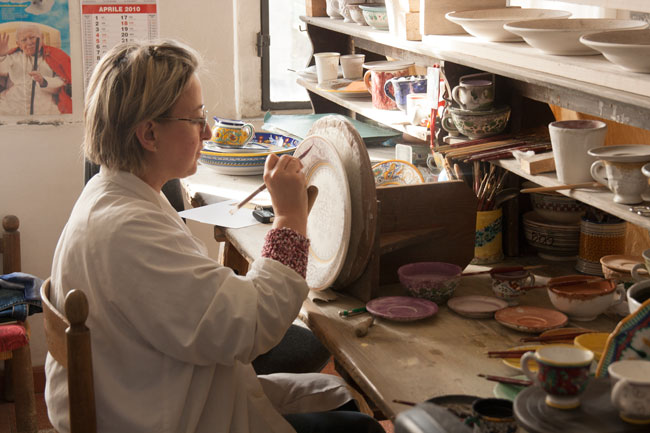 With a good local clay for potting, Deruta became a center for ceramic production in the 12th century. It reached its peak in the 15th & 16th centuries and was well known for the difficult process of creating metallic infused lusterware,  or lustro. Today it is world famous for ceramic production with many immediately identifiable patterns such as: Raffelesco, Deruta Ricco, Arabesque, and Gallo Verde.
Deruta is a wonderful place to visit and I'm always happy to take guests around and show them some of the best places to shop.
One of the fun places I like to take guests to is the interesting Santuario Santa Maria dei Bagni, located just south of Deruta. The story goes that a farmer found the bottom of a cup on which had been painted a Madonna and Child that seemed to have miraculous powers. He placed it in a tree and prayed for his wife's health. She recovered and a tradition was born to create a plaques (in ceramic of course) to commemorate prayers that had been granted. Today, the walls of the sanctuary that was built at the spot (recently been restored), are adorned with such gifts of gratitude. A careful inspection of these wonder plaques will reveal some interesting trends is what people have prayed for over the years. The 16th and 17th centuries saw lots of people falling out of trees and windows or being kicked by horses or set upon by robbers while the 20th century show accidents with cars, motor cycles, and a few operating table scenes. Quite fascinating to say the least.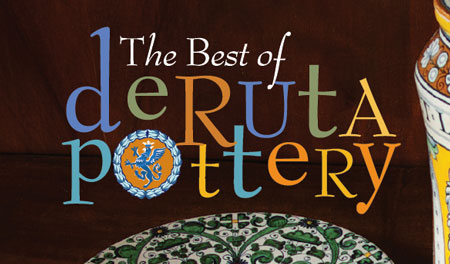 PARKING: There are several places to park in Deruta. The first is where this map will take you. The second would be a larger parking area you can reach by going left at the round-about at the next intersection. Lastly, there is a small lot inside the walls but it is most often full. (Go through the gate, up the hill, go right – the only way you can go– around the corner and you'll see the lot.) 
On your handheld, click View larger map for directions. Make sure you set your parking clock on the car.